ABC Latest News | Latest News Videos
After Kelly Rutherford released that insane screed against the judge who ruled against her in her latest custody stunt, I'm surprised that news outlets are still giving her a platform. They are, though, and ABC News interviewed Kelly and her smug scarily Botoxed lawyer. ABC News of course only told skewed facts about the case, never mentioning that Kelly got her ex's Visa revoked (that's stated in the 2012 judge's ruling on her custody case) or that her ex can't come to the states at all still.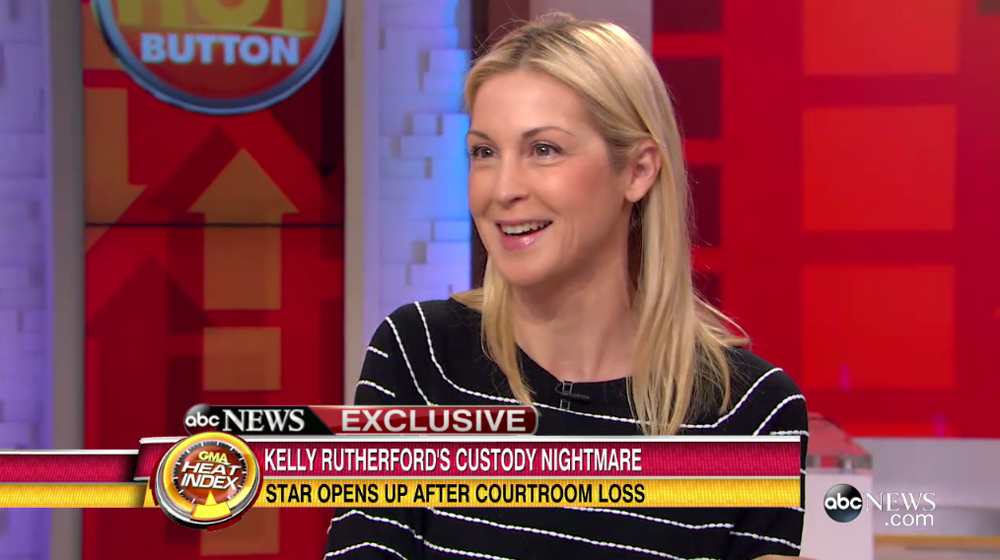 In her interview on Good Morning America Kelly did not look depressed, sad or upset to have "lost her kids" as she puts it. In fact she smiled a lot at the beginning and practically beamed. I mean I get trying to put a good face on when you are sad but she in no way looked like she was faking her delight about being interviewed. She is eating up the attention. When Kelly's lawyer came on I wondered if the lawyer was the one who wrote that response because the lawyer came off worse than Kelly. Maybe Kelly is just a decent enough actress to seem sober and sane.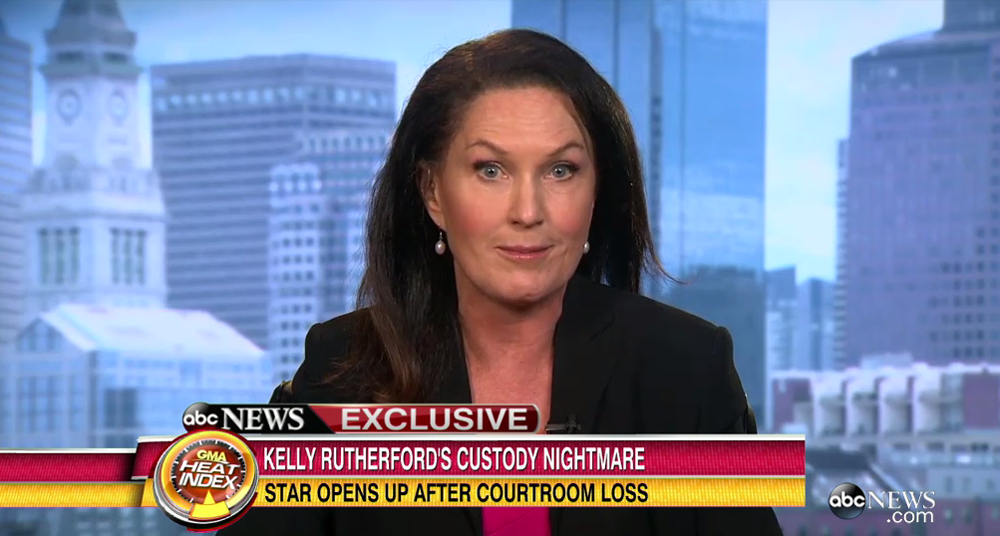 Anyway you can imagine what these two said. The video is above if you want to watch it but I'm including the relevant parts here. It was all 'Murica and blaming Kelly's ex. Kelly totally admitted she's already talked to her kids. Her access to them hasn't been cut off at all.
On how she's doing
I'm good, I'm just trying to process everything and make sense of it.

The court case felt like a done deal
I just feel like their voices have not been heard in a way. I walked into a courtroom where everything felt like it was already done and his mother was sitting there with plane tickets smiling, ready to take them.

Nobody had heard our argument. I was accused of things I was not even able to defend. I think kidnapping is where no one knows where the kids really are… the kids were skyping with him every day. I wrote him an email…

Nobody had jurisdiction in my country and I was concerned… I talked to my lawyers and they were saying 'this is concerning on many levels'

On how the children were when they left
I'm glad they didn't have any notice really, I felt like it would have been harder in the moment, 'oh your grandma's here you're going to go…' we all had to be up for them. I was happy the way it was happening because I didn't have to sit in the courtroom and watch them deal with media or anything…

On if she's been able to speak with them
Yes of course

Kelly's lawyer: When you're an American citizen you're not required to obey a foreign country, especially a foreign country where you have no citizenship… it's preposterous to think that there was a court order in place that Monaco was commanding them to be arrested… the agreement was back in 2012 the kids were toddlers and Kelly was ordered to send [them] to Monaco temporarily. The children's father and Kelly and the court agreed that it would be a temporary stay while the father got a US visa… and for three years he did nothing.

The father agreed and the children were told you're not staying here… he violated an American court order and the saddest part is no American court seems to give a damn.

On how Kelly thinks the ruling in Monaco will go in September
Kelly: Monaco has been incredibly kind to me and respectful. This was the first 5 weeks I've had with my kids straight in six years. The reason that the children… were ordered home by California was because Daniel was refusing to let me see them unless I surrendered their US passport. California ordered them home before they said they didn't have jurisdiction and Monaco didn't demand them back, New York just sent them back so it was a very odd situation. I think that Monaco has been put in this position because of the decisions that have been made here in the US.

On how this is some kind of bigger issue
Kelly: This is happening to so many people. I am having people stop me on the street… send me envelopes [of] their cases. I was just in D.C. speaking with members of Congress and the State Department. There need to be some laws put in place here – you're setting the children up for a problem, the parents up for a problem. I should be having to fight this in a foreign court at this point. This wasn't the intention of the order.
There was a lot of fibbing and nationalism in there. A lot of international couples get divorced and their kids get sent to live with the parent the judge believes will do the best job. Obviously Kelly's kids are with that parent. In Kelly and her lawyer's mind, all American kids should always stay in America. However these kids are also German and EU citizens, they're not just Americans. Her kids were happy to see their oma and get the hell out of there and she practically admitted it. And what the hell was Kelly saying about how this was the first time in six years she's had her kids for five weeks? We've seen photos of them in the Hamptons in all white every summer. She's so full of it. I also get the impression she doesn't want custody at all, she just wants the press coverage.
Fox News, which has run exclusive interviews with Kelly in the past, has a new article about how this custody debacle shouldn't hurt Kelly's "career". The experts they quote say it should only help her get acting work. I mean she's getting more exposure that's for sure and only the gossip sleuths are really calling her out on her lies.
Page Six has a new article detailing Kelly's 2012 custody ruling. Many of you have already read it, but if you don't know some of the details it's interesting. They have two great quotes, one from Daniel's lawyer and another from a lawyer who used to work for Kelly. Daniel's lawyer said simply "Are all these judges wrong and she's right?" and Kelly's former lawyer said "Her grip is slipping away. The more time they spend in Monaco, the tougher it will be for her to get them back in the US."