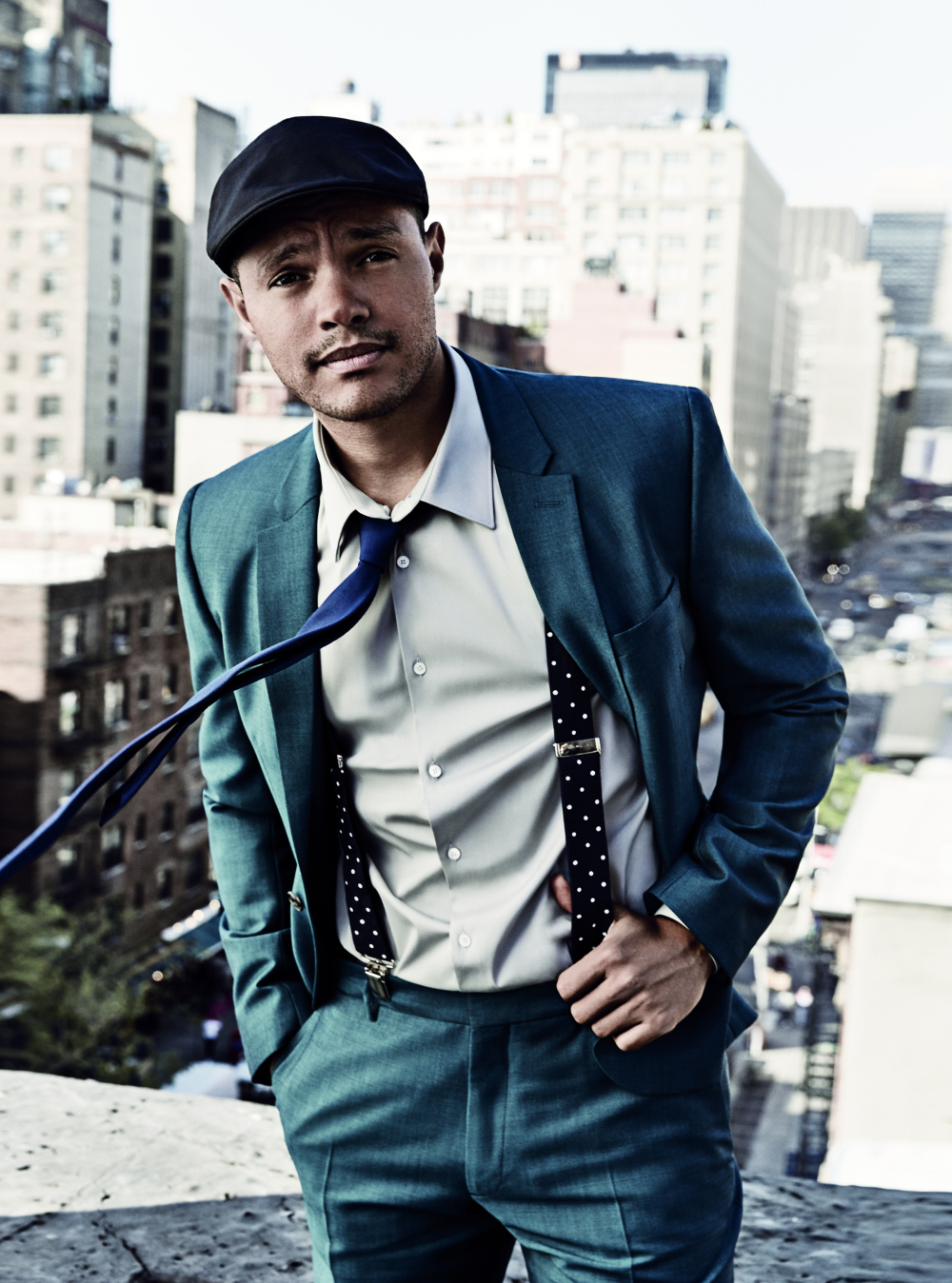 Trevor Noah has a lengthy feature in the September issue of Vogue – you can read the full piece here. While it's looking like Beyonce managed to get the September cover without giving up an interview, Trevor is not in the same position. He still has to hustle and he knows it's an uphill battle to convince people that he's worthy of hosting The Daily Show. The internet consensus these days is that people are going to give Noah a chance for several months, a certain grace period, but if he doesn't bring it by the heat of the presidential election, I think a lot of people will tap out. Also: if some of these quotes sound familiar, that's because Noah told some similar stories to GQ last month. Some highlights from Vogue:
The backlash about his tweets: "I realized, when people don't know you and you're now going to be a part of their lives, they try to form a picture, taking whatever little information they have. I always say to people, 'Do you think my two million followers would not have called me into order had I been sexist or racist or anything-ist along the way?' "

He was 10 years old when Mandela became president: "I knew it was life-changing. I didn't know why. When you're ten years old, you don't know that you're not able to sit on a bench reserved for white people. I was at an age where the only authority in my life was my mom. That was my battle—how to get her off my back."

South Africa vs. USA: "Over time, you start to realize a lot of the challenges we face are so similar. South Africa and America are both struggling with race and race relations and how to address the injustices of the past. We're still trying to find ways to establish equality between men and women—in terms of the pay gaps and how society perceives us. There are conversations I have in America where I go, 'This is exactly like being back home.' "

The woman in his life: "I've never been afraid to fall in love, nor impatient to find it. Right now, the love of my life, and the most demanding woman I've ever been with, is comedy. She's never fully mine. I think I know her, but there are moments when I realize I still have a lot to learn."

Witnessing his mother in an abusive relationship: "I had never seen anything like that. I'd always thought of women as the stronger and more powerful sex, because that's what I grew up with."

He & Jon Stewart are similar: "We will come to the same conclusions, but the formula to get there will be completely different. Jon said it the other day. He said, 'I'm just tired. I'm angry, and I'm tired. I'm tired that there hasn't been change.' "
That Jon Stewart thing is poignant, because that's what Stewart was radiating for several years. That's why people weren't really shocked when he decided to go – he was and is tired. He was tired of trying to find the humor in terrible situations and having to act as a media critic in the sh-tstorm of crazy. I believe Noah probably will have the same political bent as Jon, in that the show is designed to speak truth (truth through satire) to power. I hope Noah does well. We'll see.
Here's the teaser trailer for the new Daily Show.
Photo courtesy of VOGUE/Patrick Demarchelier.