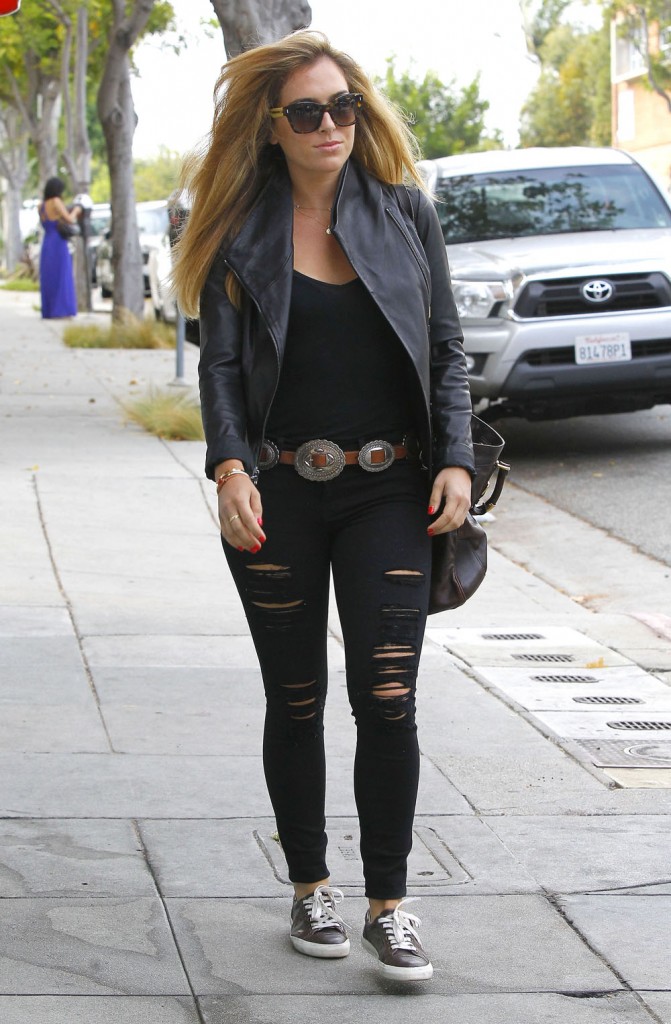 The more time passes, the more I believe Kaiser's theory that Affleck locked down his former fling and family's former nanny, Christine Ouzounian, with a cash settlement and a non-disclosure agreement. She's still doing her ridiculous "I'm a star" pap walks, of course, but we haven't heard any stories about her recently. I really believe that she agreed to stop leaking stories to the press.
I'm unsure whether Ben came crawling back to Jen and if they agreed to put their divorce on hold. OK! claims as much in their upcoming cover story, and quotes a source who says that "Ben asked Jen if there was anything he could do to save the marriage. The trust isn't there for her right now, but she left the door open." The paparazzi photos suggest this may be the case for these two, but it's also about image control. We'll have to wait and see. I would rather see Garner single and dating, but she seems to want to keep her family together.
As for Ouzounian's style here, this is ridiculous, right? Somehow her style has been getting worse the more she gets papped. It's as if she's taking risks and trying to look edgy and putting too many trends together at once. I usually like the ripped jeans look, but these are skinny ripped black jeans paired with tennis sneakers, a black tank, a black leather jacket in another shade of black and – the kicker – a western belt. I couldn't come up with anything clever to say beyond "fug, WTF?" so I'm quoting my awesome co-workers. Kaiser: Santa Fe Fug. Bedhead: 1990s Contempo Casuals Model #27. This woman is incredibly gossip savvy and she obviously reads about herself online, so it's possible she's trolling us. Given how she's dressed to date, though, I get the impression that she actually thinks this looks good.
So now that we're commenting on her casual style this woman probably thinks that she's arrived. Lainey Gossip reports that Ouzounian went for sushi and that a friend of hers gave fruit to the paparazzi. Because she's in LA and baked goods are not a proper gift, right? She's ready for that stint on The Bachelorette or Dancing with The Stars. Call her!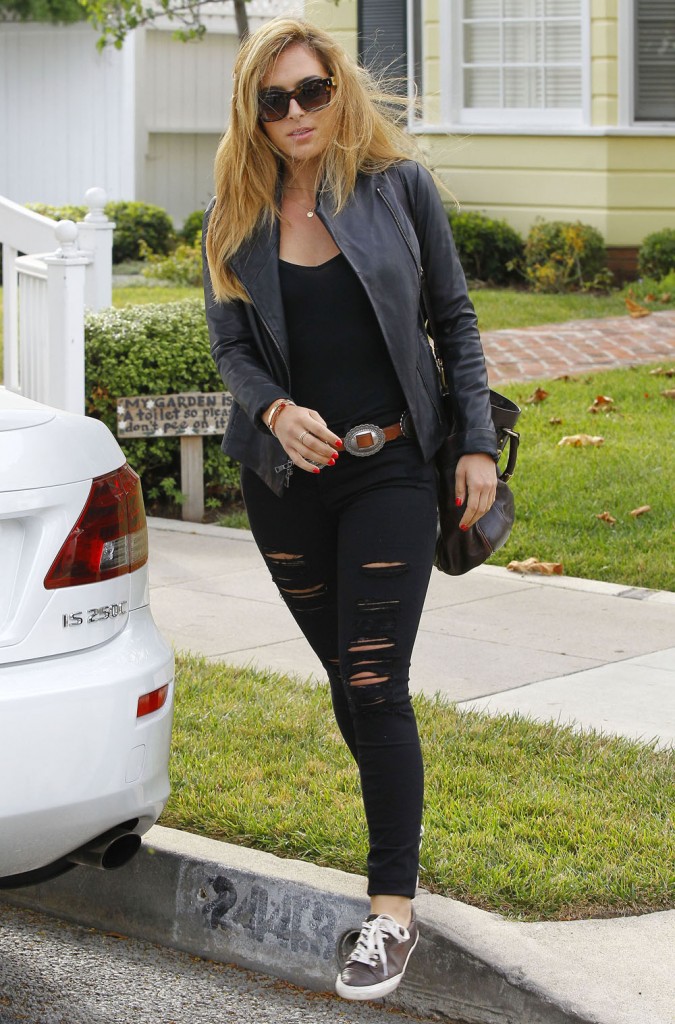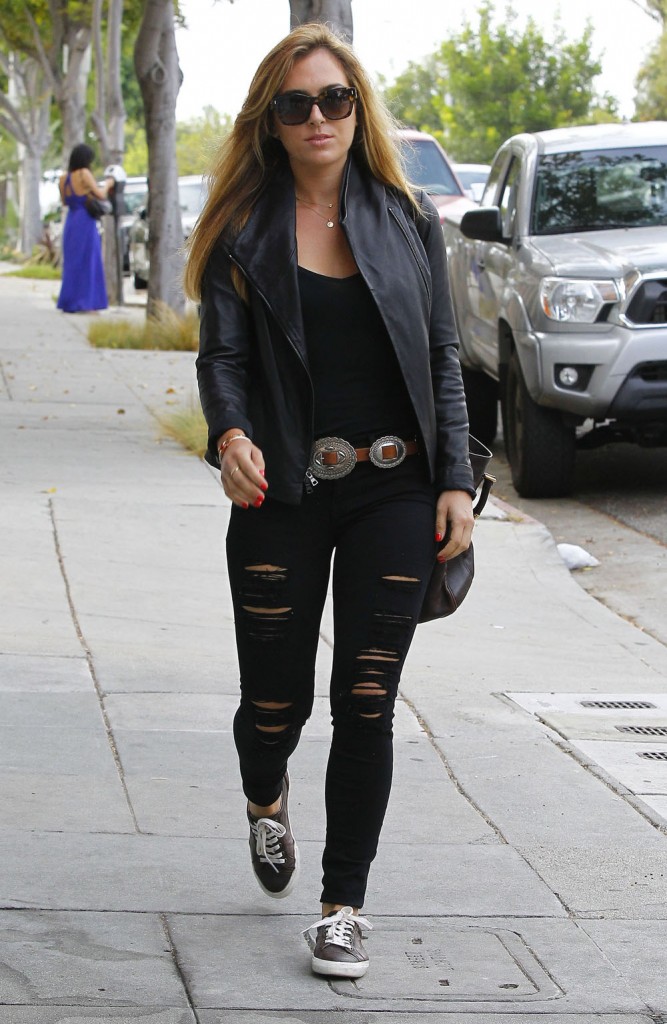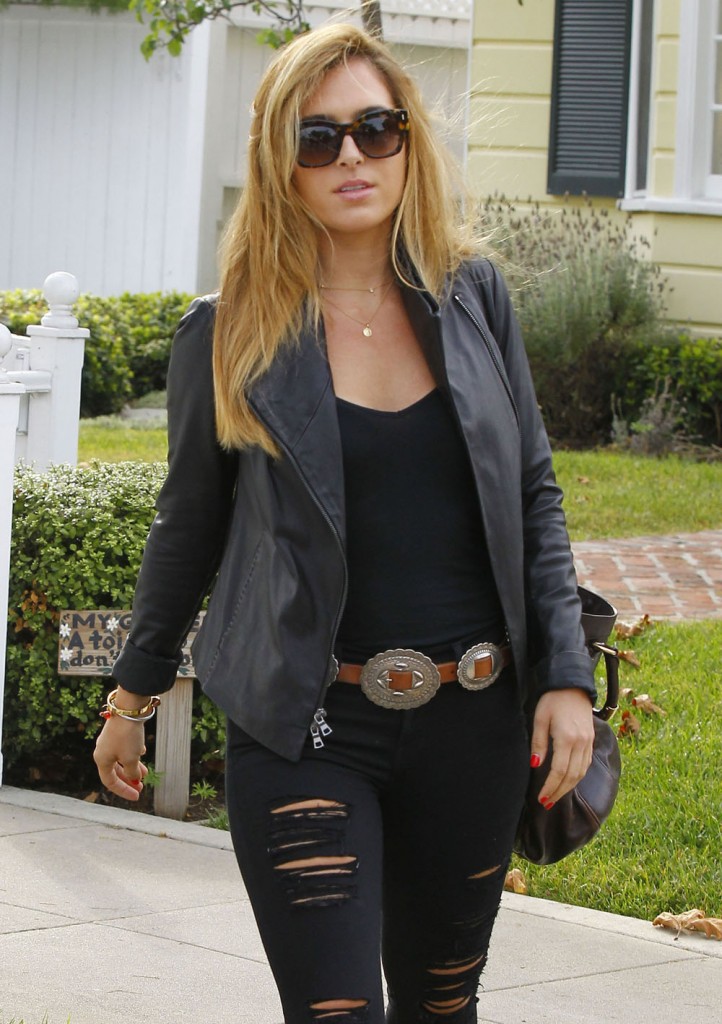 photo credit: FameFlynet