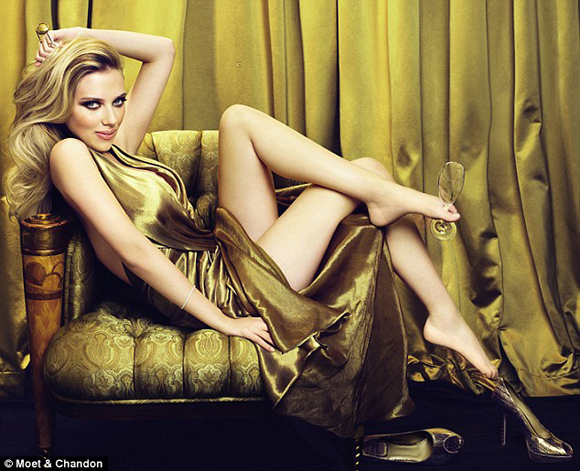 Scarlett Johansson is Photoshopped to Barbie-levels of body proportion and sexual accessibility in the new ads for champagne maker Moet & Chandon. Scarlett has lost some weight recently. She was seen looking thin at a Moet & Chandon party last week and was overheard talking about her diet. This is after Scarlett said in February that she's never dieted or gone to a gym in her life. She's not this thin, though, and it just looks fake and overdone, especially in that shot of her reclining on the couch. Her legs look like toothpicks.
Scarlett is the first celebrity spokesperson for the champagne house. Moet's president Frédéric Cumenal said in a speech at the party last week "Scarlett Johansson was the obvious choice as our ambassador because she, like Moet, has a magical story to tell and makes people dream. She is a true icon of celebration – refreshingly spontaneous, generous, glamorous and she lives life to the fullest both on-screen and off."
I like Scarlett and think she's sexy enough, but these ads featuring women with vacant come-hither stares have become passe. She looks like an object instead of a real person. Many people commenting on The Huffington Post are saying that her makeup is overdone and the airbrushing is too much. She's still pretty although it all comes off as a bit plastic.
Thanks to The Daily Mail for the photos