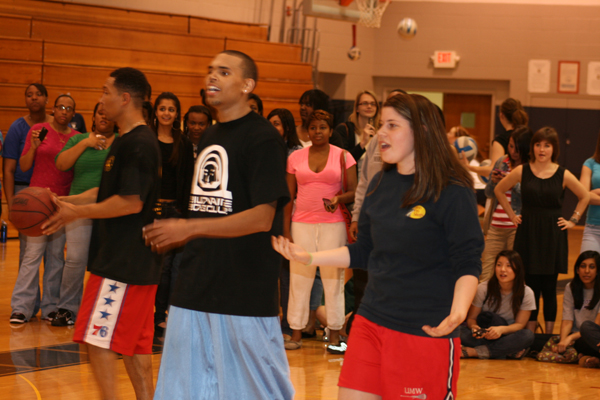 Did Chris Brown plan a public appearance against domestic violence?
MSNBC's The Scoop is running a story that Chris Brown was photographed with the University of Mary Washington women's basketball team in Fredericksburg, VA. The way the story is worded makes it seem like a calculated but quiet move to make a public statement about his attack on Rihanna as it just happened to be the week of a domestic violence awareness campaign at the school. Other sources make it sound like a coincidence though:
Chris Brown may not be making public statements about the two felony charges he faces for allegedly attacking Rihanna, but that doesn't mean he's eschewing public appearances.

On March 31, Brown posed for pictures with the University of Mary Washington women's basketball team in Fredericksburg, Va. The school happens to be in the midst of its week-long White Ribbon Campaign. "Men working to end men's violence against women," is the organization's tagline, according to whiteribbon.com.

Brown is due back in court April 6. Despite the alleged offenses and publicity debacle that's surrounded Brown since the February incident, some say that Brown can get past this.
[From MSNBC's The Scoop]
Washington Post: Brown was playing basketball with a friend, it was a coincidence that it was domestic violence awareness week
The Washington Post and the student newspaper, The UMW Bullet, make this all sound like happenstance and not like Brown planned to show support for domestic violence victims. According to the Post, Brown was just playing pickup basketball there with a buddy who was invited to check out the basketball court, he got recognized and he posed for pictures. It was domestic violence awareness week, but it doesn't come across like he knew about this ahead of time.
An after-hours pickup basketball game turned into a gawker-crazed sideshow at the University of Mary Washington on Tuesday when it turned out that one of the players — surprise! — was Chris Brown.

The news spread quickly across the Fredericksburg, Va., campus, via Twitter, text and old-fashioned word-of-mouth, and soon a couple of hundred students gathered to stare at the most controversial figure in pop music, cavorting up and down the court of Goolrick Gym.
Ironic, considering the small public college is midway through White Ribbon Week, which raises awareness of domestic violence. The R&B singer, 19, is charged with battering girlfriend Rihanna in L.A. in February.

That was no turnoff for the dozens of students who clamored to shake hands with the star or get a photo. A shaky video of Brown's unimpressive game made it onto TMZ.com within hours.
"I had the courage to go up and ask for a hug," Ako Nagahama, a 19-year-old sophomore from Virginia Beach, told us. Brown complied with a smile, and then "everyone else lined up for a hug."

Sigh. Kids, what were you thinking?!? Nagahama admitted the whole episode evoked complex emotions. "Before the [Rihanna] incident, I was basically in love with him," she said. "I'm still his fan," but "it sucks he did that."

Even weirder, she said: the number of students standing around watching while making domestic-violence jokes within his earshot. (An organizer of the White Ribbon campaign quietly circulated through the room handing out pamphlets.)

But what was Brown doing there? The student-run newspaper The Bullet reports in Thursday's edition that the Tappahannock,Va., native came to Mary Washington with an old friend who is considering enrolling there.
[From Voices.Washingtonpost.Com]
It sounds like Brown was just trying to get out and play basketball with an old friend and was open to meeting fans. If he's smart, he'll take this coincidence for the gift that it was and do something more measured and public. We still haven't heard any kind of mea culpa from Brown and only have that half-assed "I'm sorry… over what transpired" statement. Maybe he can't say much more due to the pending legal issues. He could volunteer at a woman's shelter or make a PSA without incriminating himself. He hasn't done much of anything though, except vacation in Vegas and Miami. Brown is next due in court next Monday, April 6.
Photo credit: The UMW Bullet