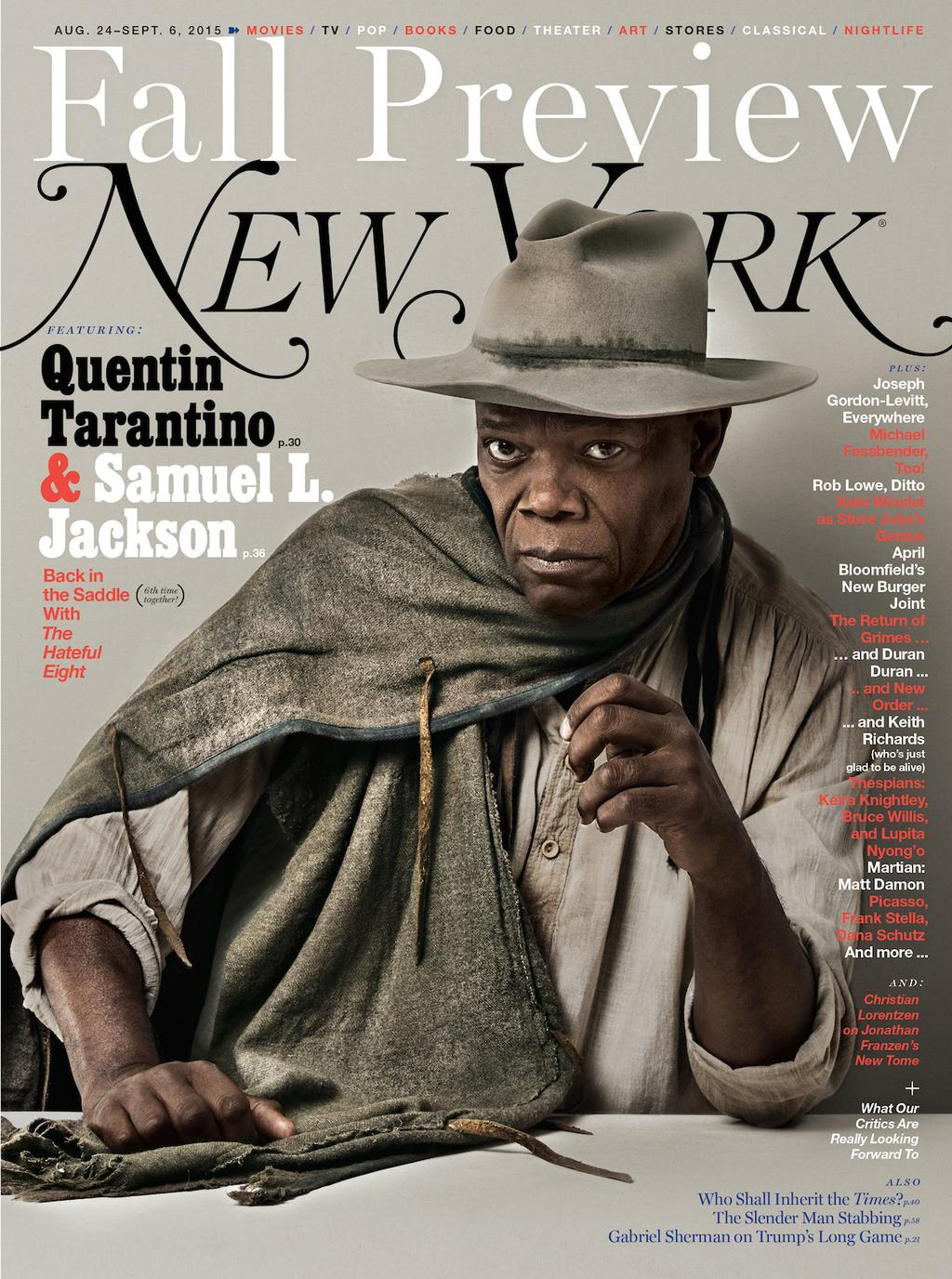 Samuel L. Jackson covers New York Magazine's fall movie preview issue, the same issue with Quentin Tarantino's noteworthy/crazy interview about The Hateful Eight. Sam and QT are kindred spirits in so many ways, and I think their collaborations together will go down as one of the greatest actor-director relationships in film history. Most of Sam's interview is about The Hateful Eight, race and all of that. Sam, as always, is a great interview. Remember his Playboy interview from a few years ago? That's still one of the best interviews I've ever read. But this one made me laugh out loud, especially when Sam starts talking to his sweater (you can read the full piece here). Some highlights:
His biggest problem: "My agent and manager tell me that my expectations of everybody else being as prepared as I am is my biggest problem."

Why he played the narrator in Inglorious Basterds: "Quentin didn't believe I could learn enough French to be the other black guy — I would've figured it out!"

He really isn't rolling in money: "Everybody worries about money, except for billionaire people. There's no b in my money."

His affinity with QT: "Quentin and I have a kind of cinematic affinity…[On the set of Pulp Fiction,] Quentin would walk by my trailer, and he would always hear the sounds of either kung-fu fighting or bullets going off, and he would look in the door and say, 'What are you watching?'" To this day, they still do movie nights at QT's house because "he's got a bigger theater."

Comparisons between Django & 12 Years a Slave: "Unfair comparisons were made between the two films, and it was more about Quentin using the word n–ger 102 times in the movie and it's like, well, there's one song in 12 Years a Slave where they say n–ger like 300 times! But it's a song, so it's art?"

Sam's response to the people who criticize Tarantino's n-word usage: "I tell them, 'He's telling his story. If you've got a problem with that, then you need to write your story.' We're talking about people living in a specific time who speak a specific way, who still do speak a specific way in parts of the country. I grew up in the South in segregation. I heard it every day. And people who didn't say n–ger said niggra, which was like, Why don't you just go ahead and say it? It sounds the same to me."

It doesn't matter that South Carolina removed the Confederate flag: "People still got it on their license plates. It's just part of the fabric of the South. I don't mind knowing who the enemy is if they want to announce it."

He loves seeing movies in the theaters with his senior discount: "I'm 66! I can show my ID at the theater and get a discount. And I do! I'm not too proud. I've earned it."
There are lots of great little asides, like how Sam and his wife vacation with Magic Johnson and his wife every summer on a yacht, and Sam brings the movies. So, like, Sam, Magic and their dude friends are sitting in a darkened theater of a yacht in the middle of the Mediterranean watching art-house kung fu movies. Seriously. And Sam is still pissed that Quentin didn't cast him in Reservoir Dogs. STILL, to this day, Sam is pissed about it.
As for how Sam consistently defends Tarantino's racial politics… I like that Sam feels so strongly about QT's cinematic vision and that Sam stands up for his friend in interview after interview. Personally, I find Sam's views on race much more compelling than Tarantino's, but whatever. Tarantino is the one still writing compelling roles for Sam after all these years.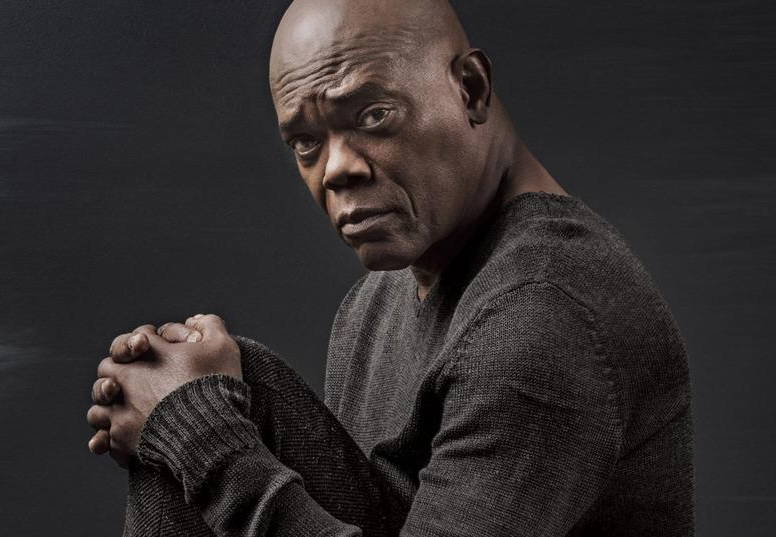 Photos courtesy of NY Magazine.