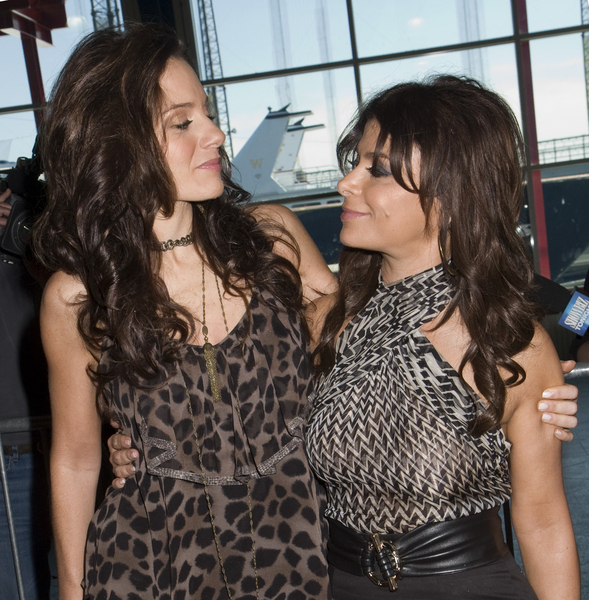 Everyone said that adding a fourth judge to the mix on "American Idol" was a bad idea – and now that is looking to be true. Sources say the addition of Kara DioGuardi, a songwriting veteran with hundreds of hit tunes to her credit, has stirred up some bad mojo with the show's existing judges. And Kara also has a hard time taking criticism from the live studio audience, including family members of the contestants.
Here's what you didn't see on last night's American Idol:

CLASHING WITH CONTESTANTS

While judge Kara DioGuardi critiqued contestant Megan Joy's performance of "Turn Your Lights Down Low," her brother yelled out, "Broken record!" It startled the judge.

During the break, DioGuardi approached him and the rest of her family. At first, she thought he was yelling "broken record" at his sister. When Joy's brother told her the comment was aimed at her, DioGuardi was taken aback. "I am? Why?" she asked. He then said "packaged artist" could be her "packaged phrase." Upset, she stormed off with her bodyguards.

She approached Joy's brother again during the next break, tapping him on the shoulder. She then said to the people around them, "Can you believe what he said to me?"

It wasn't her only miffed moment. After DioGuardi and low-scoring contestant Anoop Desai clashed over his rendition of Usher's "Caught Up," the show went to commercial and DioGuardi made an annoyed face as she turned away to walk backstage. She then greeted guest Neil Patrick Harris (who was with his beau David Burtka) as he waved wildly from the audience.

GETTING THE COLD SHOULDER FROM SIMON

DioGuardi recently complained on the Ellen DeGeneres Show that the other judges "talk about the clothes" more than the "technical" aspects of a singer's performance. But when contestant Allison Iraheta walked on stage in a poofy red dress and black leggings, DioGuardi ended up commenting on her look. When Simon Cowell remarked that Iraheta resembled "something out of The Addams Family," DioGuardi leaned over and said to him off-mic, "So, you agree with me!" Cowell refused to acknowledge her.

Throughout the show, Cowell and Paula Abdul (who was "upset" over DioGuardi's comments to DeGeneres, says a source) bonded, talking and whispering frequently. After contestant Scott MacIntyre sang, the two cut off DioGuardi's critique by walking backstage with their arms around each other.
Personally, I like Kara's insight on the show. She's the only judge who is currently working successfully in the music industry. When was the last time Paula Abdul was relevant as a recording artist? I do agree with her that the judges are way too focused on the contestant's images and not the vocals or talent. I don't think the judges should be allowed to say anything once the competition reaches the point where the audience votes. First of all, their opinions cease to matter once the voting part of the show is involved. And second of all, they don't really have anything constructive to say most of the time anyway.
Kara Dioguardi is shown promoting Revolution Eyewear at the Jacob K. Javits Convention Center in NY on 3/29/09. Photo of Kara and Paula Abdul is from an event in NY last summer introducing Kara as the fourth judge. Credit: PRPhotos