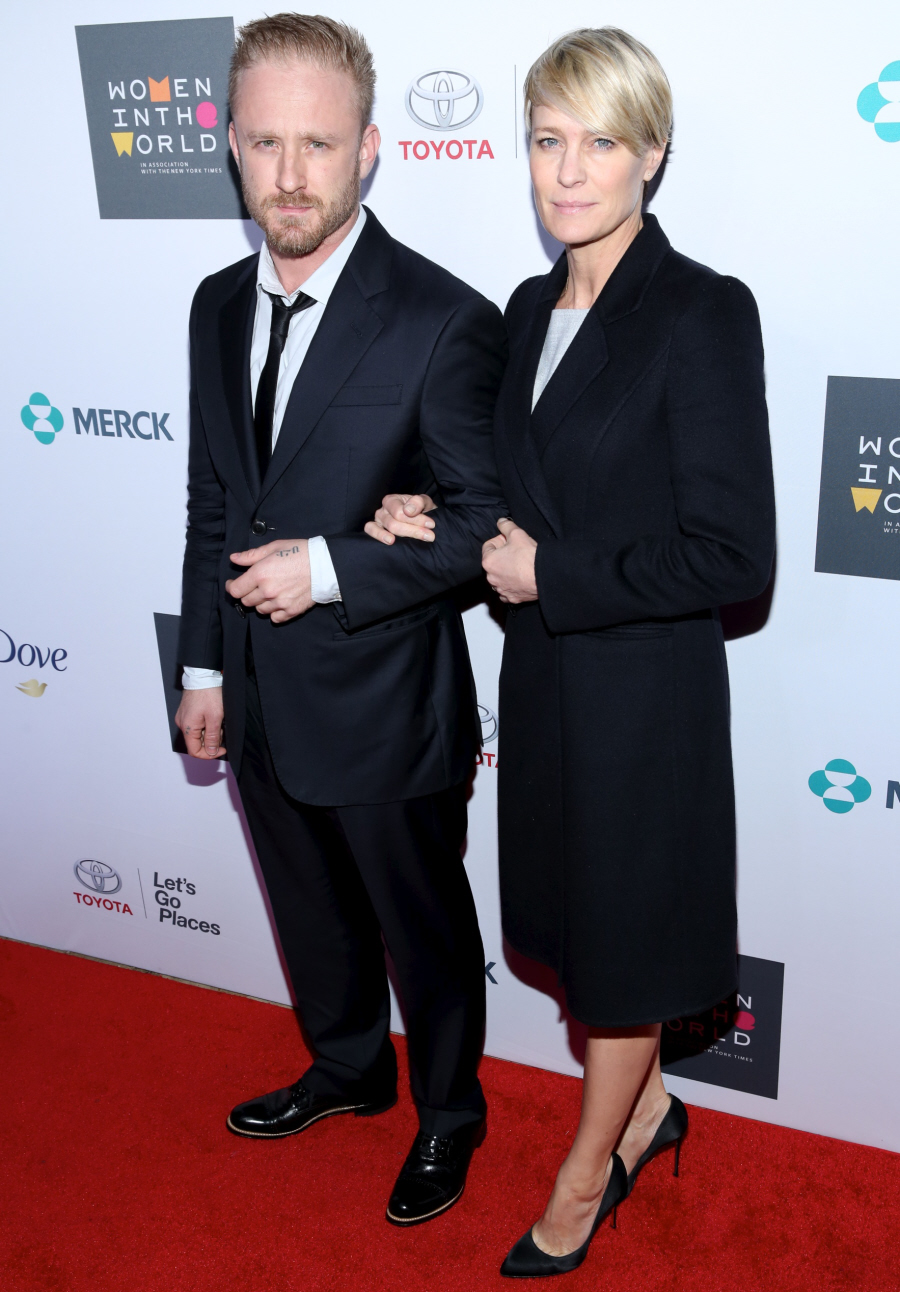 I have no idea why Robin Wright and Ben Foster's relationship is so full of drama. They have been together, off and on, since 2011/12. They apparently got engaged in late 2013, then they split a year later (November 2014), then by January of this year, they were back together and the engagement was back on. And now it's off. Again. And they've completely called it quits as a couple. I'm sure they'll get back together by December!
Robin Wright and Ben Foster have broken up and called off their engagement for the second time. The Princess Bride and House of Cards star had confirmed in January 2014 she and the X-Men actor were set to marry. E! News learned in November of that year that the two had split. In January of this year, Wright and Foster reunited at the 2015 Golden Globes.

On Saturday, E! News learned the two split and called off their engagement a few months ago. Wright, 49, and Foster, 34, have not commented. People had earlier reported that their engagement was off again.

The two met on the set of the movie Rampart, which was released in 2011, and began dating months later. After confirming their engagement to E! News, the actress had called the actor "the hottest," adding, "I'm very blessed."

This would have marked the first marriage for Foster and the third for Wright. Her first husband was Dane Witherspoon, her co-star on the soap opera Santa Barbara, who died last year at age 56. Her second was Sean Penn, with whom she shares daughter Dylan Penn, 24, and son Hopper Penn, 22.
Is Robin Wright just the kind of woman who enjoys drama-filled relationships with intense men? I think she might be. At the age of 49, she knows better and she's still doing it, she's still seeking out and participating in all of this drama. She enjoys it. So yes, my guess is that they probably will have a few more rounds of this on-and-off stuff. And we already know that the makeup sex is apparently phenomenal – Robin said as much in her Vanity Fair interview earlier this year. Oh well. Have fun, you guys.
Incidentally, I kind of think Ben Foster might be a sleeper Oscar contender this year for his work as Lance Armstrong in The Program. The film debuts in Toronto in a few weeks and it looks SO GOOD. With all of the conversation about the Best Actor race, I think Ben Foster is going to quietly wage a sleeper campaign. And how best to navigate a campaign then with a lady like Robin on his arm?
Photos courtesy of WENN, Fame/Flyet.