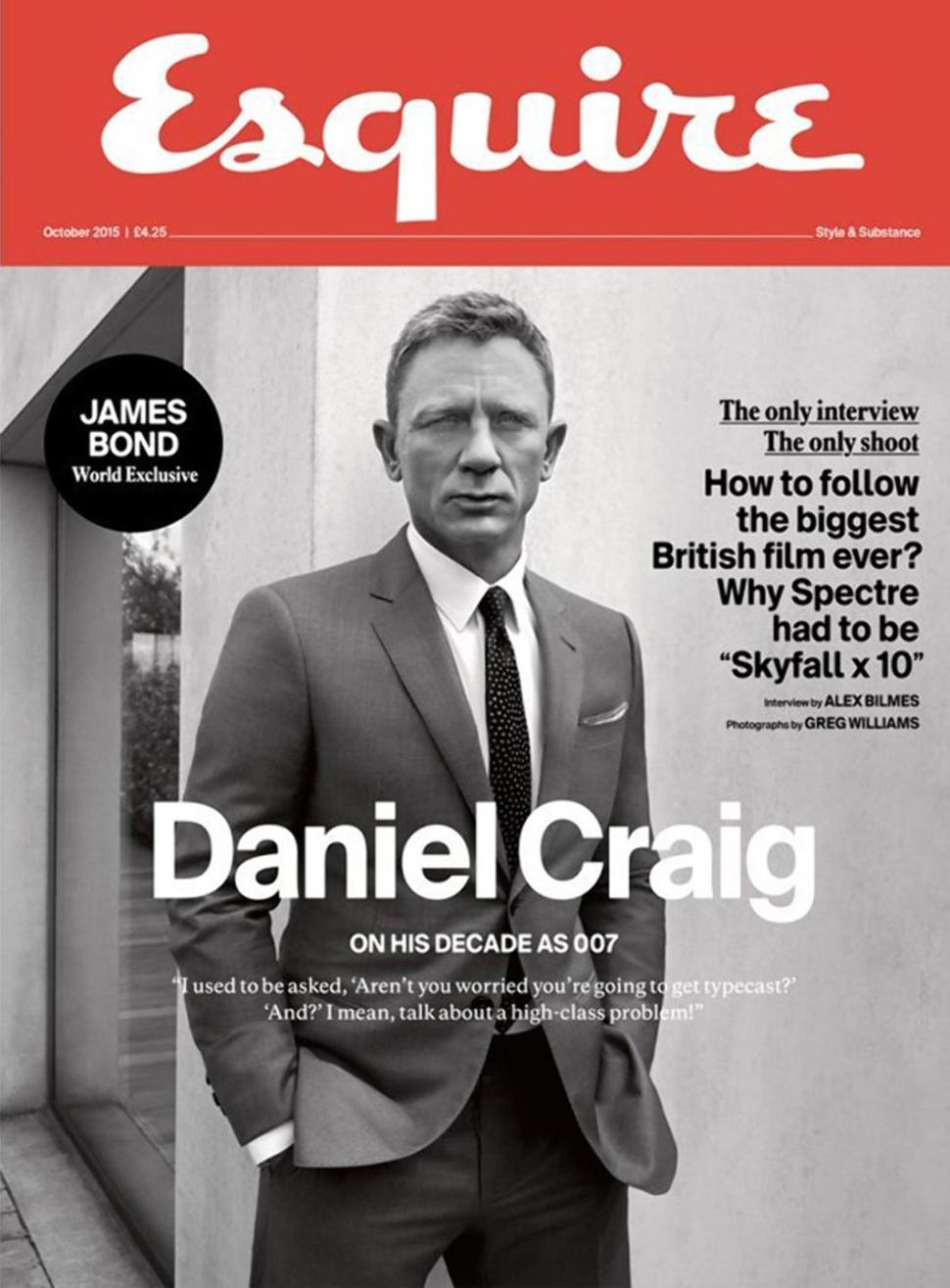 Daniel Craig covers the new issue of Esquire UK, as part of some advanced promotion for Spectre. The film isn't due in theaters until November 6th, which makes me happy because I kind of think too many films are vying for the Christmas box office when it's pretty clear that Star Wars: The Force Awakens is going to blow everyone off the map. Anyway, I really enjoyed this interview – Daniel Craig can be a moody, morose dude, but he was talkative and interesting in this piece. You can read the full piece here. Some highlights:
The James Bond franchise was struggling when Daniel took over: "I'm a huge Bond fan. I love James Bond movies, and I love all the old gags and everything that goes along with that. No disrespect to what happened before but this is completely different. It's got weight and meaning. Because I don't know another way to do it."

Whether he'll do one more Bond film: "I don't know. I really don't know. Honestly. I'm not trying to be coy. At the moment I can't even conceive it."

Whether he'd like to do another one: "At this moment, no. I have a life and I've got to get on with it a bit. But we'll see."

He's not James Bond: "I'm not James Bond. I'm not particularly brave, I'm not particularly cool-headed. I have the fantasy that I would be good in a certain type of situation, like all of us, and I put those hopes into [playing] him. There are bits when he doesn't know what the f–k he's doing, and I like that."

James Bond is lonely: "He's very f–king lonely. There's a great sadness. He's f–king these beautiful women but then they leave and it's… sad. And as a man gets older it's not a good look. It might be a nice fantasy – that's debatable – but the reality, after a couple of months…"

Daniel's Bond isn't as bad as the other ones: "Hopefully, my Bond is not as sexist and misogynistic as [earlier incarnations]. The world has changed. I am certainly not that person. But he is, and so what does that mean? It means you cast great actresses and make the parts as good as you can for the women in the movies."

He's not worried about typecasting anymore: "I relaxed. It was like, 'F–k it. I'm James Bond, for f–k's sake. So I'll do James Bond.' The fact of it is, it's not a bad position to be in. I used to get asked all the time, 'Don't you worry that you're going to get typecast?' 'And?' I mean, talk about a high-class problem."

In his spare time: "We've got a place in the country, in New York. There's a lot to do there. I read, I photograph things really badly. Maybe one-in-a-thousand comes out. I'm working that ratio down." He has an office in the house. "I try to get there once a day, surf the internet for half an hour." He laughs. "Phew! Knackering."

On being a rich & famous movie star now: "It threw me for a loop. It really shook me up and made me look at the world in a very different way. It confused the hell out of me. Fame and fortune, for want of a better expression, is f–king scary. I couldn't find a lot of fun in it."

His attitude about Hollywood: "Let's celebrate this. It's good fun. And of all the industries that make lots of money in the world, yes, the movie industry is a bit crooked and there are some sharks and not very nice people, but it's a fairly open book: you come and see it, we make money. It's not, 'Come and see it and we'll fleece you somehow and sell your house.' We're not bankers. It's entertainment. I think there are worse professions to be involved with."
It's a really long piece and Daniel and the writer go into a longer conversation about the Ian Fleming canon and what makes Bond tick and all of that. There was some new information there, especially since I didn't know much of the backstory of Bond's relationship with the Oberhauser family. Christoph Waltz is playing "the bad guy," Franz Oberhauser, and Franz and James Bond grew up as brothers. As for these highlights… he seems to be at peace with who is, at long last. Like, he owns the fact that he's James Bond and he's a rich and successful actor. I like what he says about Hollywood too, that even with the bad stuff in the industry, it's not like they're trying to rob people blind.
Here's the new Spectre poster. Is this cheeseball or cool? I can't tell. The skull reminds me of Day of the Dead stuff.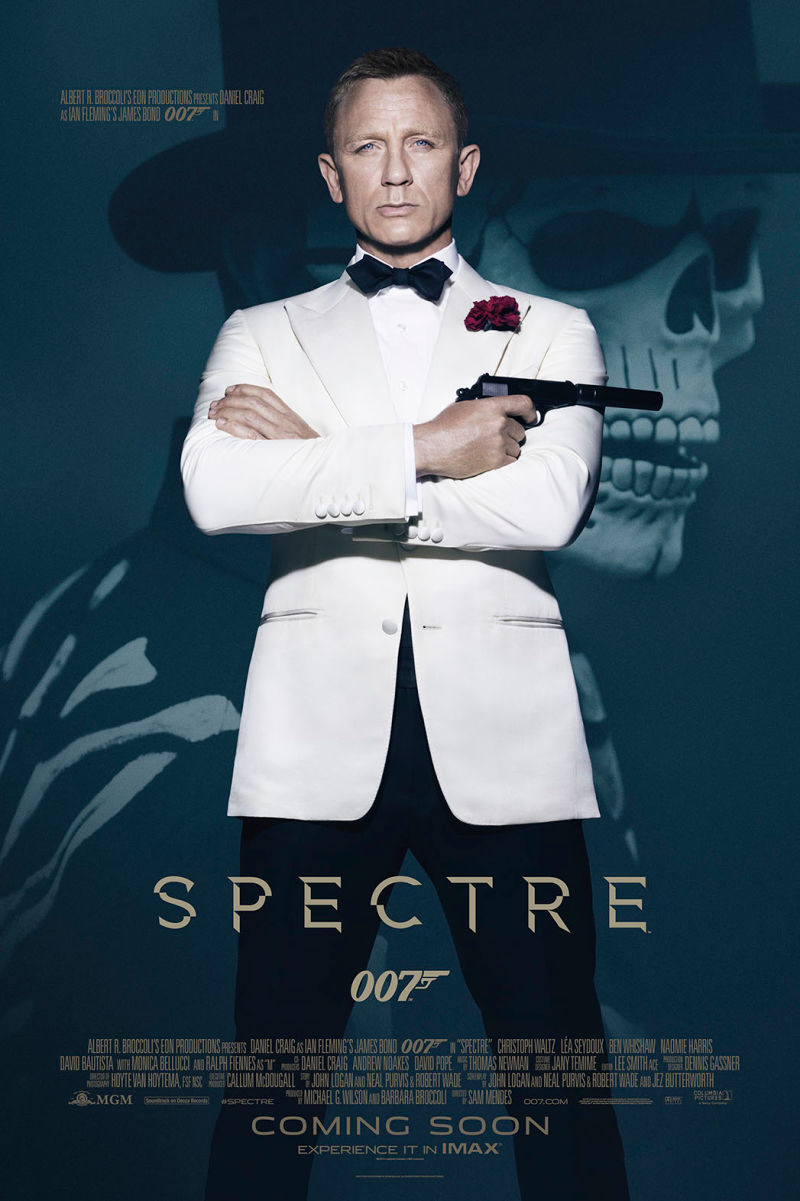 Photos courtesy of Esquire UK, 'Skyfall'.