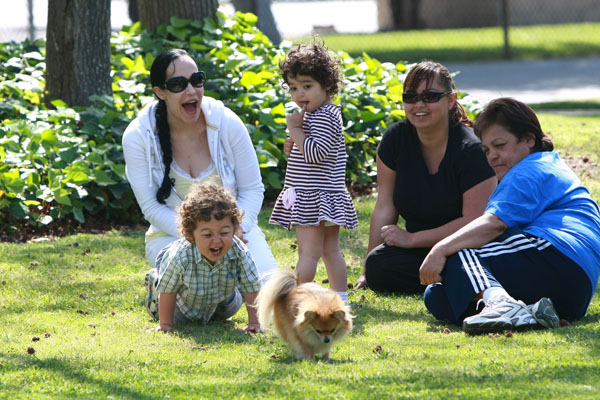 The National Enquirer has an exclusive this week that Octomom Nadya Suleman is seriously considering the offer from adult film company Vivid to appear on screen in exchange for $1 million, health insurance, a year of nannying from adult film actresses, and a bus. This woman is blowing through cash at an alarming rate and has a penchant for fame, plastic surgery, and designer goods. She needs the money so that she can continue living like the pampered star she's aspiring to be. She's supposedly not going to do anything explicit on tape, though, and is just going to show her silicone filled boobs.
Octomom Nadya Suleman is seriously reconsidering an offer to appear in a porn movie for $1 million, the Enquirer has learned exclusively.

Nadya is so desperate for cash she plans to reopen talks with a major porn production company, say sources.

The 33 year-old single mom had originally turned down the big bucks bait from Vivid Entertainment. But corporate sponsors have stayed away from Nadya as public reaction to hear has been mixed. As the Enquirer revealed last week, when Nadya was 18, she took a short-lived job as a stripper. Now we've learned she is weighing a deal to go topless in a porn production – although she draws the line at baring all or doing sex scenes.
[From The National Enquirer, print edition, April 13, 2009]
The Enquirer is owned by the same company as RadarOnline, which has an exclusive deal with Nadya to broadcast video segments with her. The two media outlets are probably in close contact with each other and share information, and I bet this is true. This woman has a slippery relationship with the truth and will do whatever it takes to get her way.
Despite her selective morality in having all her week-old embryos implanted at once because they were her "babies," she has admitted that she was a stripper, but claims it was just for one day. Suleman also told her mother that her last pregnancy was a "tumor" and claimed to Ann Curry that she wasn't dependent on taxpayers despite the fact that she was on foodstamps and half of her older kids get disability. She probably was a stripper for a while and loved the easy cash. Ten to one she'll do more on tape than just strip. She'll do the whole monty and probably a little more. Times are tough and she's got clothes to buy. If she has a clue she'll hire around the clock security guards too. She definitely seems to need them.
Nadya Suleman is shown out with her kids and nanny at the park on 4/1/09. Credit: Eric Brogmus/INFphoto.com