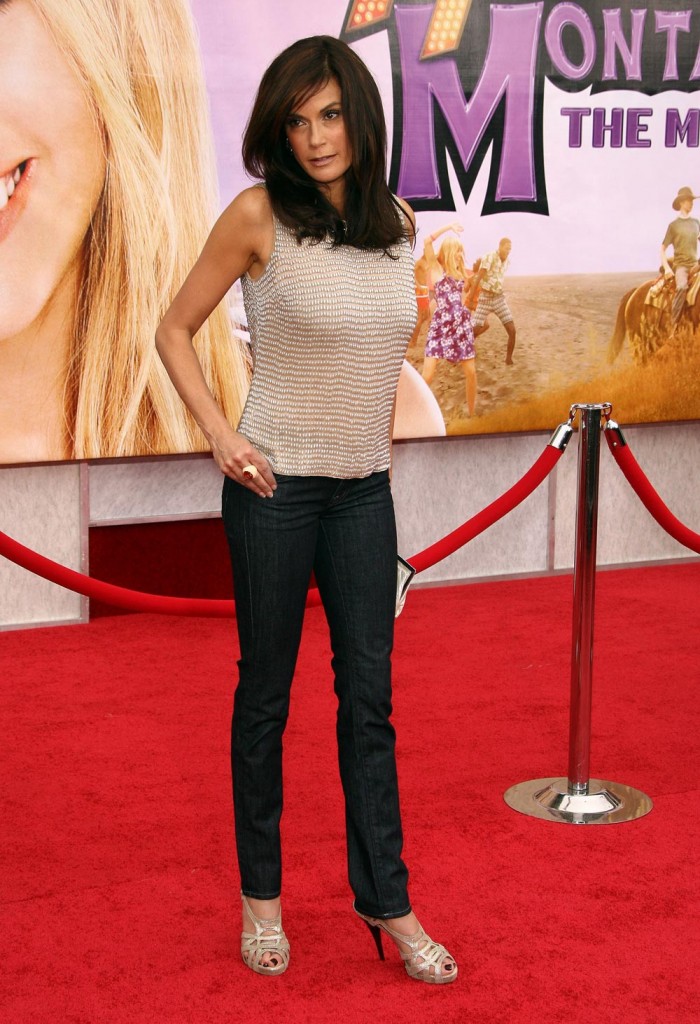 A couple of weeks ago we reported on a story from The National Enquirer that former Desperate Housewives star Nicolette Sheridan stripped her trailer of almost everything on her last day on set. Nicolette was said to be upset that she was being written off the show and decided to grab everything that she could before leaving.
The Enquirer may have a source on set as they're running a story this week that claims that Teri Hatcher isn't a joy to work with, either. She's said to be acting snotty and entitled on set and the crew and is supposedly trying to appease her:
"Nicolette was bad, but I think Teri is by far the most problematic at the network," a set insider told The Enquirer.

"She can be so rude and ill-mannered – snatching things out of crew members' and assistants' hands without saying please or thank you."

Wardrobe department workers recently felt Teri's wrath. She made them haul all of the clothes, shows and accessories chosen for her character to an area outside of her trailer, and then she picked out everything she didn't like and told them to get rid of it, says the source.

"It's truly bizarre – everyone has to cater to her like she is a queen.

"Teri doesn't eat with all the cast and crew. It is as if she thinks she is above them.

"A runner drives to upscale restaurants such as Katsuya or Armoa Cafe so she can eat in her trailer and drink her many bottles of expensive cabernet that she has stored.

"The woman doesn't even go to the hair and make-up trailer – they come to wherever she is!

"When fans are driven by the Wisteria Lane set, she often doesn't wave or smile like the other actresses. She will turn her back," claims the insider.
[From The National Enquirer, print edition, April 13, 2009]
I hope this is exaggerated or just someone spreading rumors about Teri, because she always struck me as a nice person and I don't want to imagine her treating people like crap. She gets a lot of flack for being an older woman with wrinkles and a thin face and I don't think it's fair. I also think it was incredibly brave of her to come out and speak about her childhood abuse, and I've had a high opinion of her since. Whatever happened, Teri surely pissed off someone on set. It just goes to show that you should strive to be nice to everyone you encounter in life no matter what their position. People from all walks in life have connections and you never know when bad behavior is going to come back to bite you in the butt. Plus it's just common courtesy to treat people as you would like to be treated.
Teri Hatcher is shown on 4/2/09 at the premiere of the Hannah Montana movie with her daughter Emerson, 11. Credit: Juan Rico/Fame Pictures