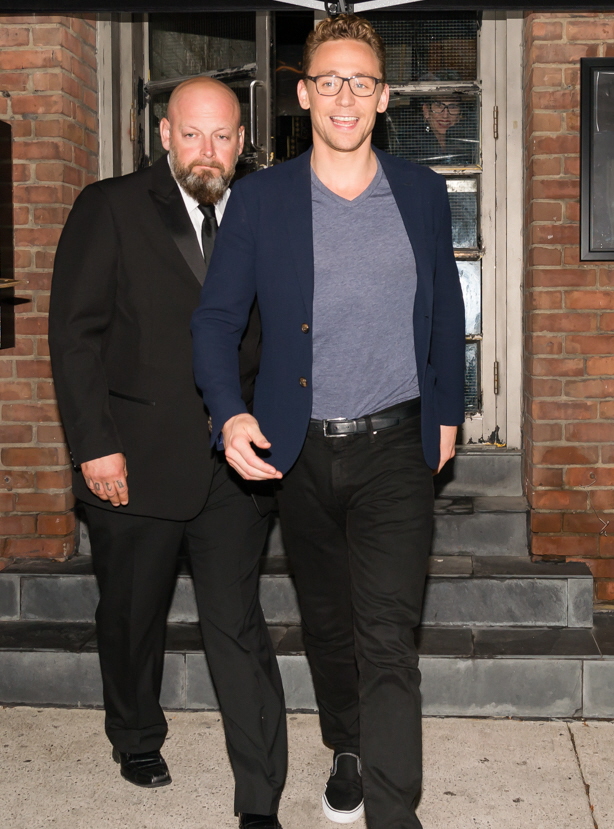 I don't mean to set off a Dragonfly War, but it's really cracking me up to see Tom Hiddleston's fans in such denial about his relationship with Elizabeth Olsen. They really are together, people. They're happily posing together all over the place at TIFF, which seems more like they're coming out as a couple than anything else. They've been photographed in London several times in the previous months, and it's pretty obvious. They're together. I'm including a glut of photos of Hiddles and Olsen over the weekend, separately and together. Tom came out for the industry parties the night after he premiered I Saw the Light, and Olsen came out for that too (and they posed together on the carpet). He went to the InStyle party, where he spent time with Olsen and Eddie Redmayne. He also spent time at the Entertainment Weekly party and caught up with Chiwetel Ejiofor, Jessica Chastain, Emily Blunt and Brie Larson.
Hilariously, now Olsen is trying to deny that they're a couple. O RLY? This happened during her Refinery 29 interview:
R29: There have been a lot of links between you and Tom Hiddleston, about you two dating. I don't know if that's something you confirm, but how do you feel —
Olsen: "I mean, we definitely are friends and we've known each other for about four years. And we happened to be at a restaurant at a wrong time having dinner. We all go out to dinner."

How do you react when you see that in the press?
"Well, apparently, I'm dating Chris Evans, and apparently, I've dated Jeremy Renner, so I guess that… I don't react to it."

So you're not dating Tom?
"No. I mean people can think what they want to think."
Yesterday, I complimented Tom and Elizabeth for not playing the "too cute by half" thing with their relationship. I take it back. She's annoying me. They are dating, and if she didn't want to confirm it, she could have just said "no comment." It's really not that big of a deal (except for the Dragonfly Implosion).
As for ISTL… my God, the reviews are getting worse. HitFix called it "such a disappointment" and "shockingly bad." Most of the criticism seems focused on the script and direction, not so much Tom's performance. The NYT even said that "though Mr. Hiddleston shone as Williams, the film left the audience palpably puzzled, and reporters disappointed. The general consensus: the performance far bested the film." Tom told reporters that Hank Williams' life "seemed very far away" from the way Tom had grown up but "he's who I might have been if I had Hank's life." Wait, what?
Photos courtesy of Getty, WENN.