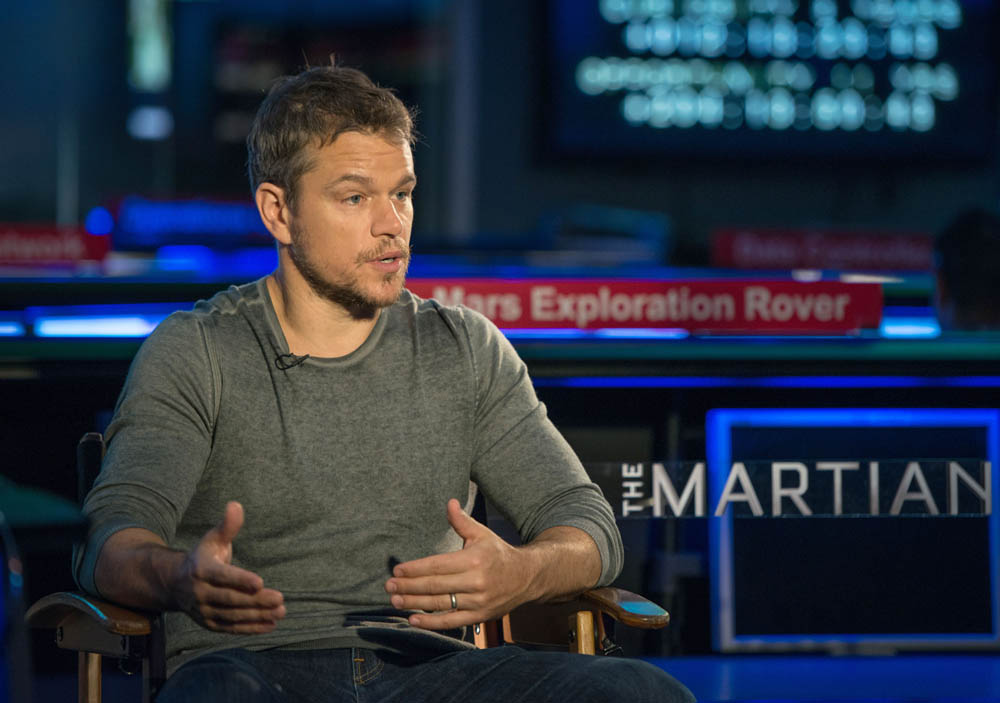 Spoilers for the first episode of Project Greenlight follow
Matt Damon, to date, has arguably yet to make a false move when it comes to his public image. (Yes there's the Minnie Driver thing, which is ancient news.) This is of course in sharp contrast to his buddy Ben Affleck, who is going through a rather scandalous separation and most likely a divorce. All of that may have changed in the first episode of Damon and Affleck's director-search reality series, Project Greenlight, which returned to HBO on Sunday after a ten year hiatus.
The context is that 13 young directors were chosen out of thousands of applicants to come to LA to shoot a short film, written by the Farrelly Brothers (Something About Mary, Dumb and Dumber). Their entries and subsequent interviews would enable a panel of nine Hollywood insiders, including the Farrelly Brothers, Damon, Affleck, and several producers, to pick a finalist to film a $3 million comedy for HBO. Unlike past seasons, this is more focused on the process of making the film, with the director selection occurring in the first episode.
As the panel, which consisted of seven white men and two women, discussed their final four selections, producer Effie Brown (Dear White People, But I'm a Cheerleader) brought up the fact that one directing duo was diverse. She had given voice over prior to this explaining why, as a woman of color growing up in the 70s, minority representation was important to her. She said "There weren't a lot of positive representations of women and people of color [in film]… we were gangsters, prostitutes, drug addicts… this is an opportunity where I can change that." Then, when Brown tried to advocate for the directorial team of her choice, a woman and a recent emigrant from Vietnam, Damon interrupted her and shot her down with a problematic argument – that casting could make up for a lack of minorities behind the scenes. It's worth noting that Brown was the only panel member who voted for this directing team, but that doesn't excuse Damon's explanation. Also, the only black person in the film would be a prostitute (Harmony) with a white pimp, and everyone agreed that the script was questionable and would need to be changed.
Here's that exchange in some context. If you watch the show it's at about 30 minutes in, and there's a shorter clip below:
Brown: I just want to bring out something. I want to urge people that whoever this director is, the way that they're going to treat the character of Harmony, her being a prostitute, the only black person, her being a prostitute who gets hit by her pimp. You're looking at this group right here and who you're picking and the story that you're doing and I want to make sure that we're doing our best for the film.

Damon: I would say that only team that's left with diversity is the team that announced that they liked this script the most as it is and that's Leo and Kristen. Everyone else had major problems with it, with exactly the things you're bringing up and exactly the things that we brought up to each other, so I…

Brown: Not necessarily true.

Damon: So I think on the surface they look like one thing but they might end up giving us something that we don't want and we're talking about diversity, you do it in the casting of the film, not in the casting of the show.

Brown: Whoo. Wow. Ok.

Damon: Do you want the best director?

Brown: Hold on, I'm not mad. With love in my heart, even Leo and Kristen talked about, and we can roll it back, he said it was good having her because she has a perspective that he hadn't even thought about when talking about women. They did talk about it.

Damon: Right, that's totally fair.

Jennifer Todd, President of Pearl Street Films: You know, I have a problem with Harmony.

Peter Farrelly: Everybody does. I have a big problem with it as written.

Todd: I don't look to just them to fix that, to be honest, I think we also have work to do.

Matt Damon (in voiceover): I'm glad Effie flagged the issue of diversity for all of us because filmmaking should [be shown] through a broader net and it's high time for that to change, but ultimately if suddenly you change the rules of this competition at the eleventh hour, it just seems like you would undermine, what the competition is supposed to be about, which is about giving somebody this job based entirely on merit and leaving all other factors out of it. It's just strictly a filmmaking competition.

Matt Damon (back in room): I think the whole point of this thing is you go for the best director, period. This is what we have and this is what we have to chose. The only thing I can go by is the work that they've done.
[From Project Greenlight, aired 9-13-15]
Damon argued that they could change the way the character was treated (although Damon was not as emphatic about it as the others) and that this particular directorial team may have been diverse, but that it didn't mean that they would deliver in creating a nuanced character of color. His argument, that it didn't matter if there was diversity behind the scenes, was short-sighted and he should know better. This issue received so much press this awards season with the snub of Ava DuVernay for a best director nom and the revelation of how white and old the Oscar voters are. Less than 7% of the highest grossing film directors are female, not to mention the lack of minority representation in film both behind and in front of the camera. Both matter, and both affect each other.
Ultimately they picked the director they thought would do the best job, but it's telling that there was just one minority member on their panel and that her argument was quickly dismissed. Damon may have been "right" in the context of the competition, but he could have acknowledged Brown's argument instead of dismissing it out of hand. Even the most liberal producers and directors can be blind to the issue of lack of diversity in film. Also, Kaiser wanted me to point out that the "merit" argument is "what white people use to silence diverse voices again and again."
Matt Damon speaking over the only black person in the room so he can explain diversity to her is SO WHITE it hurts pic.twitter.com/iaQStYZ0ij

— Glen Coco (@MrPooni) September 14, 2015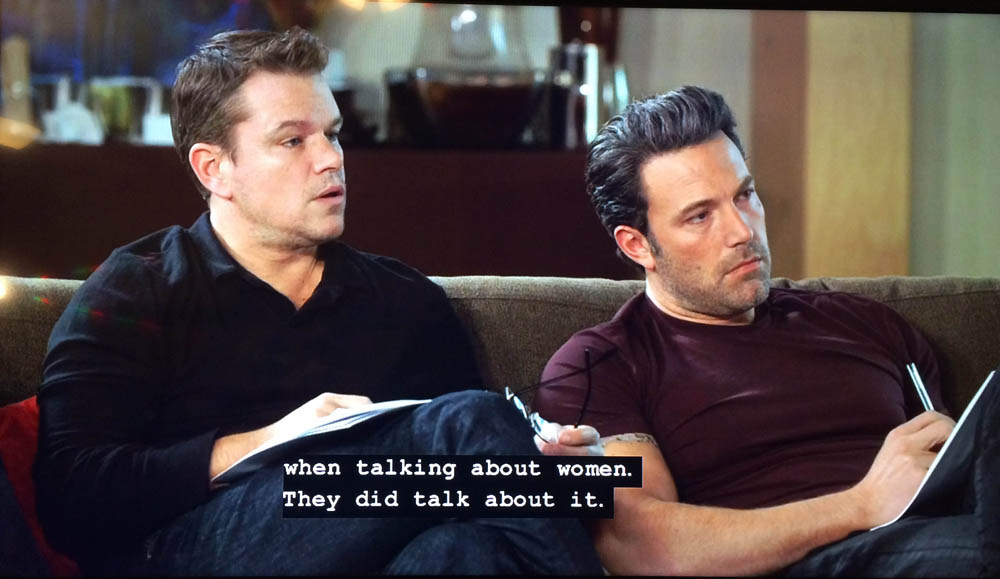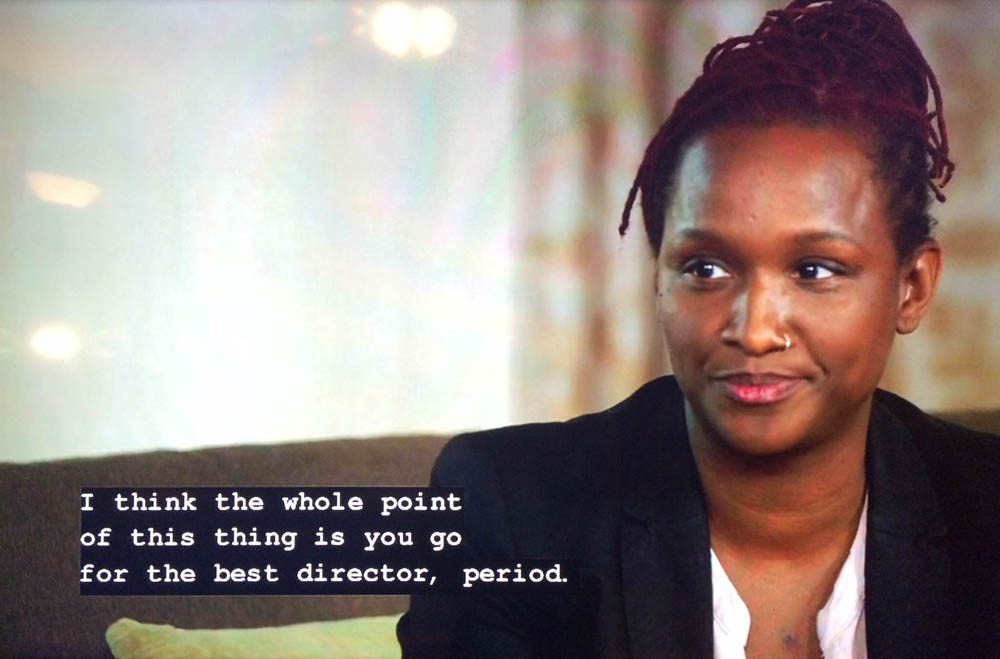 photo credit: HBO screenshots, WENN.com and FameFlynet