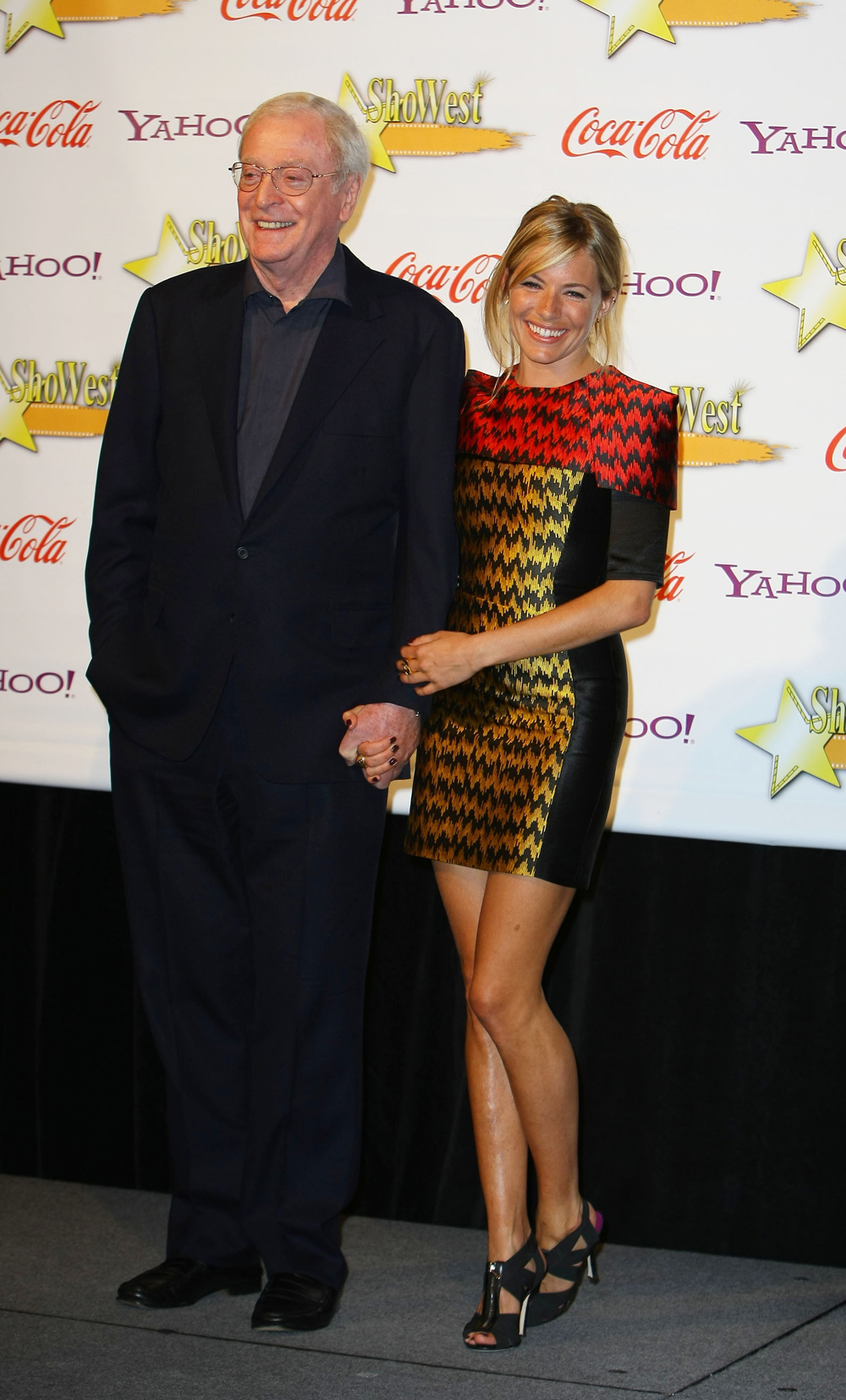 The ShoWest Awards were handed out last night, and the list of winners is a little mind-boggling. Sienna Miller? Zac Efron? Rumor Willis? Since ShoWest is a convention of theatre owners, they tend to give out awards to actors who put people in the seats. Is that Sienna? I thought theatre owners would describe Sienna as "box office poison." How interesting. Here's a list of some of the big awards:
Independent Award for Excellence – Patricia Clarkson
Best Supporting Actress – Sienna Miller
Male Star of Tomorrow – Chris Pine
Director of the Year – Zac Snyder (Watchmen) & Michael Bay (Transformers)
Female Stars of Tomorrow – Rumor Willis and the cast of Sorority Row
Lifetime Achievement Award – Michael Caine
Comedy Star of the Year – Bradley Cooper
Male Star of the Year – Dennis Quaid
Female Star of the Year – Rachel McAdams
Breakthrough Star of the Year – Zac Effron
USA Today has a lengthy article about the awards, and they got quotes from many of the winners. I'm just going to hack this thing to pieces to get some of the best quotes:
For Zack Snyder, who received director of the year honors for Watchmen, the gala was a welcome respite from the stress of watching his film's disappointing reception at the box office and with critics.

"I wish I had gotten this award before the movie came out," he says. "Might have made things easier." The $120 million film, which has grossed $105 million but is fading fast, has been seen as one of the year's few box office flat-liners. But Snyder says he isn't dwelling on ticket sales.

"Monsters vs. Aliens opens to $59 million and it's a huge success," he says. "We open to $55 million and it's considered a flop. There's no rhyme or reason to it."

Michael Caine couldn't agree more. The winner of the gala's lifetime achievement award says it's the 10th such trophy he has received for his 53-year career.

"I can't tell if they just are appreciating my work, or asking me to retire," he joked. "Either way, I'm not listening to them."

Bradley Cooper, on the other hand, is all ears. The star of The Hangover, about four men who wake up after a night of debauchery, had the ShoWest crowd laughing — and gasping — after a scene in which an infant is conked on the head by a car door.

"I can't wait to hear how people react," says Cooper, winner of the comedy star of the year award. "There were times when we were making this movie and I was thinking, 'There's no way this is going to make it in the movie.'"

Sienna Miller [winner of the best supporting actress award, took a break] from her smaller-budgeted films to star in G.I. Joe.

"It was a strange experience," she says of the commercial film, which includes myriad computer-generated effects she hasn't yet seen. "I never had to duck in front of a green screen, pretending to dodge something that wasn't there. But it is nice to get an award before the movie's even out. I wonder if they'd do that with the Oscars. It takes the pressure off."

Dennis Quaid, who narrates the upcoming animated sci-fi flick Battle for Terra3D and appears in G.I. Joe, collected the statuette for male star of the year.

"Isn't this award for Innerspace?" he cracked. While Quaid's movies have taken in a combined $1.3 billion at the box office, he hopes ShoWest's attendees are prepared for the recession to hit Hollywood, even though the industry tends to flourish in economic downturns.

"What's different this time around is the studios are owned by corporations," he says. "And they're already scaling back production. You can't help but worry a bit, though I'm trying to stay positive."

For Zac Efron, ShoWest's breakthrough performer of the year, the only injury to worry about is at the box office.

"I really wanted to come here and meet the people who run the theaters," says Efron, who next stars in the comedy 17 Again, opening April 17. "These are the people who really help decide how successful your career is."
[From USA Today]
I'm ambivalent about most of these award-winners. Patricia Clarkson and Michael Caine are the obvious exceptions – those two should get every award, all of the time. And I do have some affection for Chris Pine, but it's not like he's Gerard Butler or anything. But Zac Efron, Sienna Miller and Rumor Willis? What a joke.
Images thanks to WENN .