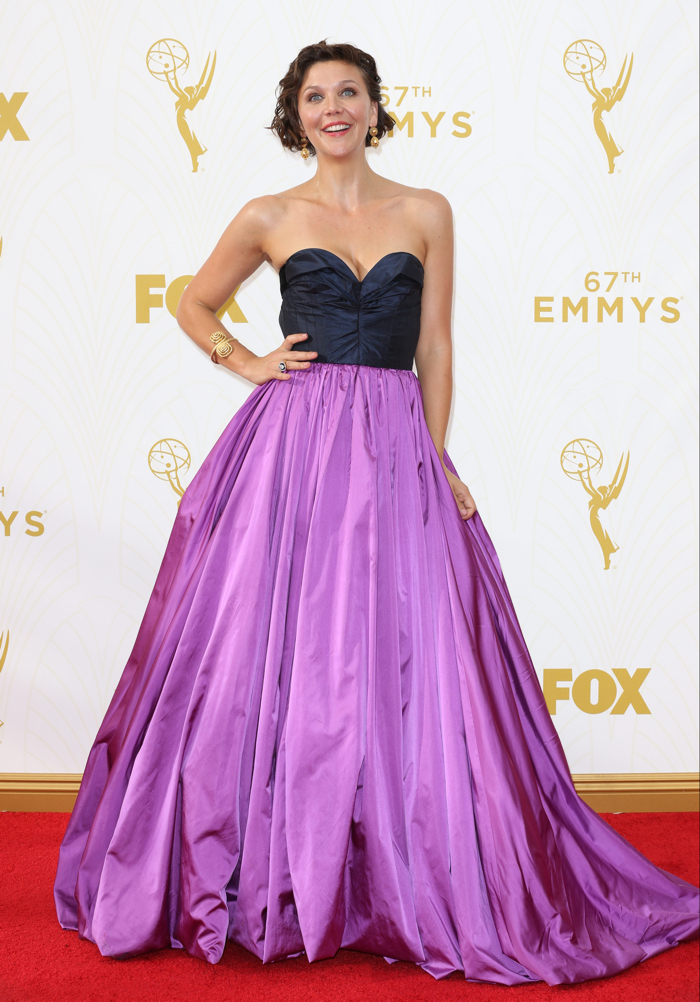 Maggie Gyllenhaal tried something different last night at the Emmys. As we all know, Maggie tends to go frumpy with her fashion, but she must have a new stylist. She wore this flouncy Oscar de la Renta ball gown, and I think she deserves credit for mixing things up. The dress combines a navy-blue bustier with a full, grape-colored skirt. This is an adventurous and fun selection for her! If we were measuring by awards show standards as a whole, Maggie wouldn't fare in the top category. But compared to all her usual selections, this is an outstanding gown. The skirt is a little wrinkly, but that can't be avoided after sitting in a car. This is a big win for Maggie.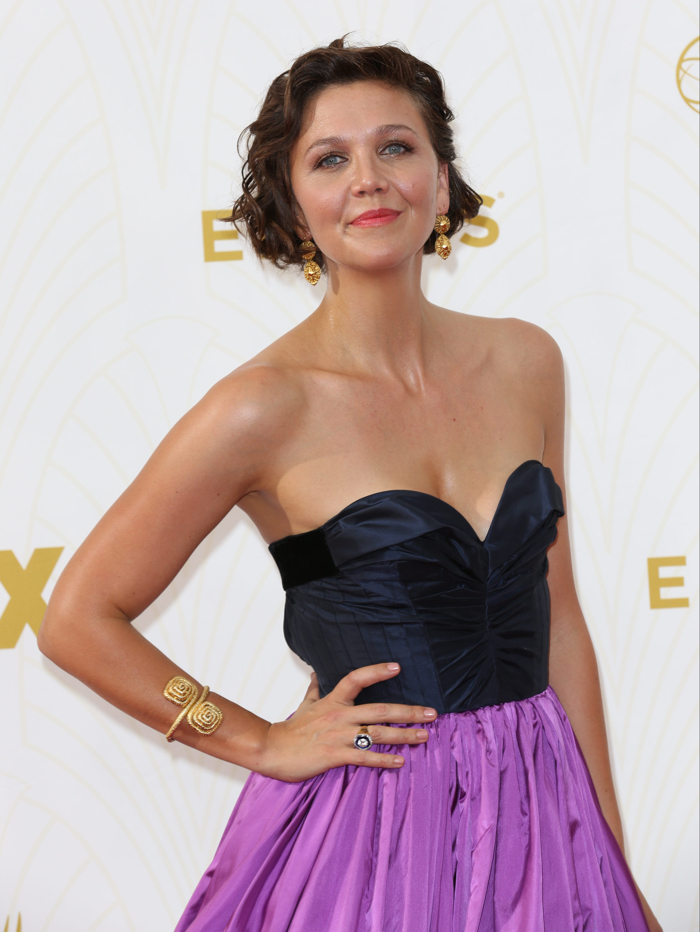 Amanda Peet wore a textured, black ball gown by Michael Kors, although I'm not sure how I feel about the stomach cutout. Is it too much? Without it, the dress would be pretty boring, but a bared belly is unexpected at the Emmys. Eh, I like it, and the bun hairdo lends a sense of playfulness.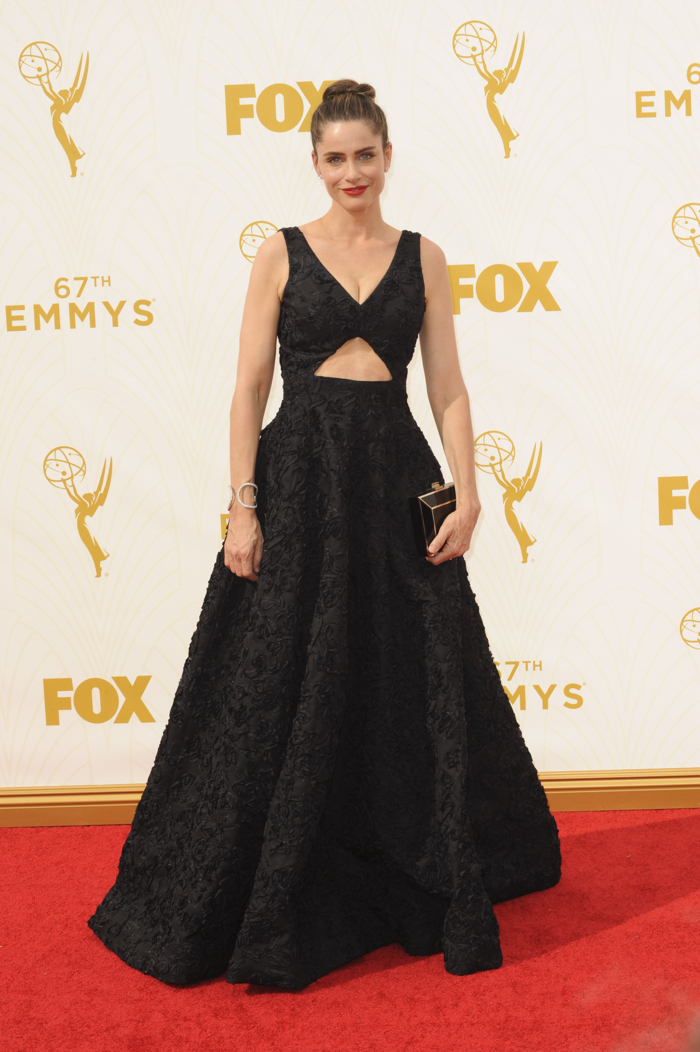 Anna Chlumsky wore an embellished Bibhu Mohapatra dress that was pretty perfect for the Emmys. It's a little fussy, but she kept things from being too much by putting her hair up. She looks good, and I still can't believe she's the actress from My Girl.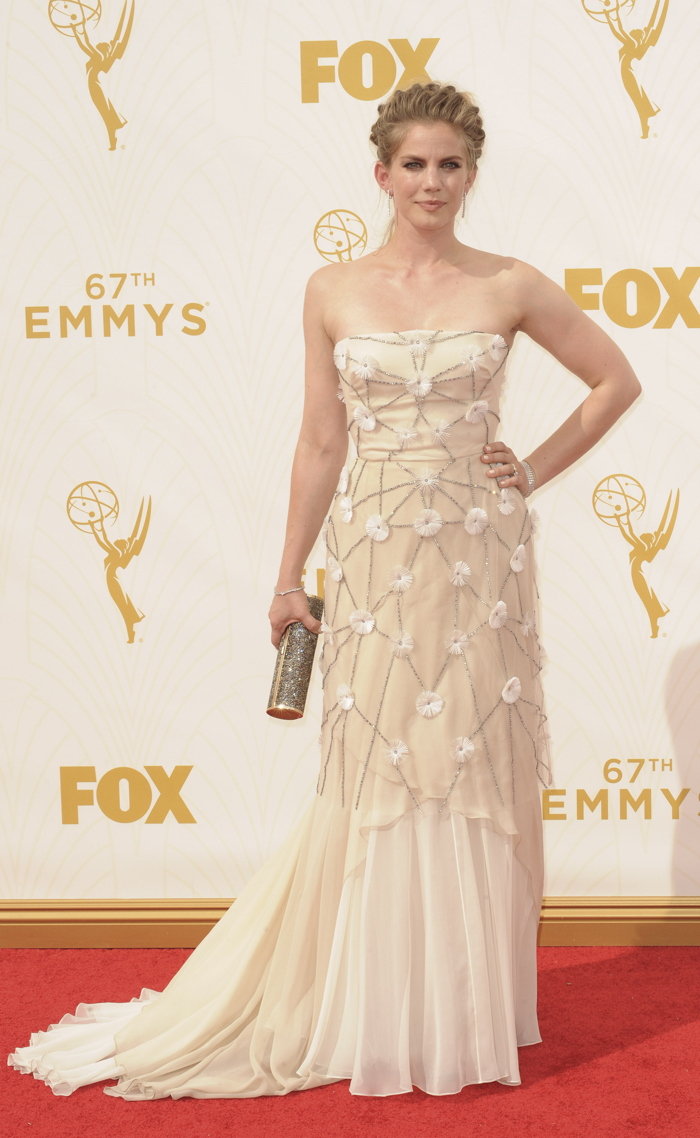 Pregnant Cat Deeley wore a metallic, bodycon Monique Lhuillier dress, which I actually loved. She looks stunning, and her loose hair is perfection with the dress. This is usually what Amber Heard tries to do, but Cat does it better.
Tina Fey wore a somber Antonio Berardi dress. She usually plays it safe, which is fine. This is Tina's style and what makes her comfortable. It's like the dress version of a tuxedo.
Photos courtesy of Getty & WENN