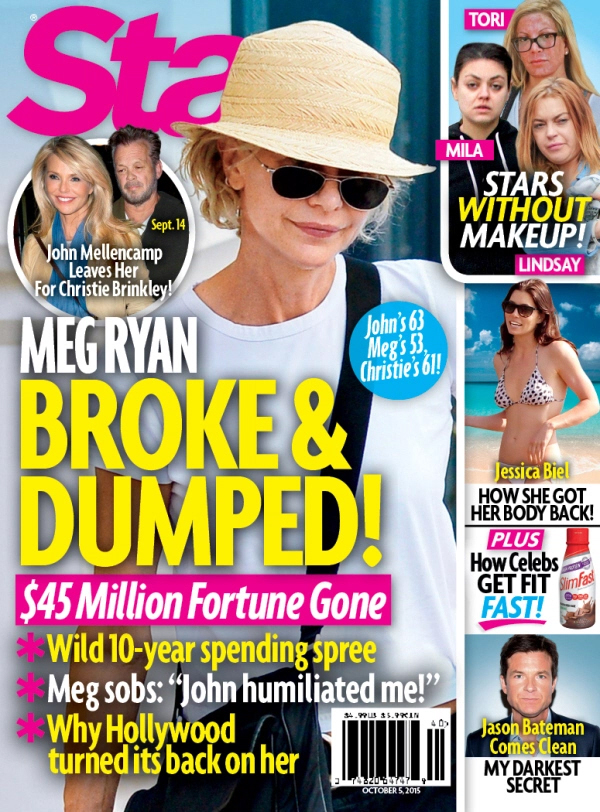 Meg Ryan made a lot of money back in the 1990s. She wasn't quite at, like, Julia Roberts-level paychecks, but my guess is that Meg did make enough to live comfortably for the rest of her life. Plus, she doesn't seem like she spends crazy money on real estate or art or weird projects that go nowhere, you know? She mostly keeps a low profile and I think she lives full-time in New York now. Still, Star Magazine says there's trouble. They claim Meg is almost broke AND she's devastated following her breakup with John Mellencamp, who recently went on a very public date with Christie Brinkley. Crusty love is not just dead… it's dead-broke.
In her 1980s-90s heyday, Meg Ryan was one of the most successful and beloved actresses in the world. Romantic-comedy hits like Sleepless in Seattle and When Harry Met Sally launched the perky blonde to the top of Hollywood's A-list, and earned her the mantle of America's Sweetheart. But in a dramatic reversal of fortune, Meg's current situation appears dismal. Her career has been sinking for more than a decade, and insiders say she's burned through most of the money that she earned in her glory days.

"Meg hasn't been sensible with her finances over the years," explains a source close to the actress. "And now she's gotten to the point where she's reaching dire straits."

Despite her career slump, Meg found happiness with John Mellencamp in 2010—until their relationship took a turn for the worse in 2014 when living in different states and busy touring schedules caused them to split. When John won her back by calling Meg "a beautiful girl" and claiming he "will never, ever, ever be with a funnier girl than her," the line that likely had Meg running back to him in March 2015 was John saying, "She's an angel sent to me, and you know, nothing's over till it's over."

But by spring of 2015, the duo sprang back together, but called it quits once more in June. That registered to Meg that they were on another break due to another rough patch—that was until Meg saw photos of John, 63, and supermodel Christie Brinkley, 61, out on a date Sept. 14—leaving Meg heartbroken and alone, with nowhere to turn for support.

"Meg was shocked when she found out John was dating Christie. She broke down and cried, 'I'm so humiliated! We were talking marriage!'" a source reveals to Star.

And that's not all, John took Christie out just a few blocks from Meg's New York City apartment—after she'd spent years trying to convince him to relocate for her. "That was a slap in the face. She loves him so much, and it's really hurting her to know he would treat her like this," the insider adds. "Meg is furious and heartbroken."
I'm not sure what I believe. Like, it really did feel like Mellencamp's date with Christie Brinkley came out of nowhere, especially since the last we heard, he was still with Meg. Perhaps the public date was designed to "get back" at Meg for something, or to let Meg know that it was really over. So, I'll buy that Meg is probably hurt by John's actions, perhaps even devastated. I'm not sure what to believe about the money stuff though. It's true that Meg really hasn't worked much, and her attempt at some kind of comeback on TV fell flat. She's just directed a movie, Ithaca, so maybe something will happen there. For what it's worth, an "insider" told Gossip Cop that Meg's finances are just fine and she "has always been super smart with investing her money and has done extremely well with her real estate transactions." Of course, the insider also claims that Meg and John were done a year ago, despite all of the evidence that they broke up last year and got back together very quickly, so whatever.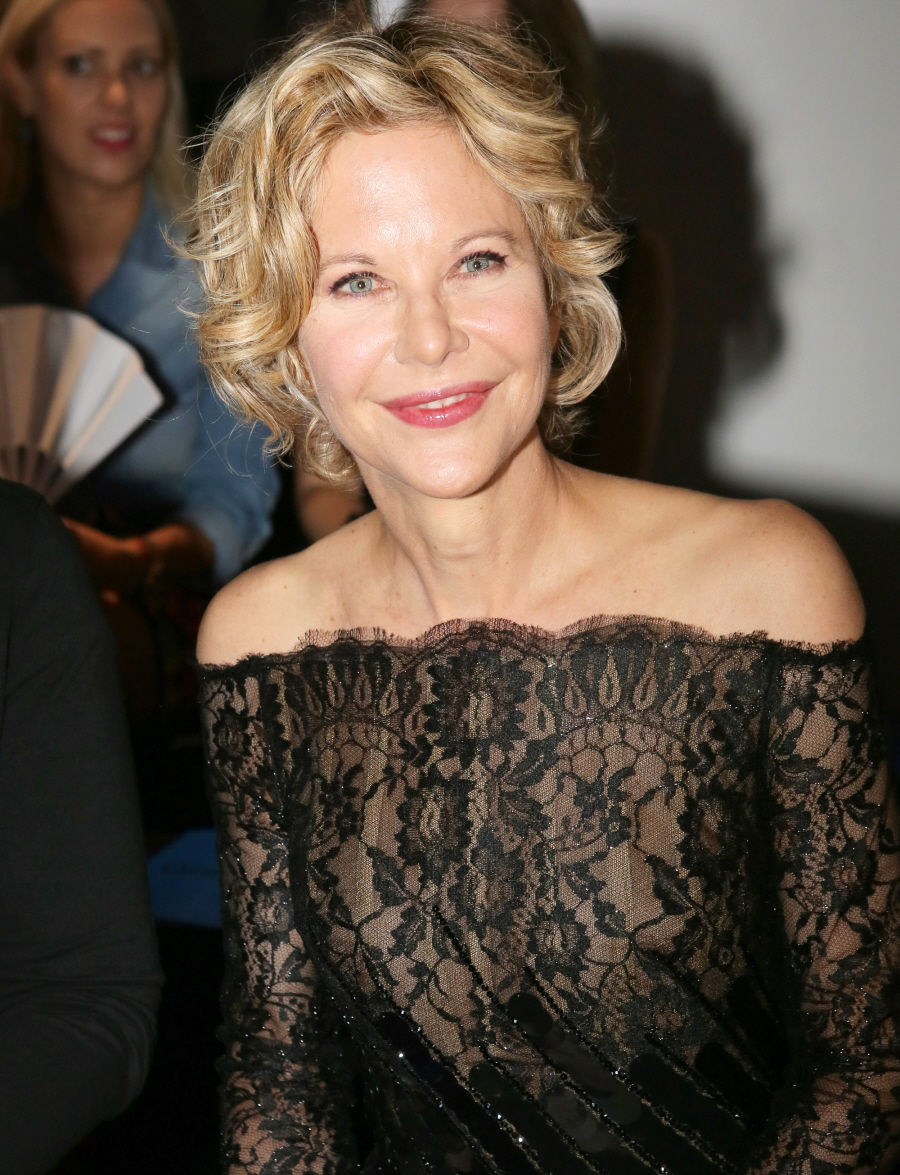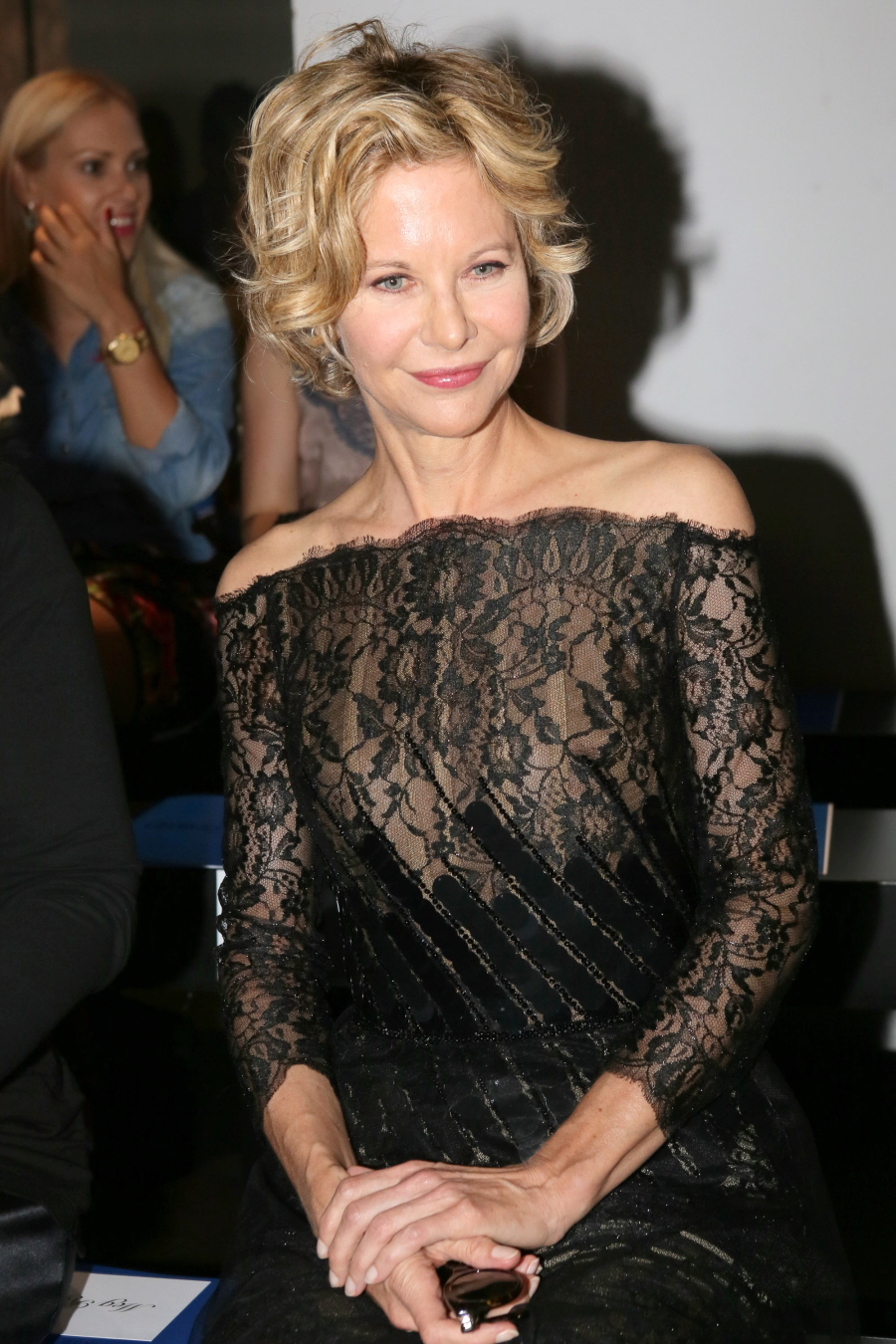 Photos courtesy of Fame/Flynet.