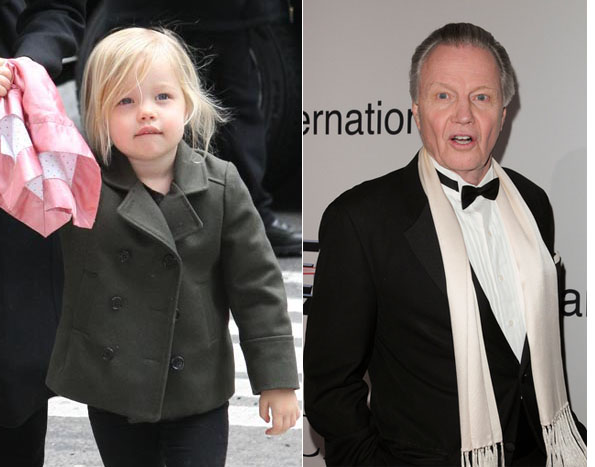 In Touch Magazine decided to ask Jon Voight about his grandchildren. Instead of issuing a quick, polite "no comment" about the grandbabies he's never met, Voight once again decided to give a little interview.
They asked him about Shiloh, and it seems like people keep telling him that little Shi (who turns three years old in May) looks just like her grandpa Voight. Grandpa loves when people tell him that, saying that "It makes my heart very warm to hear that." However, doing a not-so-in-depth investigation, we can find that Shiloh looks exactly like her mother at that age. And whenever I see pictures of Shiloh, I only see Brad. Of course, I could make the argument that Angelina takes after her father (sometimes) and that there's even a resemblance between Brad and John at times. So how many people are coming up to John Voight, telling him Shiloh looks like him?
Jon Voight is flattered [when] people say his two-year-old granddaughter Shiloh looks just like him.

'It makes my heart very warm to hear that,' he says.

The actor's daughter Angelina Jolie and her partner Brad Pitt are parents to twins Vivienne and Knox, 9 months, Shiloh, and adopted kids Maddox, 8, Pax, 5, and Zahara, 4.

And Jon, 70, who has had a turbulent relationship with Angelina, 33, would love to babysit.

'I haven't done it yet,' he tells In Touch. 'But I keep asking.'
From Now Magazine
Angelina probably won't let him babysit until he stops talking about her and the kids in the press. Or maybe she's just done with her dad, especially after the latest revelations about her late mother's back taxes and her father's years of unpaid child support. Last summer, Angelina talked about her father in a few interviews. Trying to publicly explain what must be a difficult personal issue, Angelina said, "We are going to try to get to know each other and maybe try not to be this daddy and daughter, but to be there for each other as friends in the coming years." Familial love means never hiring a babysitter, Angelina!