How Jennifer Lawrence celebrated Amy Schumer's big S.N.L. night http://t.co/Y0GXTMXNjJ pic.twitter.com/xQzbebTMox

— VANITY FAIR (@VanityFair) October 11, 2015

Jennifer Lawrence, Aziz Ansari and Amy Schumer took the party from Atlanta, where they were staying in a house together last week, to New York to support Schumer's SNL hosting gig. Lawrence was spotted giving Ansari a piggyback ride outside the wrap party for Schumer's gig at the Wayfarer Restaurant. She loves to ham it up for the paparazzi and this is just her latest stunt. They look like they're having a great time and while there's surely alcohol involved they're not at Shia LaBeouf levels of drunkenness. Plus this is a cute way to get attention as opposed to admitting to poor hygiene. Sometimes this woman makes me shake my head and other times she's adorable.
This makes me wonder how tall Aziz Ansari are Jennifer Lawrence are. He's 5'6″ while she's 5'9″ so he's probably not hurting her back or anything. Also, she's thin but surely strong. Check out her abs, damn! In case you wonder whether there's the possibility for a romance between these two, I doubt it. Ansari has a live-in girlfriend, a chef whom he met through friends. He practically gushed about her in his book Modern Romance.
I didn't get a chance to watch Schumer's SNL gig but reviews were mostly positive. Slashfilm has a recap of the best and worst sketches. There's a lot of buzz over a faux commercial with lambasts Americans' obsession with guns.
Here are some more pictures of Lawrence out in NY this weekend. She wore a white slip dress and black blazer for an interview with Diane Sawyer on Saturday and she was seen out in a long teal peacoat that same day. My favorite look is the coat, that's incredible. The purse is Valentino. (This isn't the exact purse but it's the closest I could find.) Her hair looks gorgeous that length and it makes me want to cut mine into a lob. At the very least I'm going to try a side top braid. Mockingjay Part 2 is out November 30th.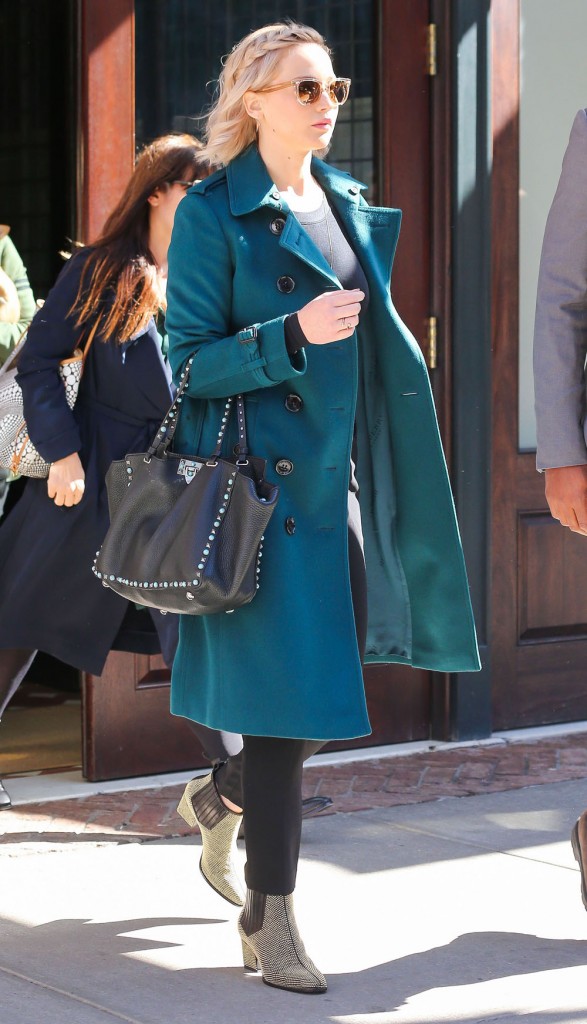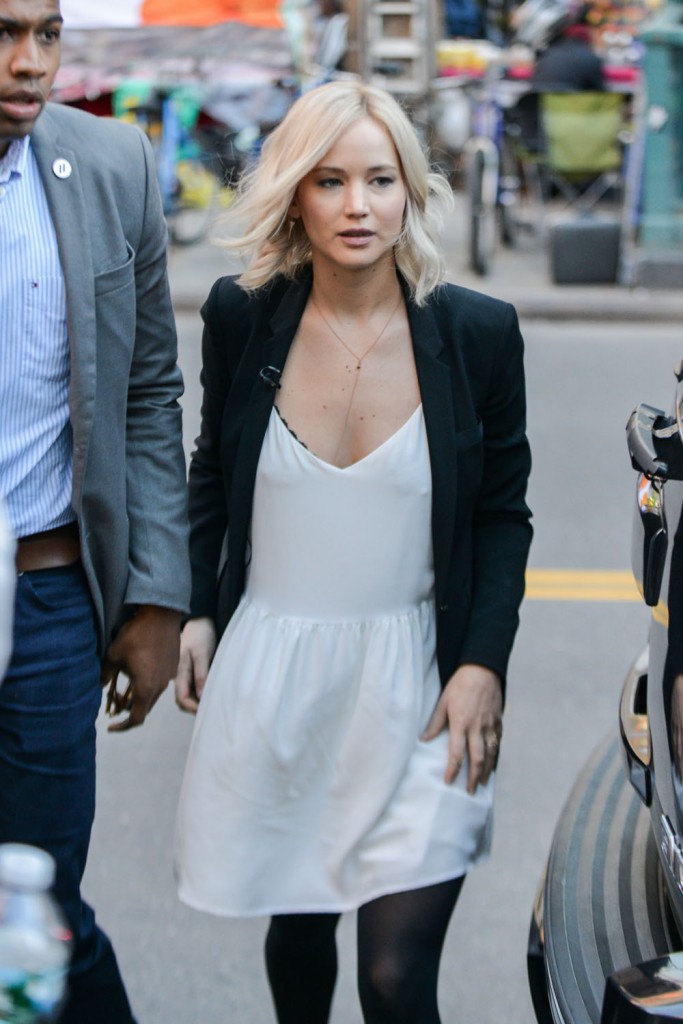 Photo credit: WENN.com and FameFlynet