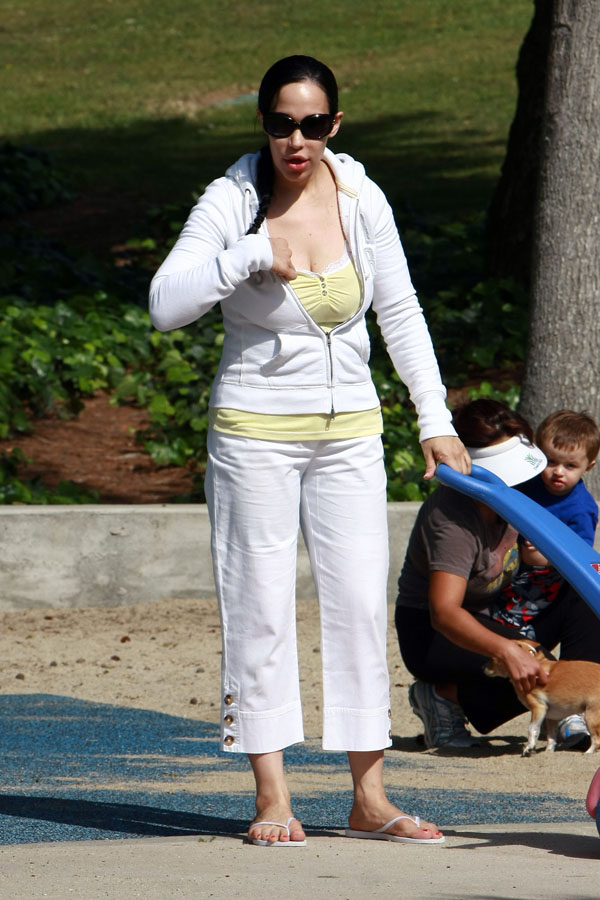 In Touch has a new cover story with Octomom Nadya Suleman in which they feature exclusive photos of the mother of 14 posing with her newborns as accessories to set off her surgically-enhanced beauty. On the cover they ask "Loving mother or… Mom from Hell?" in that all caps bright yellow font that the tabloids love. The answer may be somewhere in between. The article relies heavily on the reports from the terminated Angels in Waiting agency that you've probably already heard about. Suleman had a jacuzzi installed in the house instead of paying for proper security and is said to have allowed a nanny with tuberculosis around the babies. She is also said to have only held the children when cameras were around and to not have insisted that caregivers sanitize their hands before holding them. What's more is that the camera equipment and all of the media people in the house were deemed a threat to the babies.
Clearly Suleman is not the best or most devoted mother, but whether her actions constitute neglect or not is up to Child Protective Services to investigate. She has enough help with the babies and it's not like she's leaving them alone. There are said to be several people watching them at all times.
Seven of the eight newborns are now home with Suleman and she's said to be preparing for her next stage of fame and earning cash. In Touch claims to have a source that states that a reality show is indeed in the works. What's more is that Suleman hopes to shed her 'Octomom' moniker. Like J.Lo and Brangelina before her, she hates the nickname bestowed on her by the media:
Nadya may soon be starring in her own series. According to an insider, a deal is in place for her to be filmed 24/7 for a reality TV show as soon as sons Jonah and Josiah are released from the hospital. [Since this article was printed, Jonah has been released.] "It's about Nadya trying to raise 14 children while looking for love," the insider explains. And since she hates being called "Octomom," she's been assured that word won't be a part of the show's title.
[From In Touch, print edition, April 13, 2009]
Suleman told Radar Online that she considered a reality show "exploitation," but then quickly backtracked as she often does to say that she would consider some kind of "documentary" type show. Maybe this is what she means and a reality show is coming. It's hard to see who would touch that show as the woman is pretty much universally disliked. She represents a kind of extreme conspicuous consumption and abuse of the system in America. At a time when people are struggling, it angers many to see this single woman getting rich off having more babies that she could ever afford without infamy. Suleman also claimed that she wasn't looking for a boyfriend and that she would be celibate until her kids were 18. How much do you want to bet that she hooks up with some C or D-list celebrity and starts showing up on the red carpet at events? That would tie in well with her reality show.
Nadya Suleman is shown out with some of her kids on 4/1/09. Credit: Eric Brogmus/INFphoto.com