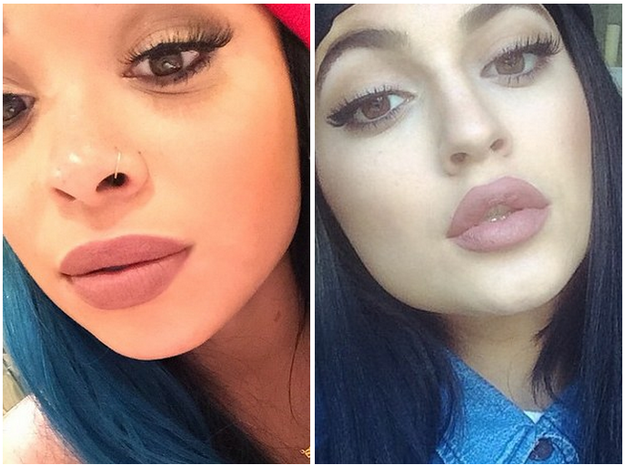 Thanks to Buzzfeed for this comparison pic
Bedhead usually covers Kylie Jenner and she's our resident expert in all things Kylie but she's on vacation. From what I know, Kylie's job seems to consist of posting selfies, doing snapchat sessions, and creating content about her life for her subscription app. So Kylie is selling her lifestyle and "look" and there are teens who look up to Kylie and want to copy her vacant expression, overdone makeup and style. But what if Kylie's look is so heavily cribbed from other women that it's not original in the slightest?
Buzzfeed points us to two of Kylie's "inspirations," one is a woman named Heather Sanders who happens to be the girlfriend of the best friend of Kylie's boyfriend, Tyga. Heather is the owner of Sorella Boutique so she knows fashion and styling. It appears that Kylie has been copying Heather's looks for some time. In January, Buzzfeed posted this article detailing the step by step way that Kylie was mimicking Heather's hair, down to several instances where Kylie did the same color cut and style after Heather did it. For her part, Heather didn't seem to mind as she knows Kylie and pointed out that she missed her hair the way Kylie had it. You can see lots of examples at Buzzfeed. Kylie's makeup looks just like Heather's too.
Fast forward to now and Kylie is still cribbing looks and even poses from Heather's Instagram. Buzzfeed did the side by side examples below and they're striking. It looks like Kylie is straight up Single White Femaling this woman. Some people are saying it's questionable because Heather is a woman of color. I think it's an issue because Kylie is copying somewhat and making millions of dollars doing it. Check these out: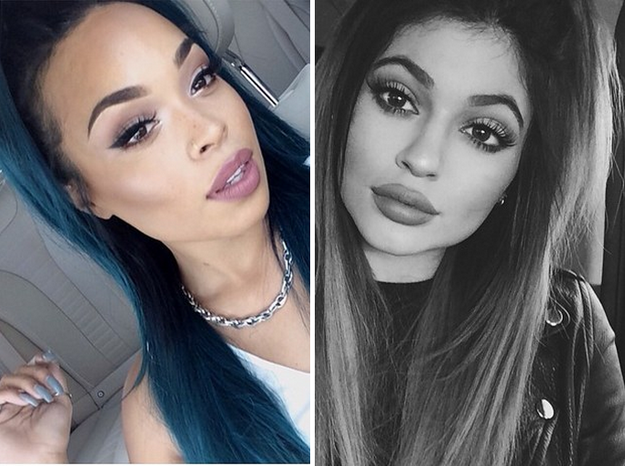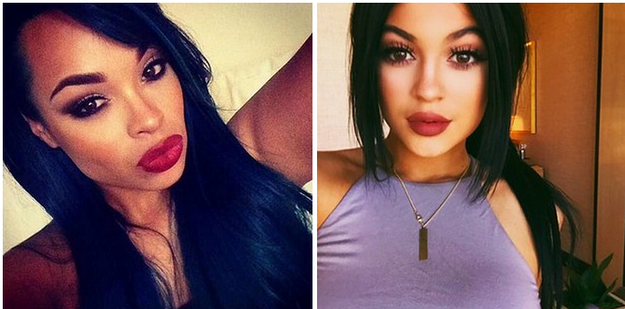 It's not like Kylie is doing this entirely without acknowledgment. Kylie admits that she's "obsessed" with Heather and she does give her some tacit credit. Kylie did a Q&A with Heather and posted it on on her website, which is surely giving Heather's business a huge boost. (The interview is behind Kylie's paywall so I'm not able to read it.) Also, Heather sometimes posts photos showing Kylie wearing clothing from her boutique.
So is this ok? I mean, it does look like copying, but how many ways are there to pose seductively for Instagram? Kylie is helping her friend's business so it doesn't seem that bad, although she could mention her more in her posts.
There's another friend Kylie is heavily borrowing from too named Jordyn Woods. (Update: Jordyn is the friend whom Kylie gave a Mercedes to. – Thanks mimiz.) Buzzfeed found a tumblr post comparing Kylie and Jordyn's poses, hair, and makeup. Like Heather Sanders, Jordyn is a black woman and some Twitter users are saying that Kylie "wants to be black." I don't want to step into that debate except to say that maybe Kylie just likes this style and look. Again, Kylie is making money off Instagram and her site and a case can be made that she's mimicking these other women. Then again, maybe these narcissistic Instagrams are just a giant echo chamber where nothing is original. It's possible Kylie doesn't even realize she's doing this. Plus Kylie is a teenage girl. Of course she's doing the exact same thing as her friends.
Here are comparisons of Kylie and Jordyn from this Tumblr and via Buzzfeed: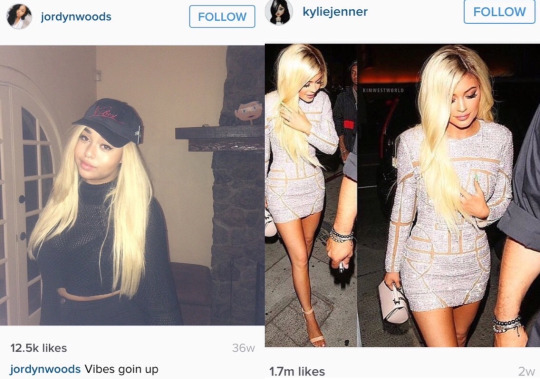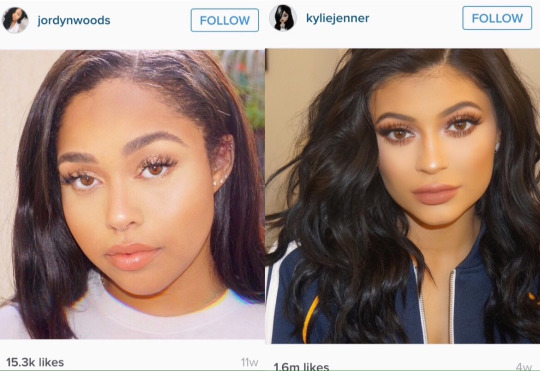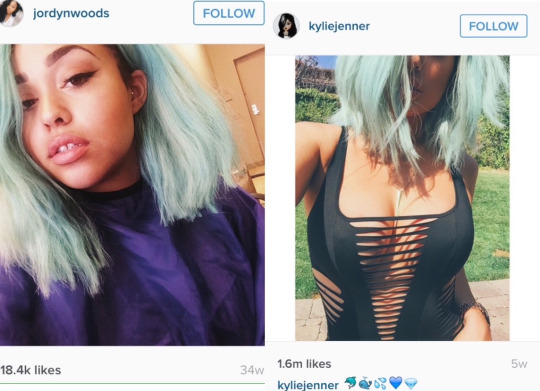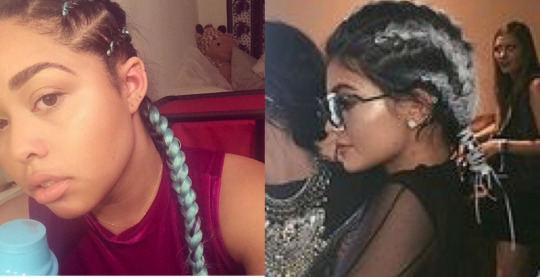 Oh and Buzzfeed reminds us that Kylie has been accused of copying the style of her boyfriend Tyga's ex girlfriend, Blac Chyna, too. They have several examples where the two are sporting similar hair and makeup.
Kylie dyed her hair blonde has been wearing a blonde wig again. Here she is at the 50th anniversary for Cosmopolitan yesterday. I wonder how much she got paid to show up.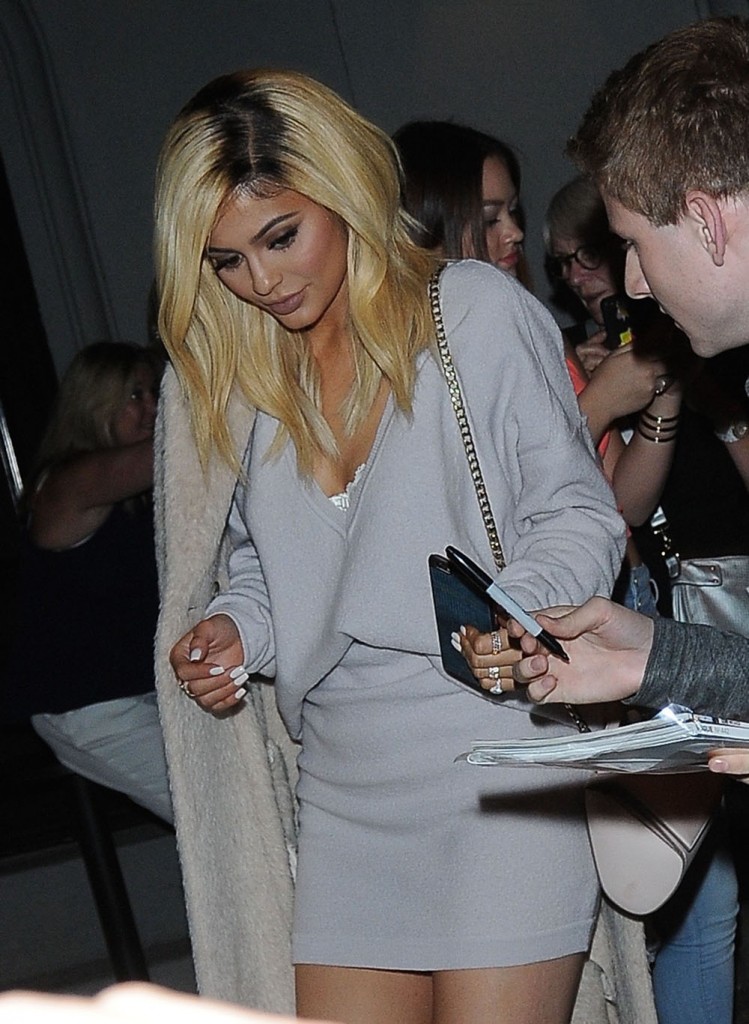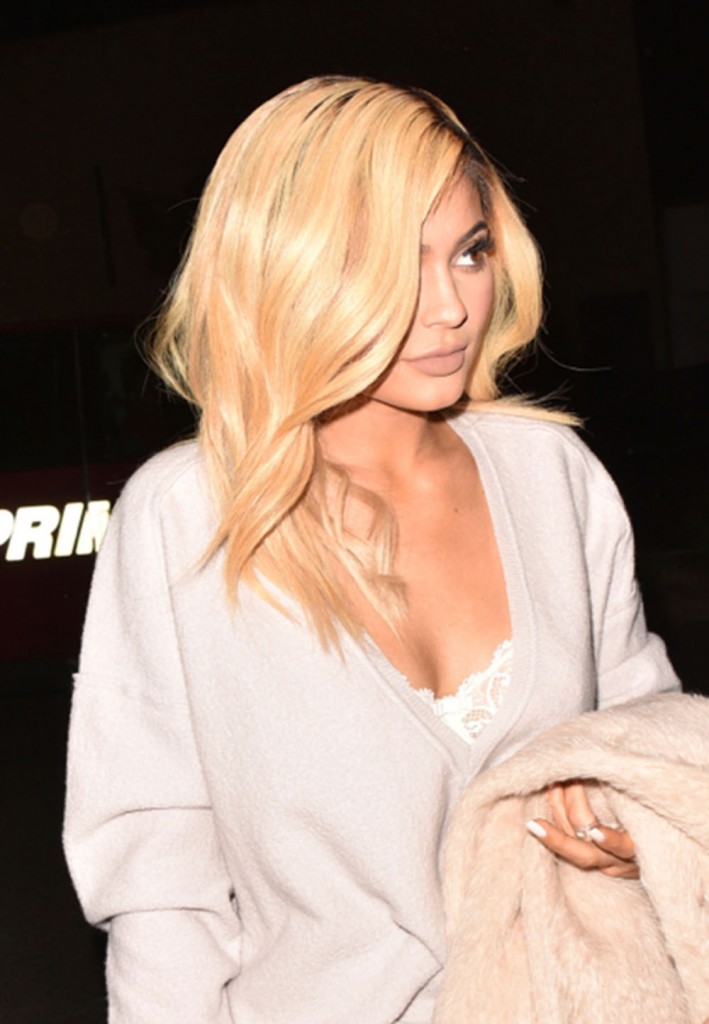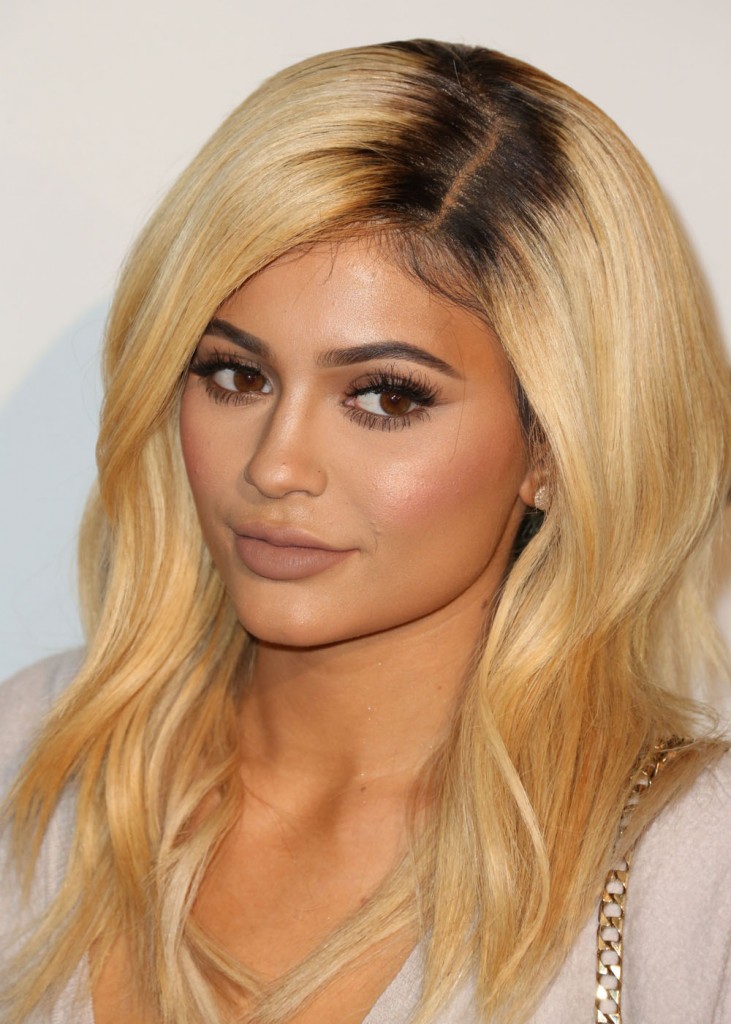 Photo credit: Instagram via Buzzfeed and FameFlynet