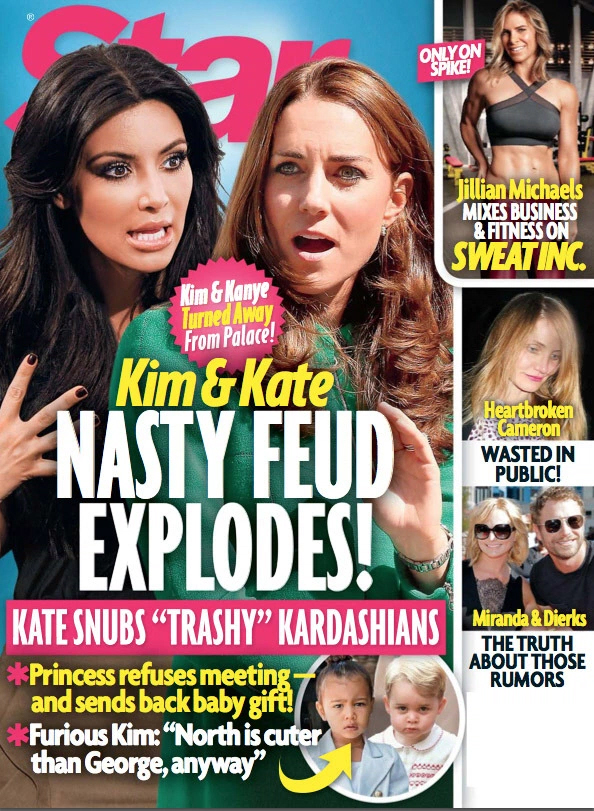 In case you're in the mood for something lighter today, this Star cover story is the perfect cure. I've long said that the Duchess of Cambridge and Kim Kardashian have more in common than you would think. They are the same age, they got married around the same time, they had their first babies within a few months or each other, they both have overbearing, control-freak mothers and they're both exhibitionists. But Kate doesn't want to acknowledge her similarities to Kim, even when Kim is desperate to associate herself with anything having to do with British royalty. So… what I'm saying is that I believe parts of this Star story. I believe that Kim has been trying to force some kind of association and that Kate and the royal courtiers have blocked Kim.
Since stepping into the public consciousness, first as Paris Hilton's sidekick and then as a sex-tape star, Kim Kardashian has steadily been climbing the social ladder, hobnobbing with American superstars like Jay Z and Beyoncé and even, eventually, with heads of state including President Barack Obama and Armenian Prime Minister Hovik Abrahamyan. But there's one international icon whom Kim hasn't been able to meet: Duchess Kate.

"Kim is obsessed with Kate—she keeps up with her every move," reveals a source close to the reality star. "She wants nothing more than to be a part of Kate's circle."

here's only one problem: Kate, 33, has shown no interest in Kim, 34, whatsoever. Still, that hasn't stopped Kim from pursuing her idol relentlessly over the past few years, and she's even roped her daughter, North West, into her quest to rub elbows with the royals.

"Ever since Kate's son, Prince George, was born, Kim has been badgering the Duchess' people about setting up a public playdate between him and North, but Kensington Palace keeps telling her in no uncertain terms that it won't be happening," the insider reveals. "Kim is annoyed that she hasn't been able to contact Kate directly and is frustrated with getting the cold shoulder. Kim thinks she's the most famous person in the world and simply cannot fathom why anyone would not want to be her friend."

In 2012 while Kim was in London promoting her Kardashian Kollection clothing line, she sent Kate some of her designs—which were promptly returned. As royal watchers point out that Kate typically wears demure fashions by British designers; she would never step out in the Kardashians' revealing, curve-hugging looks. Insiders also says Kim relentlessly contacts Kensington Palace with her playdate requests when she's in London, but her efforts have always fallen short.

"When she was in Paris earlier this year, Kim stayed by the hotel phone for six hours, waiting to get confirmation that Kate would meet with her," the source reports. "But she didn't even get a response! Kim was furious. She threw a huge tantrum and burst out, 'North is cuter than George, anyway!' Kanye had to calm her down."

Now, the Keeping Up With The Kardashians reality star is taking desperate measures to "accidentally" bump into the Royals. Not only was Kimye turned down at the door for a royal event on one occasion, but Kate went as far as cancelling an official appearance in London after hearing rumors that Kim and Kanye would be there.

"Kim and Kanye have been trying to finagle invitations to events where Kate and William are supposed to be," the source says. "They've actually become pretty aggressive about it."

Kate finds Kim and Kanye so trashy and distasteful that, when Kanye sent her and William "a custom baby gift from his fashion label" to give Charlotte "the palace not only sent it back, they included a note politely asking that he and Kim stop contacting the royals." Kim apparently "can't believe anyone would treat them like this" and is "completely humiliated."
Don't you believe some of this? I believe Kim has been trying to meet Kate for a while, especially since Kim views herself as "American royalty" (no joke). I believe Kim has probably been sending baby stuff or clothes to Kate. And I believe that Kate doesn't want to associate with the Kimyes at all. It's not that Kate isn't interesting in meeting celebrities – she's always (over)eager to meet legit celebrities like David Beckham or Angelina Jolie. But Kim Kardashian is a famewhore too far!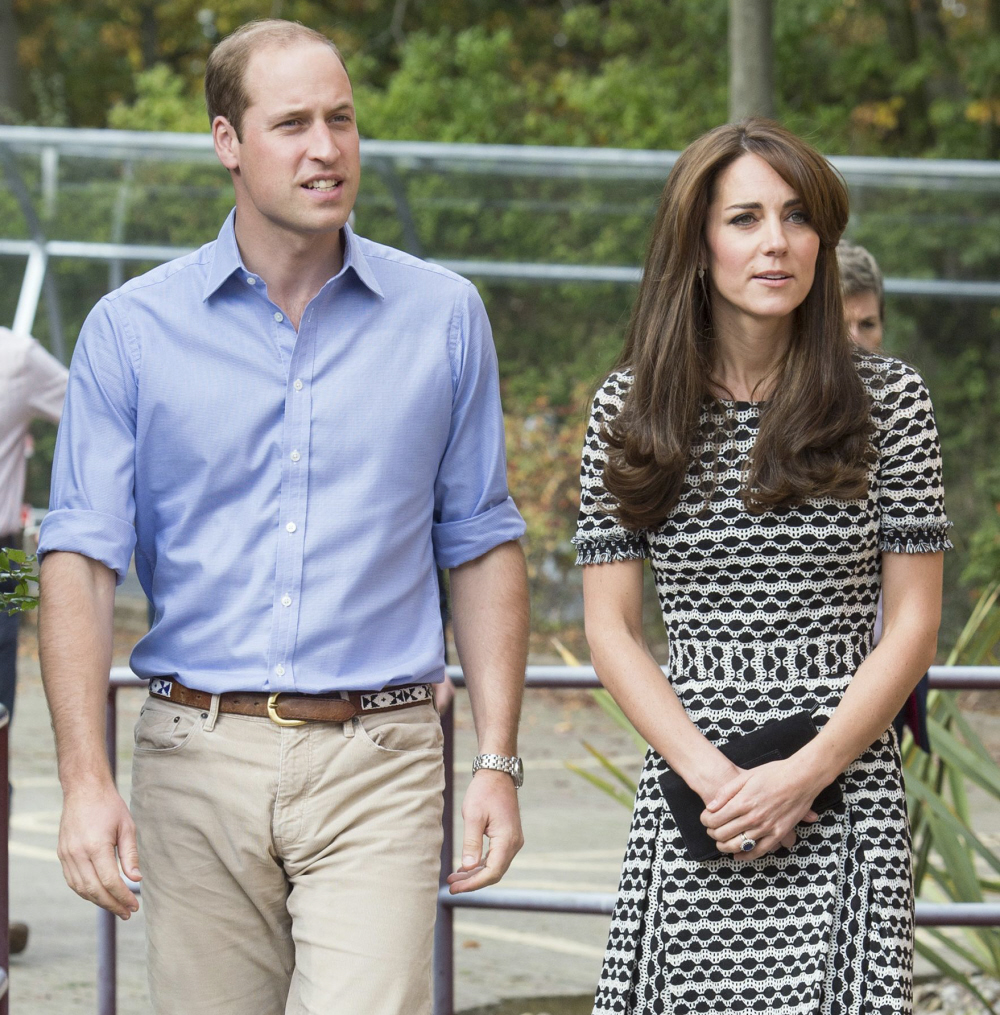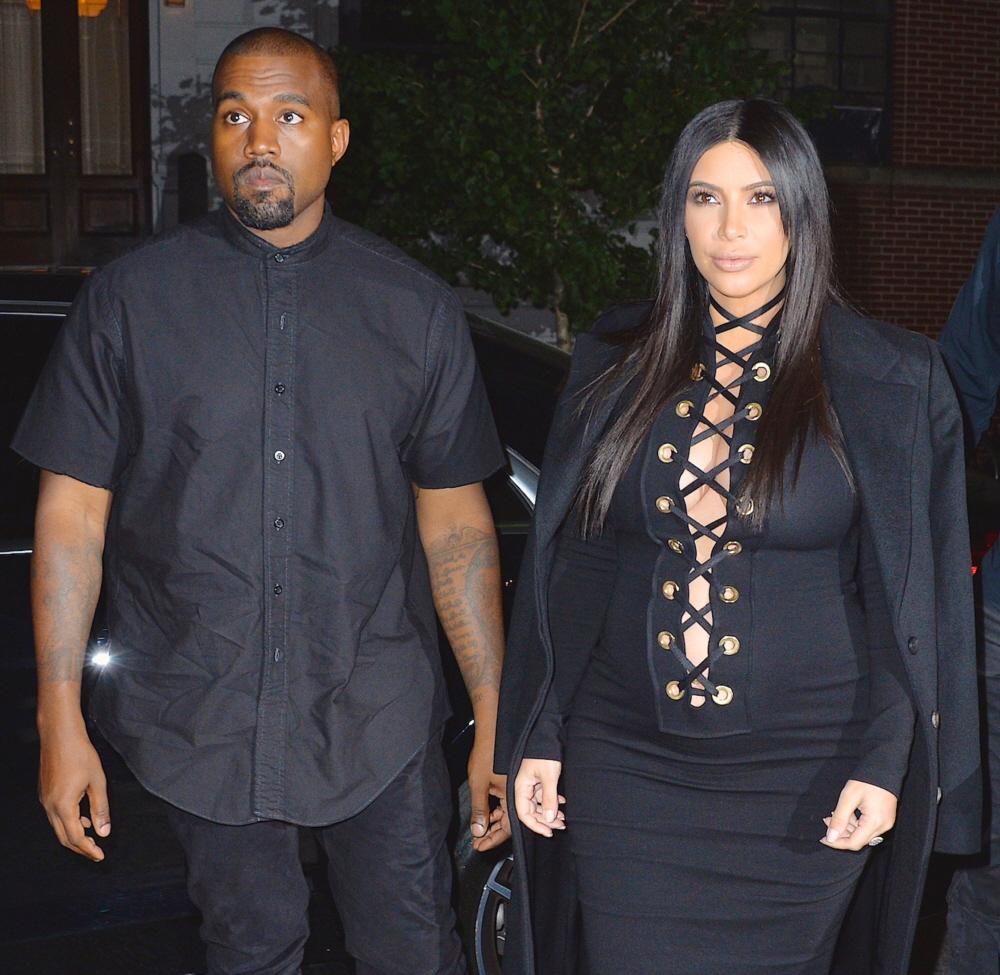 Photos courtesy of WENN.