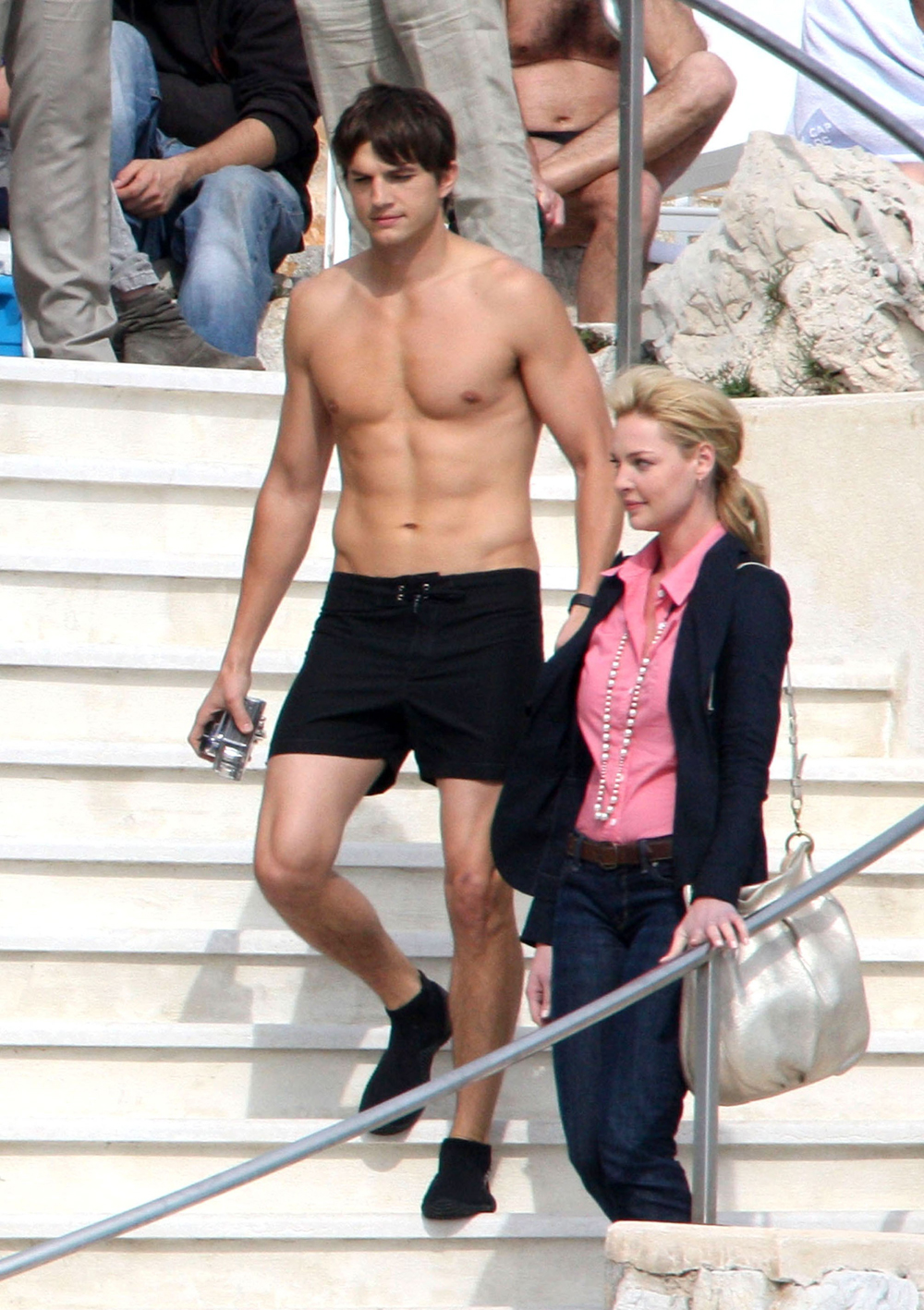 Ashton Kutcher and Katherine Heigl are currently filming a scene for their upcoming movie, "Five Killers," in St. Barts. Which is lucky for us, since Ashton has to do a lot of shooting without his shirt on. According to IMDB, the film is about a "vacationing woman [who] meets her ideal man, leading to a swift marriage. Back at home, however, their idyllic life is upset when they discover their neighbors could be assassins who have been contracted to kill the couple." So you know, one of those "it could happen to anyone" type of films. Ashton plays a retired hit man – again, who amongst us hasn't accidentally dated one of those? Nonetheless, the important thing is that he has to run around without his shirt on… and carrying flippers. Hotness.
Lest you worry that Kutcher might be one of those method actors who gets way too into his role, his Twitter page will help you rest assured. It's filled with his latest deep thoughts. A recent smattering:
"I've met blind people and deaf people. Why haven't I ever met someone who's smelling impaired?"

"Check I just found out our sound guy is smelling impaired. Maybe that's why he hears so well. I'm gonna fart next 2 him 4 confirmation."
[From Twitter]
I just had to stick those in there because they're juvenile but funny in a lame way. Ashton is actually using his Twitter for some good. April 25th is World Malaria Day, for which he's become the unofficial spokesman. Ashton is getting a jump start on things and using his Twitter account to send out all sort of Tweets linking to Malaria No More, an organization that donates mosquito nets to those who cannot afford them in African countries.
"Teaming up w/ @kevinrose 2make malaria extinct. lets rally the twit troops on World Malaria Day (4/25)"

"why focus on malaria? The cure exists! 10$ saves a life. I know we can do this."
"If we all rally we can make malaria a thing 4 history books that we all say, 'I can't believe people use to die from that.'"

"Every 30 seconds a child dies from Malaria. Nets save lives. Support World Malaria Day"
[From Twitter]
So juvenile jokes about farts aside, Twitter can actually do some good. And on a related note, you can purchase and donate a malaria net for only $10. I would not have known that without Ashton Kutcher. So he's pretty to look at and does good deeds.
Here are Ashton and Katherine Heigl in St. Barts on Saturday. Images thanks to BauerGriffinOnline.