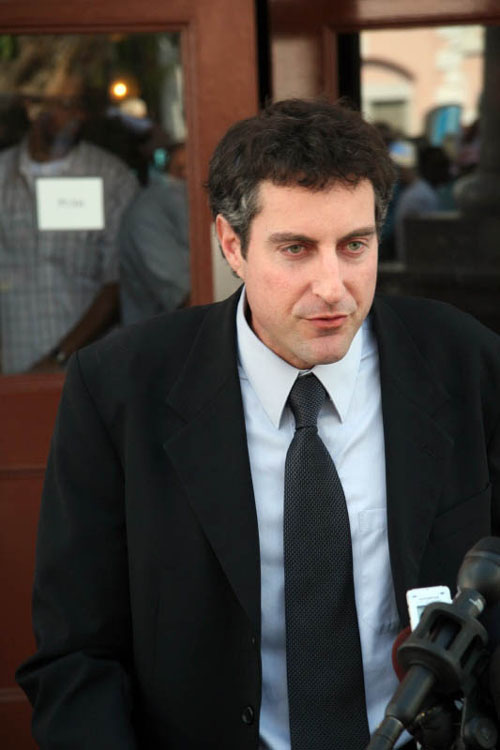 Today is the big day in the case against Anna Nicole Smith's lawyer/parasite Howard K. Smith and her shady physician Kristine Eroshevich. The duo is being arraigned on felony drug and conspiracy charges. The case claims that both Stern and Eroschevich knowingly provided the late model with an array of pharmaceuticals that ultimately led to her overdose and death. Despite claims by Anna's father that Stern is the reason she's dead, the lawyer has maintained his innocence and sources say he refuses to cut a plea agreement. Both defendants are expected to plead not guilty today.
Howard K. Stern won't cut a deal with the D.A. in the Anna Nicole Smith drug case, and sources tell us the only reason he'll plead not guilty is because there's no such thing as a plea of innocent.

Our sources say Stern will show up in court for his scheduled arraignment today, but the matter will likely be continued. But when he does enter a plea it will be a loud "not guilty" to all felony drug and conspiracy charges.

This case is the opposite of Chris Brown's, where Mark Geragos and the prosecutor are wheeling and dealing. We're told Stern wants a fight to the end, because he believes he did absolutely nothing wrong.
Howard K. Stern has arrived in court to answer to charges that he helped unlawfully supply Anna Nicole Smith with prescription drugs.

He and Smith's former psychiatrist, Dr. Khristine Eroshevich are due to be arraigned on various felony counts, including prescribing, administering or dispensing a controlled substance to an addict.

All 11 of the prescriptions found in the Hollywood, Fla., hotel room where Smith died of an accidental overdose in 2007 were written by Eroshevich, none in Smith's name. Eight of the meds were prescribed to Stern.

The duo were charged along with another of Smith's docs, Sandeep Kapoor, on March 12, shortly after a second raid on Kapoor's Studio City, Calif., office.

Kapoor's arraignment is set for May 13.
Howard K. Stern is audacious enough to drag this out into a jury trial, and it sure will be interesting to see what the evidence is against him. The only hard part will be finding 12 jury members who don't have a predisposition to hate this notorious slimeball. But he's a lawyer- so he probably already knows that. I definitely believe that Stern and Eroshevich were conspiring to keep Anna – and maybe even her son – incapacitated. But I also think that Anna was partly at fault too. She was way too trusting of Howard and let him have too much power – both in her court case and in her personal life. In the end, she paid the ultimate price for that bad judgment.
File photos of Howard K. Stern on 4/10/2007, two years ago, when the paternity of Dannielyn Birkhead was revealed. Photos: Fame.