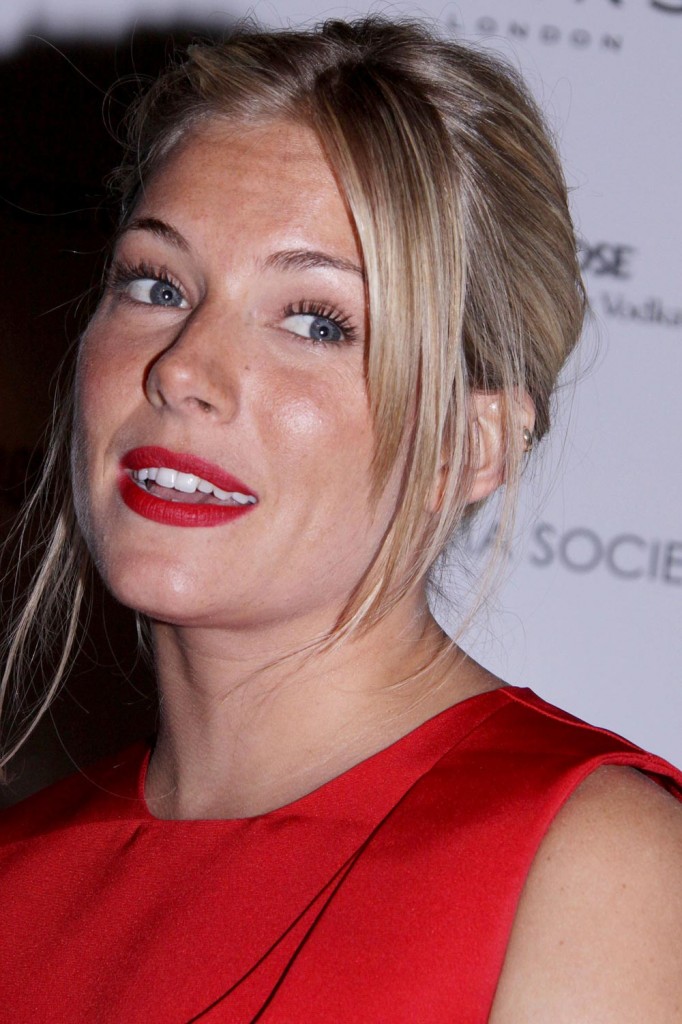 Watch out New Yorkers… Sienna Miller is coming. Lock up your husbands and hide the liquor. Sienna's going to be living in New York starting in August, as she rehearses for her Broadway debut in After Miss Julie, a play by Patrick Marber. The play opens in September. Sienna says she's "scared" about her debut. I'm sure she'll drown her fears in topless photo-ops and cocktails, so no worries.
Sienna talked to Reuters about After Miss Julie, and her role in The Mysteries of Pittsburgh, which opens in limited release this Friday. Mysteries is the film she did with Peter Sarsgaard (swoon) in 2006, and at the time, she famously gave an interview complaining about having to work in "Sh-tsburgh". And just think, a mere three years later, the film is finally getting a release. Way to go, Sienna.
Actress Sienna Miller is scared about making her Broadway debut in October but said on Tuesday that treading the boards on the Great White Way is something she has always dreamed about. [Miller] will appear in the American premiere of Patrick Marber's play "After Miss Julie," which opens on Broadway on October 22 after a 2003 run at London's Donmar Warehouse.

"I'm scared obviously but really excited," Miller told Reuters in a joint interview with actor Peter Sarsgaard to promote their new movie "The Mysteries of Pittsburgh." "Patrick Marber is, I think, one of the most fantastic writers."

Miller's role is Miss Julie in Marber's version of August Strindberg's 1888 play about sex and class that sets it in an English country house on the eve of the Labor Party's historic landslide election in 1945.

"If you want to be an actress you think about opening on Broadway," said Miller, who begins rehearsals on August 20 and starts preview performances on September 18.

The 27-year-old actress, who attracts as much attention for her style and love life as she does her performances, has already debuted in London's West End, starring in Shakespeare's "As You Like It" in 2005.

Sarsgaard, who made his Broadway debut late last year in "The Seagull," offered Miller some advice — get a masseuse to come to her dressing room between the twice weekly matinee and evening performances.

"That's good advice, I will have to take that on board," Miller laughed, adding she used to have reflexology in London to help her cope with performing eight times a week.

Miller and Sarsgaard's "The Mysteries of Pittsburgh," based on Pulitzer Prize winning author Michael Chabon's novel of the same name, opens in major U.S. cities on Friday.
From Reuters UK
Michael Chabon is one of the best American writers working today, and it sucks that a film adaptation of his Pulitizer Prize winning book not only stars Sienna Miller, but that she thinks she's so utterly above it. The first film adaptation of a Chabon novel was Wonder Boys, which is one of my all-time favorite films. Everyone, every single actor gives a beautiful performance in that film, from Robert Downey Jr. to Frances McDormand to Rip Torn. Even a pre-Xenu Katie Holmes makes an appearance, and she's lovely.
Sienna Miller is shown at a screening of The Mysteries of Pittsburgh in NY last night. Credit: Flashpoint / WENN.com