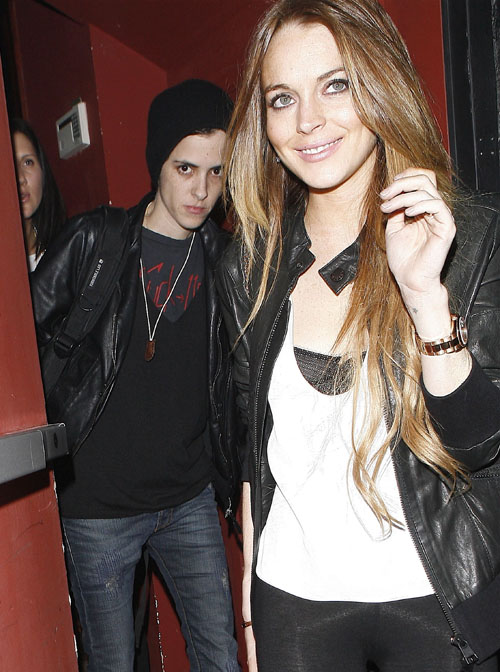 Don't lose hope for a Samantha Ronson-Lindsay Lohan reconciliation. God knows, the past five days could just be some sort of elaborate foreplay. Samantha has spoken out (through her attorney) to People Magazine about the break-up, saying that the rumor of a restraining order against Lindsay is totally false. The lawyer said, "Samantha has no plan to request a restraining order. There is no basis for one." Do you believe him?
A source close to Sam is also telling People that Sam does not feel in any way threatened by Lindsay. My guess is "not threatened" is code for "turned on". Sam also thinks the whole drama the past few days has been "absurd". Yes, it has.
Samantha Ronson may have split from Lindsay Lohan but she doesn't need help from the law to keep them apart.

The Beverly Hills cops confirmed that Ronson's family members asked about a restraining order following the couple's recent breakup. But Ronson's attorney, David Bass, tells PEOPLE: "Samantha has no plan to request a restraining order. There is no basis for one."

And a source close to the deejay offers this spin: "Sam does not want a restraining order against Lindsay Lohan. Sam had nothing to do with the restraining order against Lindsay that the police are talking about."

Adds the source: "Sam and Lindsay are broken up, but Sam does not feel she's in any danger whatsoever. She thinks the whole thing is absurd. "

On Friday, Ronson, 31, and her family blocked Lohan, 22, from the "I Heart Ronson" bash at Bar Marmont, an event celebrating Charlotte Ronson's clothing line. Though Lohan was banned from the party, another source says that she and Ronson "are totally communicating."
From People Magazine
Is this all just another facet of Sam enabling Lindsay? I think it is. They were together for a year – Sam knows all too well Lindsay's ups and downs, her self-perpetuating drama, her love affair with getting attention by any means necessary. If I was Samantha, I would be concerned. Lindsay is like a wounded animal, ready to attack. If Samantha thinks Lindsay can be controlled, Sam's delusional. Would Lindsay actually hurt Sam? I actually think the answer is "yes". Samantha is playing with fire if she thinks that she can still control Lindsay's behavior once they've broken up.
Samantha and Lindsay are shown out on 3/12 and 3/19/09. Credit: WENN.com