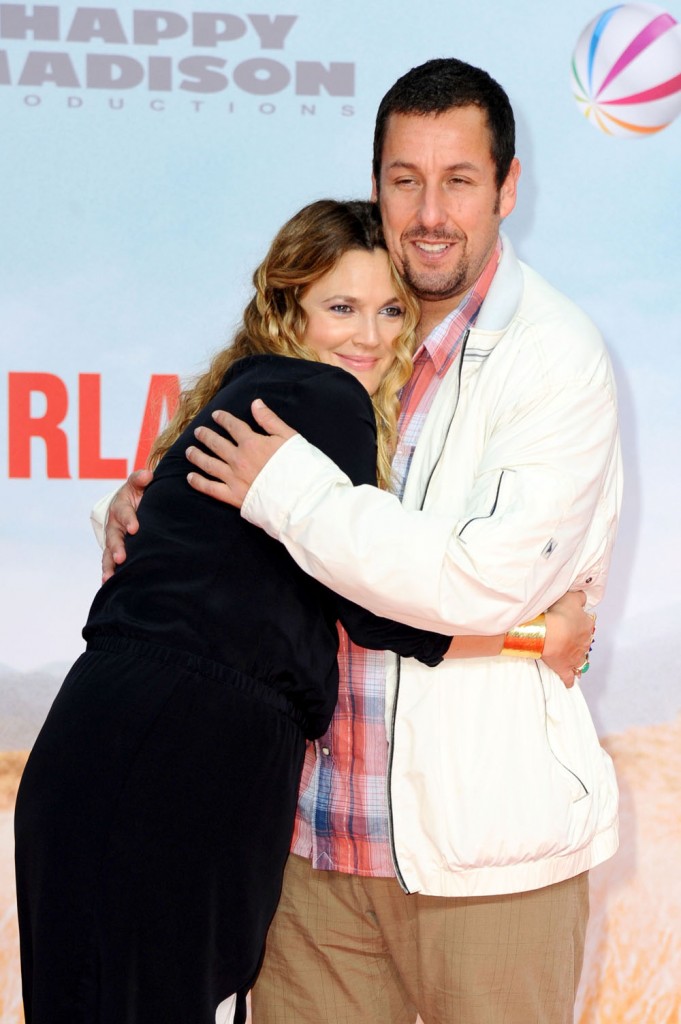 I know that these Drew Barrymore stories get only a passing amount of interest and I want to change that. I want people to appreciate Drew and how open, quirky and without artifice she is. We last covered Drew's People Magazine cover story, which I don't imagine was a big seller for them. She just isn't that controversial. Drew had so many wise things to say about her troubled youth, about her relationship with her mom, and about the fact that she's a mom now with a stable family she didn't have growing up. You get the sense that the only filter Drew has is the one she's developed naturally through introspection and hard work. Drew isn't trying to sell us a Hollywood ideal, she's trying to figure out who she wants to be in the world and she's telling us about it.
Vulture magazine has some excerpts from Drew's book, Wildflower, which just came out yesterday. This is Drew's second memoir following Little Girl Lost, which she wrote when she was just 14. Wildflower is getting glowing reviews from critics and judging from these excerpts, you can tell why. Drew is a good storyteller and her life is interesting. Here is part of Vulture's summary, and you can read more at the source. Direct quotes from Drew's book are in quotation marks:
How she convinced Adam Sandler to work with her
She first crossed path Adam Sandler when she was in her early 20s, and she had to "beg, borrow, and steal" to get him to meet with her in person. She showed up to their restaurant chat in a long vintage leopard coat with jet-black hair, pink plastic heels, and sunglasses, while Sandler opted for his classic look: sportswear, cargo shorts, and a baseball cap (some things never change).

"It was definitely not obvious we were supposed to fit as well as I believed because we looked like a preppy and a punk set up on a bad blind date," she writes. "But I shook his hand with fervor, thanked him for meeting me, and began to plead my case to him. I told him that, for whatever reason, I knew that we were supposed to become a team." What ensued were two well-received and popular film collaborations (The Wedding Singer, 50 First Dates) and one not-so-good one (ahem, Blended). But regardless of success, Barrymore was convinced that the two were inherently meant to work together. "I knew it. I knew it in my bones," she continues. "I thought Adam had a goodness that was so unique. I could tell that he possessed something different, and I was drawn to his light. I wanted to make love stories, but I wanted them to have a certain energy that was about true love and chemistry and timelessness, and I was convinced of us doing something together."

She barely speaks to her mother but still supports her financially
Barrymore was born in 1975 to a young and hedonistic single mother, and after a much-publicized legal battle, she became emancipated from her at the age of 14 (her father, the actor John Barrymore, was only in her life sporadically as well). After this parting of ways, the two have barely made any contact with each other, but Barrymore only has kind things to say about her:

"I still support her — I must know that she is taken care of or I simply cannot function. I am grateful to this woman for bringing me into this world, and it would crush me to know she was in need anywhere. It is not who I am to harbor any anger for the fact that our life together was so incredibly unorthodox. I want only to say thank you to her, because I love my life and it takes every step to get to where you are, and if you are happy, then God bless the hard times it took you to get there. No life is without them, so what are yours, and what did you do with the lessons?"

Her parenting philosophy comes from The Simpsons
The specific episode she loves is called "And Maggie Makes Three," when the Simpson family is one day looking through a photo album, only for the kids to realize there are no pictures of Maggie in it. As Barrymore explains, the episode tells the story of how Homer unhappily works at a power plant, sacrificing his unhappiness for the well-being of his family, something she can relate to now as a mother:

"Every day he worked in an octagonal room looking at an Orwellian plaque that read, 'DON'T FORGET: YOU'RE HERE FOREVER.' And one day when Homer came home he told Marge that he was afraid of his whole life slipping away without him ever getting to live his dream, which was to run a bowling alley. And so they all squeezed financially and made it work and Homer finally got his dream job! He became so happy that even his hair started to grow back! His life fell into place with his wife and two kids, and then suddenly Marge became pregnant. Now of course, in order to earn the living wage his family needed, he had to go back to work at the power plant. And so he did. But at the end of the episode, the kids say, 'Yes, but why are there still no pictures of Maggie in this photo album?' and Homer says it's because he keeps her pictures where he needs them the most, and it cuts back to his office, and they are all taped up in front of him on the plaque for inspiration. But the way he has taped all the pictures of Maggie on the plaque, it has covered some of the words, and it now reads, 'DO IT FOR HER,' and that is what he now sees every day. Do it for her. That is it. You show that you love them endlessly. You devote yourself. You sacrifice. You parent also by example. The way you live and the things you achieve and the way you behave will be more evident than trying to convince them of anything."
Vulture has so much more from Drew, including the story of a skydiving class she took with Cameron Diaz, only to be sexually harassed by the crew. (I wonder if those two are still close now that Drew has two kids.) She also adores Steven Spielberg and has some funny stories about how he entertained the kids on the E.T. set. (Once by dressing in drag!)
I love the Simpsons and anyone who gets life lessons from that show is my kind of people. Drew is alright, and I will buy this book and watch her goofy movies. I just hope she realizes that it's time to put the brakes on her collaboration with Adam Sandler. You can tell they're sympatico, they've made some adorably cute movies together, but Blended was awful.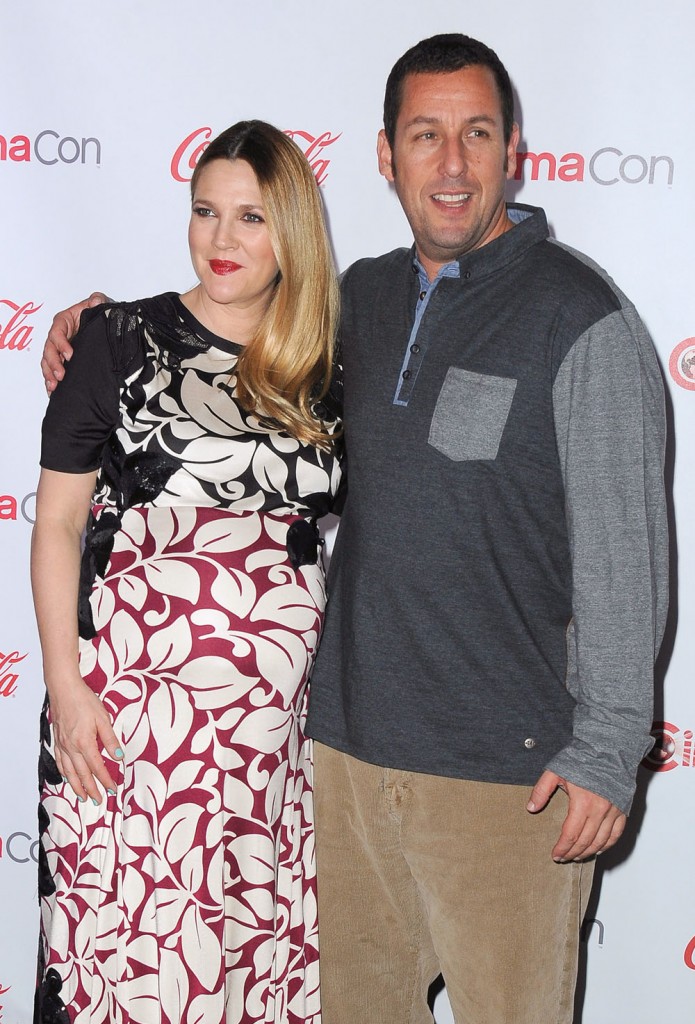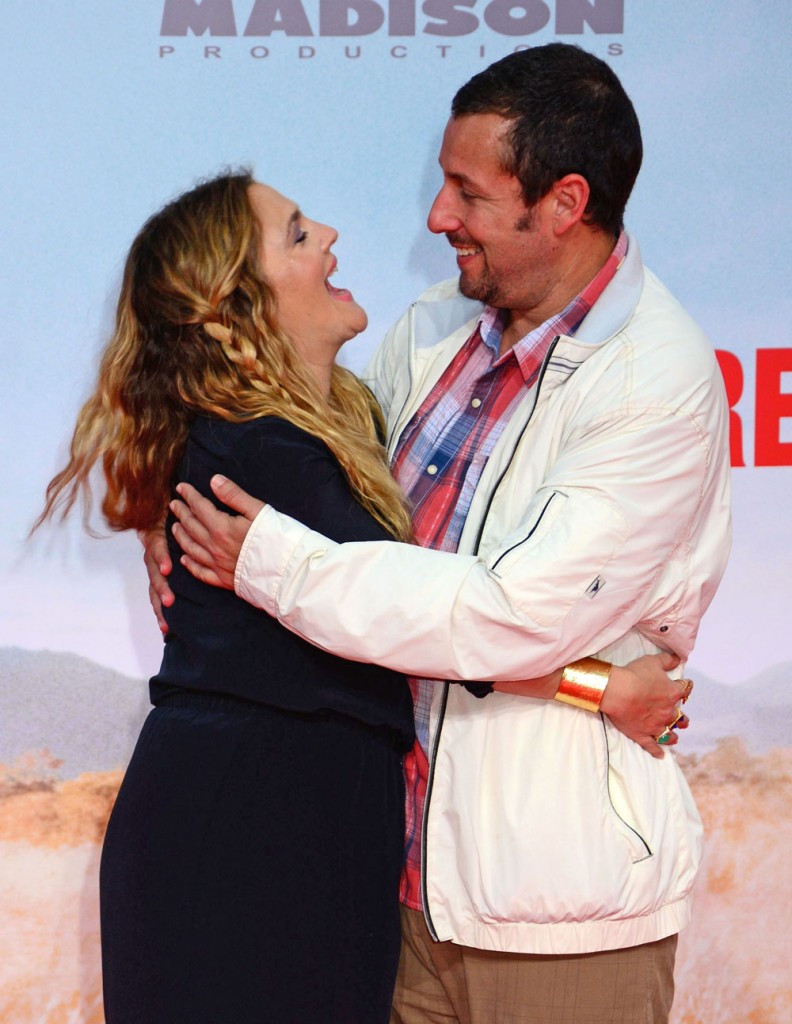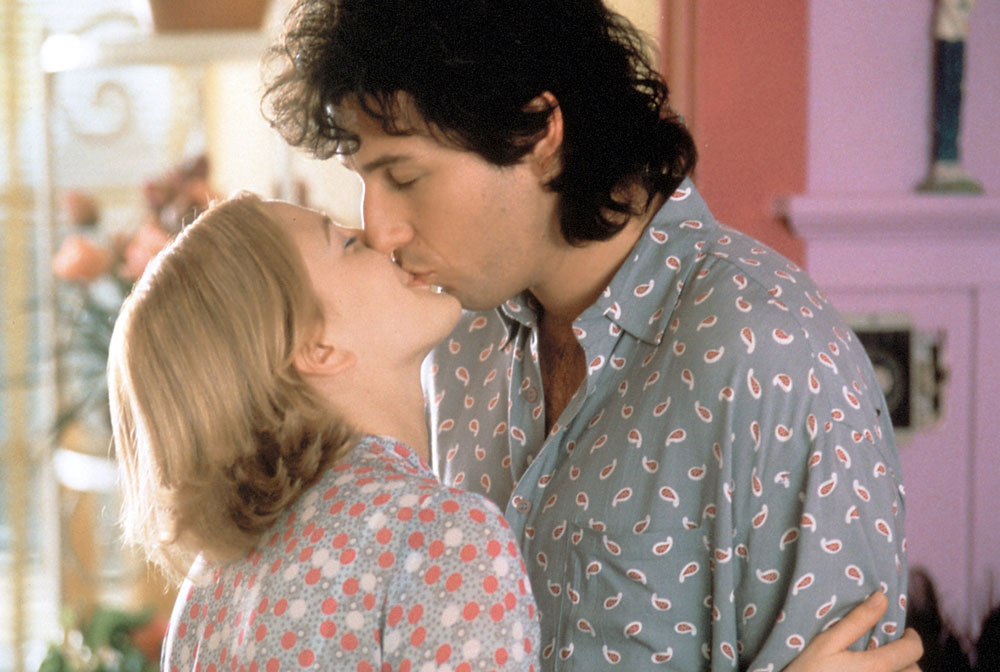 These photos are of Drew and Adam at Blended events in the Spring of 2014, right before and after she had her last child. Plus a still from The Wedding Singer! Credit: WENN.com