It's been a long week for Justin Bieber, at least that's his excuse for his latest tantrum. On Thursday, Bieber walked offstage and quit after performing just one song at a concert in Norway. He was scheduled to perform five or six songs for a Norwegian television station in front of an audience of about 950 people. As you can see in the video above, he got visibly upset when some water spilled on the stage. He tried to mop up the mess, but his fans were so excited that they blocked his attempts by trying to touch him. So, Bieber got really angry and walked off stage, saying "I'm done. I'm not doing the show." He never reappeared.
The weird thing about this video is that the water really wasn't in a place where Bieber would have injured himself. Even if it was in a bad spot, he could have waved over some security to get the job done. Instead, Swaggy lectured the fans, saying "I'm trying to wipe the floor, give me a second yo," lost his temper almost immediately afterwards and stalked offstage. Once the media picked up on the story, he posted an explanation to Instagram:
"Sadly it's Been a rough week for me, long days no sleep, while having to be "on" as they would say for cameras fans etc. In no way did I mean to come across mean, but chose to end the show as the people in the front row would not listen. Hopefully people will understand where I am coming from. I don't always handle things the right way but I'm human and I'm working on getting better at responding not reacting. Unfortunately people were affected by this as am I. For the people in the back I am so sorry and for anyone I may have disappointed im sorry. Sorry for wasting the tv people's time I'll be sure to make it up to you next time on tour.. With love Justin."
Is this an apology? It sounds like one, but there are disappointed fans who won't ever have it "made up" to them. He threw a fit, plain and simple. The "no sleep" excuse is a weak one, and I can empathize after not sleeping all week myself. Being sleep deprived is painful and sucks, and sometimes, mistakes are made. But you fix those mistakes instead of storming off and upsetting a bunch of fans. Swaggy needs to show up and do his job, and if he can't, then he shouldn't get paid for his job. And he gets paid plenty of money. That spot of water was his excuse to act like a brat.
More Bieber news. On Wednesday, he walked out of a Spanish radio interview. Here is his storm-out on video:
Swaggy got frustrated at being asked questions which he did not enjoy for nine minutes. He was confused, and then he grew visibly huffy. Then one of the hosts asked him to "break the internet" (which is a phrase that should be retired) by making a video with famous Youtubers, presumably off stage. Swaggy then made a little farty noise with his mouth, stood up, and walked right out. He couldn't cope, and even if he had legitimate objections to making the video, he's been throwing a lot of attitude lately. It sure sounds like the whiny old Justin Bieber has made a return. The guy needs to take some time off because there's something major going on with him.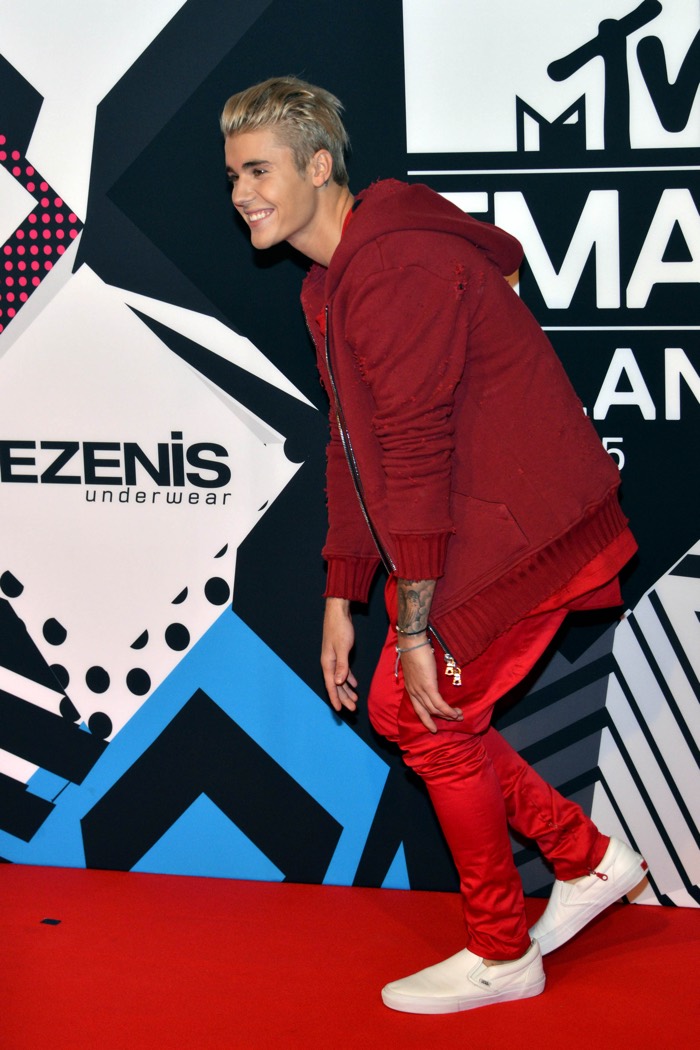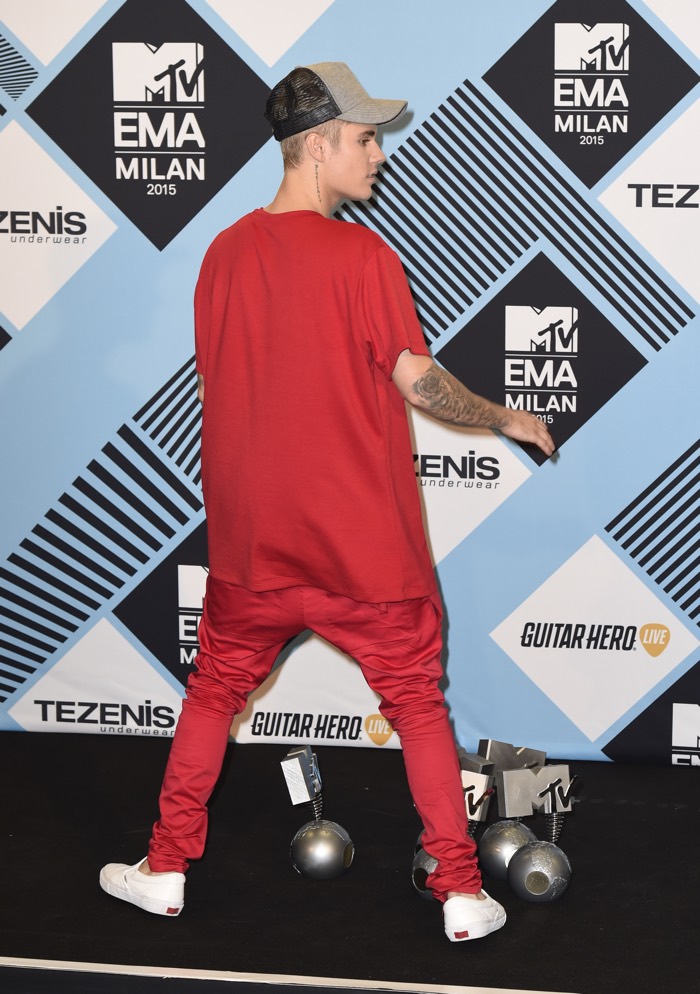 Photos courtesy of WENN