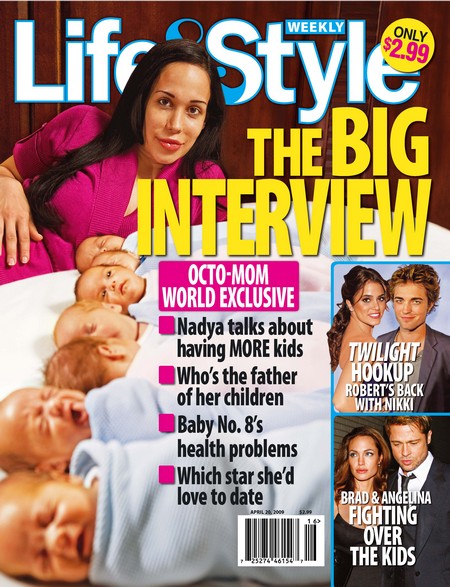 Nadya Suleman has no interest in being famous. That's right – there is nothing she'd like more than to fade into the background and never be heard from again. Or at least that's what she claims in a recent suck-uppy chat with Life & Style. In the interview – done this past Saturday – Nadya also claims that she's not doing a reality show, despite saying in an exclusive upcoming interview with In Touch that a show is indeed in the works.
Octomom's always had a loose relationship with the truth, so it's no surprise that "no" really means "yes." Nonetheless, the Life & Style piece is somewhat interesting because she describes the birth of her kids, along with telling us how she's not at all the person the media has made her out to be.
Nadya Suleman's home in La Habra, Calif., should be a scene of chaos, yet when Life & Style arrived on April 4, things were quiet and serene. Nadya seemed less concerned with her appearance than spending time with her kids. "This is who I am," Nadya says. "There are so many lies out there, and they're all just so different from the person I really am." Here, in her first extensive print interview, Nadya finally sets the record straight for Life & Style.

L&S: You've never talked about the birth itself. What did it feel like to give birth to eight babies?
Nadya: It was extraordinarily painful. With that many babies, it feels like your insides are being torn apart. The babies were ripping apart my organs. Afterward, people thought I went into hiding. I wasn't in hiding — I was in pain. I could hardly move.

L&S: Did you ever dream of having a family the traditional way?
Nadya: No. I was married at one point, but it didn't work out. I decided to go on my reproductive journey alone. But people think I just woke up one day and decided to start a family. I've been trying to have kids since I was 19 years old! I'm 33 now. I'd just been saving my money. I was a psychiatric technician — almost every day I was working 16-hour days. For years, I worked non-stop until I saved for the first four in vitros.

L&S: How did you approach the babies' father to donate the sperm?
Nadya: Years ago, I said, "Hypothetically speaking, would you ever help a friend have children?" He said he would. And I said, "Then help me." And he did. I kept going back to him, and year after year, he kept helping me. He was upset when I did it again. He said the same thing everyone else did: "You have six beautiful children — why do you want more?"

L&S: Baby No. 8, Jonah, is still at Kaiser Permanente Hospital waiting to be released. What's wrong?
Nadya: He has a little cleft on his lip. But it's not a big deal. It's cosmetic. Eventually, they can close it. Jonah won't be coming home until he gains a little weight. He's only 4 pounds but he's growing bigger and stronger every day.

L&S: Are you going to do a reality show?
Nadya: Absolutely not! I have no interest in being famous. I'd love to vanish from the public eye as soon as I can.
[From Life & Style Weekly]
Nadya says two contradictory things about Jonah. Her first reply to "what's wrong" – i.e. what's keeping him from being released from the hospital – is that he has a little cleft on his lip which isn't serious. But then she says he's only 4 pounds. Which is a big deal, and has been the reason given thus far. But she's got 7 other kids, so why worry about one? Something tells me nothing that ever happens to any of the kids will be a "big deal," because none of them will be able to get much attention.
The reality show is obviously happening. In Touch's editor confirmed that Nadya said so. I wish an interviewer would ask Nadya about all of her inconsistent statements, one by one. She had to explain her claims of never being on welfare a long time ago, but since then she's told a bunch of different lies (not stripper, anyone?), and I'd love to hear how she accounts for them.
While I don't want to reward Octomom for what she's done, and don't want to encourage her famewh*ring, I do want her to be able to support her children on her own. I wish there was a way to do it that wouldn't bring her so much attention and satisfaction. A reality show just feeds into her issues. But I doubt we can make her work in a mine, so this'll have to do.
Here's Nadya running errands on March 12th. Images thanks to Mavrix.