Adele is still smashing ALL THE RECORDS. Because of course she is. Because we were so hungry for real music and someone with an amazing voice to come out of hiding. As we discussed last week, Adele's "Hello" video smashed Vevo records by becoming the most-watched video ever in a 24-hour period. Vevo also sent out a press release at the end of last week about how "Hello" is now the music video that had the fastest ascent to 100 million views in Vevo history. It only took FIVE DAYS for "Hello" to rack up 100 million views and become "Certified." The previous record was held by Miley Cyrus for "Wrecking Ball," which took six days to become "Certified." And that's not all! Adele is smashing download records too.
As expected, Adele's big return broke the charts. "Hello," her first song in three years, debuts on this week's Billboard Hot 100 at No. 1, with a record 1.1 million downloads in a week. The last artist to even come close to that feat was Flo Rida, who had over 600,000 downloads of "Right Round." With her fourth No. 1, Adele ends the Weeknd's six-week dominance, becoming the first woman to top the chart since Taylor Swift did it in June. When the nostalgic "Hello" video first dropped more than a week ago, it was reportedly being viewed upwards of a million times per hour, obliterating Swift's previous single-day Vevo record. On today's chart, she's credited with 61.6 million U.S. streams in one week, second only to Baauer's viral hit, "Harlem Shake." Predictions for Adele's 25 are through the roof, with industry forecasters expecting her to sell more than a million albums her first week with no problem; they're now betting on her pushing 2 million.

Saying hello from the other side is Justin Bieber, who would have likely debuted at No. 1 had he released his new single literally any other week. Instead, "Sorry" enters the chart behind Adele, at No. 2. (For comparison, his single was downloaded 277,000 times to Adele's 1 million–plus.) Bieber's "What Do You Mean?" is also in the Top 10, at No. 5. Sadly, with the additions of new Adele and Bieber, Drake's "Hotline Bling" got bumped down to No. 3 — but the song's video is on YouTube and Vevo now, so Drake's chase for his first solo No. 1 is still alive! At the very least, he can say he beat out his fellow Canadian the Weeknd, whose "The Hills" dropped to No. 4 this week.
The only person I feel sorry for is Drake. "Hotline Bling" is a great, fun song and it deserved to be at the top of the charts… on any other week. Maybe Drake didn't know or care that he was releasing new music around the same time as Adele? I keep reading that several artists who planned on releasing new stuff this month have pushed everything back because they don't want to compete with Adele. I do have to chuckle at the thought of Justin Bieber's big comeback taking a backseat to Adele though. That is perfect. While I have no doubt that Adele's album will destroy records as well, I hope industry people aren't saying "If '25' doesn't sell 2 million in a week, we're done with Adele!" That's crazy.
Meanwhile, "some people" claim that Adele stole some lyrics or a lyrical concept from Tom Waits. The Daily Mail is pointing out some "similarity" between Waits' "Martha" and Adele's "Hello". I can hear a similarity between the lyrical concepts, but that's not the same thing as saying that Adele "copied" Tom Waits in any way.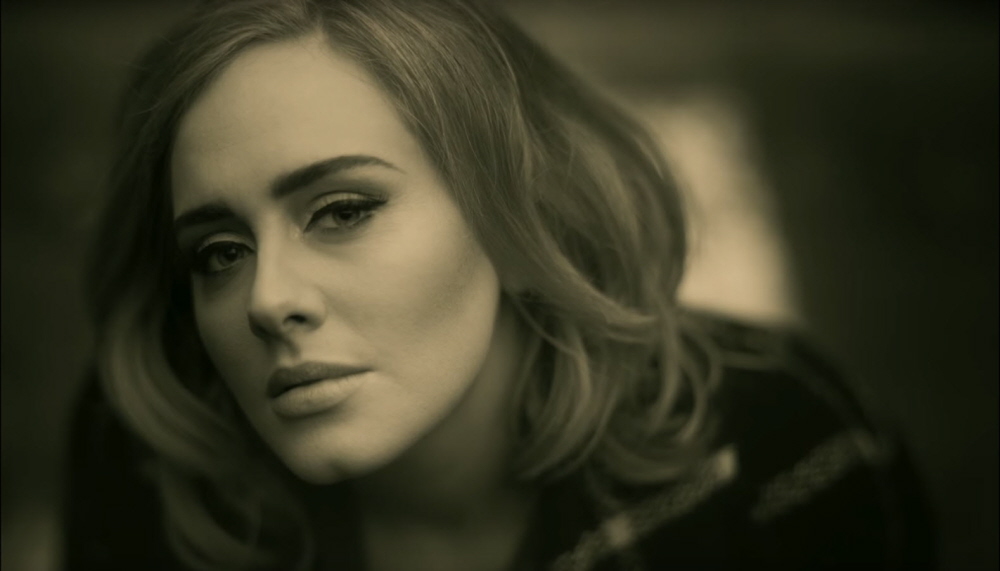 Photos courtesy of WENN.