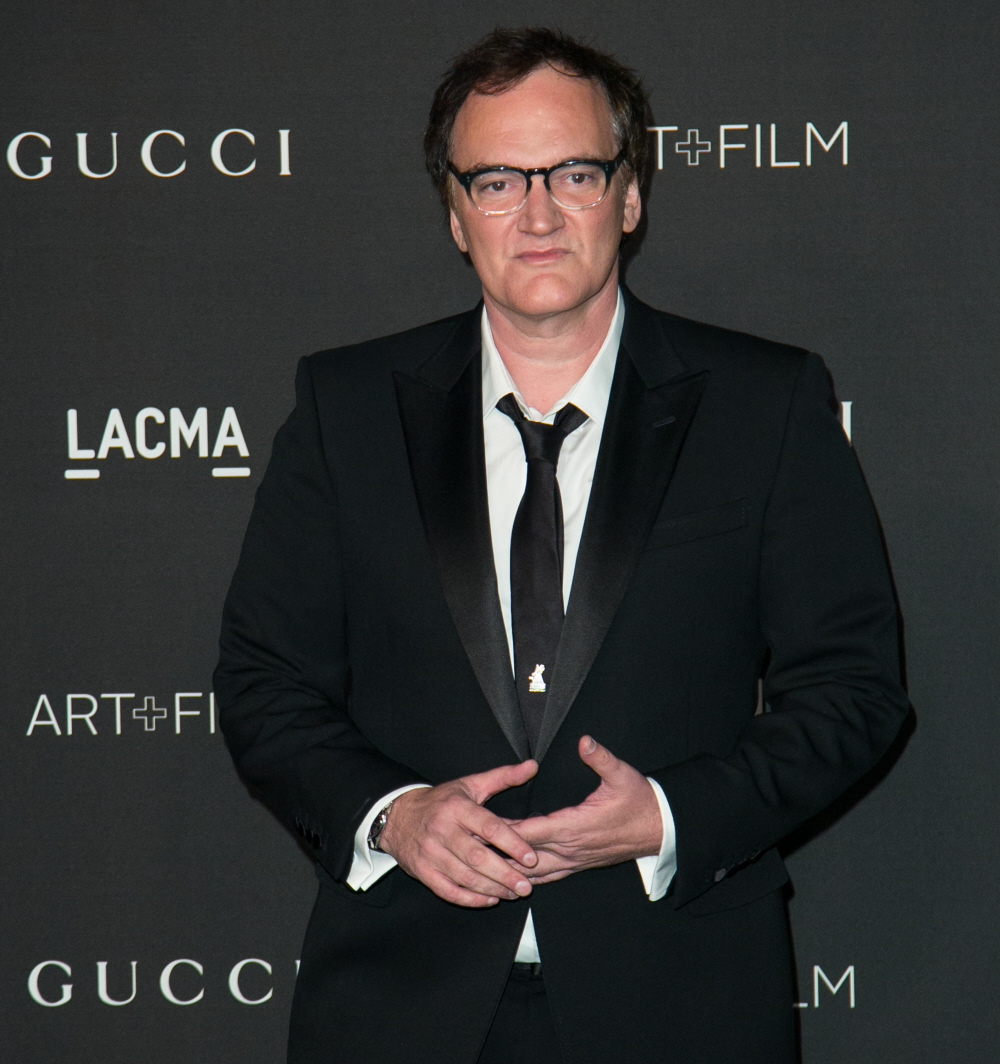 Two weekends ago, Quentin Tarantino took part in two rallies on behalf of Rise Up October, events that were partially coordinated by Black Lives Matter activists, working to bring attention to the killings of several African-Americans by police officers in New York. Tarantino was invited to speak alongside other activists and family members of the slain, and he stood up and called those particular cops – the cops who killed those unarmed African-Americans – "murderers." He was pretty specific about it and there was a context to his words. That didn't stop the NYPD's union from threatening to boycott The Hateful Eight, and that didn't stop the union from trying to paint Tarantino as a cop-hater who thinks ALL cops are murderers.
Over the weekend, Page Six posted a story about how Harvey Weinstein (who is distributing The Hateful Eight and who has a long personal and professional history with Tarantino) wanted Tarantino to apologize or clarify his statements. Weinstein is worried that a widespread police boycott or protest could seriously damage the film's reception and sources claimed that Harvey was brainstorming ideas for how to make it right. This may be Harvey's work then – Tarantino spoke to the Los Angeles Times about how he feels about cops and how he feels about how the police unions are coming after him.
QT's clarification & defense: "All cops are not murderers. I never said that. I never even implied that. What they're doing is pretty obvious,. Instead of dealing with the incidents of police brutality that those people were bringing up, instead of examining the problem of police brutality in this country, better they single me out. And their message is very clear. It's to shut me down. It's to discredit me. It is to intimidate me. It is to shut my mouth, and even more important than that, it is to send a message out to any other prominent person that might feel the need to join that side of the argument."

He will not be intimidated: "I'm not being intimidated. Frankly, it feels lousy to have a bunch of police mouthpieces call me a cop hater. I'm not a cop hater. That is a misrepresentation. That is slanderous. That is not how I feel. But you know, that's their choice to do that to me. What can I do? I'm not taking back what I said. What I said was the truth. I'm used to people misrepresenting me; I'm used to being misunderstood. What I'd like to think their attack against me is so vicious that they're revealing themselves. They're hiding in plain sight."
There are so many interesting elements at play here. Honestly, you could probably write a master's thesis just about the racial elements involved in this situation. Tarantino is someone who comes from a place of enormous privilege, but to his credit, he's trying to use his rich-white-guy privilege to draw focus to an important and controversial issue. Even though he's being dragged through the mud, he's still trying to keep the focus on the issue at hand, which is police brutality and killings of unarmed civilians by police officers.
On the other side, you have law enforcement organizations who are used to painting African-American activists as "fringe elements," or domestic terrorists or simply "too black" to ever be taken seriously. The cops are trying to paint Tarantino with the same brush and I'm not sure if they realize that Tarantino can call up any newspaper, magazine or media outlet he wants to tell his side of the story and he'll drown out every pro-cop headline. Basically… even though Tarantino is making this about himself a little bit too much, I still admire him for sticking with it and throwing the issue back.
Photos courtesy of Getty, WENN.