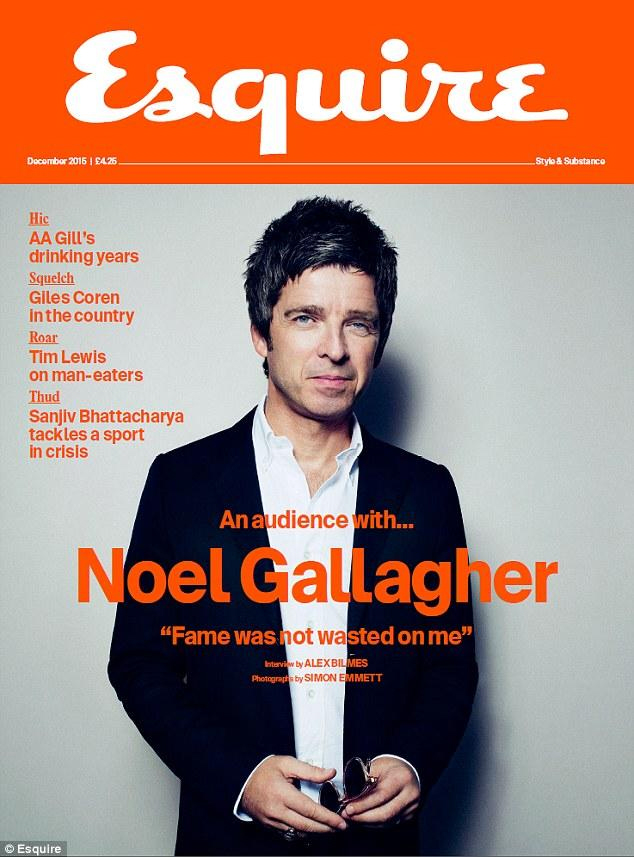 If you're in a need of a good laugh and you have a good 30 minutes, I would definitely suggest that you read Noel Gallagher's Esquire UK cover story – go here for the full piece. He covers the December issue and his interview is… well, amazing. It's not that I agree with him on most things, and it's not that he's some truth-telling savant. He's just pissy, bitchy, scathing, ridiculous, conceited, self-aware and really, really funny. Here are some highlights:
His hobby is doing interviews: "This is my hobby! This: doing interviews. I f–king love it. I could do this all day long. It's sick. Because I get to be a gobshite, and I get to do that thing: to be the last of a dying breed."

His childhood: "I laugh when I hear people moaning about their childhoods. It's usually middle-class people. I think, "mine was worse." Mine was wrapped up in violence and drunkenness and there was no money. And still we didn't go around f–king robbing people. We stole things, we didn't rob people. It's preposterous to say you're working class when your back garden is bigger than the f–king street you grew up on. But it's always there. Do I feel working class? In my soul, I guess I do."

On Radiohead: "Am I aware of a hierarchy? I'm aware that Radiohead have never had a f–king bad review. I reckon if Thom Yorke f–king sh-t into a light bulb and started blowing it like an empty beer bottle it'd probably get 9 out of 10 in f–king Mojo. I'm aware of that."

The rock star life: "We'd be partying with supermodels and all sorts. It'd be like, "We're out of cigs. Who's gonna go to the shop?" "No way. Press are outside." So, you just go out and say to one of the kids, "Do us a f–king favour: go round the Tescos and get us 400 Benson and Hedges, can you?" In the Nineties, all of us were high on f–king cocaine, all the time. Having it. The last party. Nobody gave a f–k. I haven't got a "My Drug Hell" story because it was f-king brilliant."

He enjoys being famous: "The fame thing, some people it hits them hard. I flourished. I love it. I've never gone out of my way to be famous and I don't go to the opening of a f–king envelope but if somebody wants to lend me their superyacht just because I'm famous, "Thanks very much, man." I do enjoy that side of it and you should f–king enjoy it. I f–king hate whingeing rock stars. And I hate pop stars who are just… neh. Just nothing, you know? "Oh, yeah, my last selfie got 47-thousand-million likes on Instagram." Yeah, why don't you go f–k off and get a drug habit, you penis?

He loves Kanye West & hates everybody else. "I'll tell you what's wrong. Fame's wasted on these c–ts today. Bar Kanye. You watch him on the MTV Awards and you think, "You can f–king stay, you're alright." Does anybody give a f–k about what any of these current pop stars are up to? Who gives a sh-t what f–king One Direction do? C–ksuckers, all of them in rehab by the time they're 30. Who gives a sh-t what Ellie Goulding is up to? Really? Adele, what? Blows my f–king mind. It blows my f–king mind. Nobody cares! Fame's wasted on them, with their f–king in-ear monitors and their electronic cigarettes. And their fragrances that they're bringing out for Christmas. You f–king dicks.

On Harry Styles. "Harry Styles has got nothing to say for himself – nothing. "You alright, mate?" "Uhhh." That's it.

The '90s were the best. "It's no coincidence that all the big people from the Nineties lasted. I've been in festivals all summer – every one of them has been headlined by someone from the Nineties. That's why Kate Moss has transcended eras. No one's taken her place.

On Chris Martin. "Chris Martin is a friend of mine. That f–king guy can write a tune. And he's hilarious, by the way. We were out one night having dinner, me and my missus, him and his missus, and he ended up banging his hand on the table, shouting at me: "Why do you think it's so cool not to give a f–k?" Because he does give a f–k. About everything. I might have been making some disparaging comment about f–king Madonna or someone, and he was like, "I just can't believe you can be like that." And I was like, "F–king believe it, man, because I can't believe you can be like that."
I'm just excerpting the stuff about other people/artists, but he says so much more about everything else. I thought some of the most touching stuff was about how he loves his wife and how much he loves to spend time with women. As for the bashing of everyone else… Noel already burned a ton of bridges earlier this year with a Rolling Stone interview, but with this interview, it's like he was pouring salt in all of the wounds. I love it though – I wish more people would give these kinds of interviews.
Photos courtesy of Esquire UK.