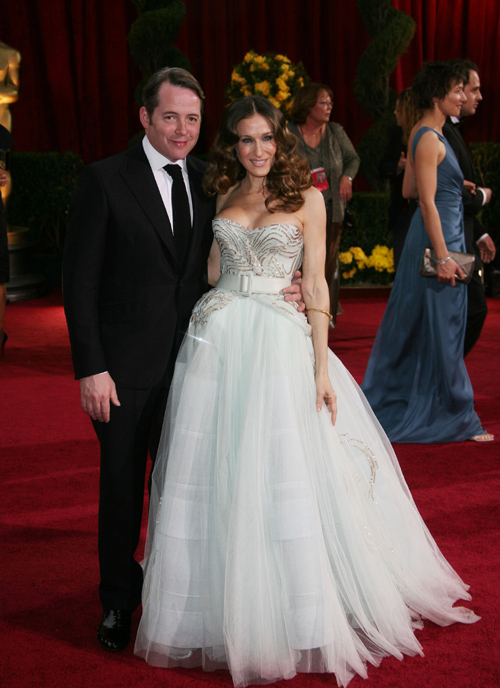 Last year, we read all those splashy reports that New York-based celeb couple Sarah Jessica Parker and Matthew Broderick were in trouble. There were reports that Matthew was cheating; reports that Matthew refused to go to couples' counseling; reports that Sarah Jessica was lonely and ignored, and was only staying in the relationship because of their son, James. The couple combatted those reports by being seen in public all over the place – at film and play openings, walking together near their home, holding hands and kissing. But the rumor mill is at it again. This latest buzz is that the divorce is already in progress, and their lawyers and PR reps are keeping quiet about it until it's finished.
The sad news has been confirmed through a reliable West Village, New York source.

Sex and the City star, Sarah Jessica Parker, and her husband of nearly 12 years, Matthew Broderick are in the process of getting a divorce.

The couple, who were married in May 1997, have one child, James, 6.

I love these two together and am totally bummed about the break-up! They were both cool geeks in the 80s. Broderick with Ferris Bueller and Parker in Square Pegs. They just seemed like a natural fit.

Both have denied a divorce is in the works, and it seems their people are doing a good job of keeping quiet about it. But you heard it here, first. They're officially dunzo.
I guess there's only one way to know for sure if this one is true: wait for the impending announcement. This seems all too familiar – the end of Guy Ritchie and Madonna's marriage played out this same way: months of denial, a unified front for the press, then, finally an official announcement followed by a lightning-speed divorce settlement. I hope it's not true for Sarah Jessica and Matthew. I may be in the minority, but I'm rooting for them to make it.
Sarah Jessica Parker and Matthew Broderick at pictured at the 2009 Academy Awards. Photo credits: Fame.