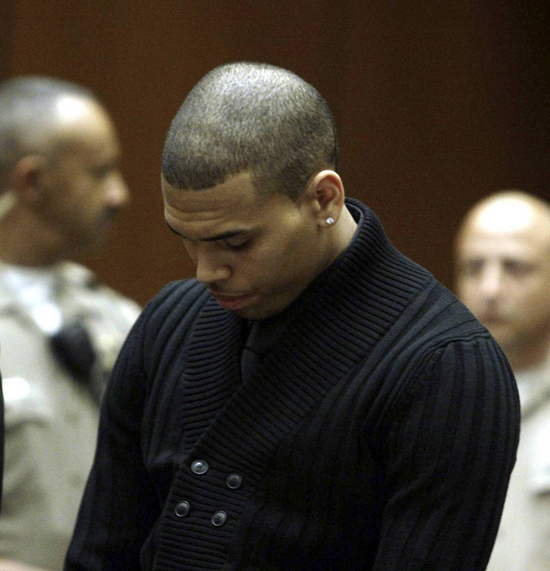 I am crying my eyes out for Chris Brown. Dude has it rough. Wait, no, I'm dry as the desert. Chris is having a hard time right now and has sunk into a depression, according to his friends. And while depression is something I wouldn't wish on anyone, if I were to wish it on someone, Chris Brown would be the first guy on my list.
Apparently beating the sh*t out of your girlfriend doesn't do your career the favors you thought it would. Who would have guessed? Though it's likely Brown somehow managed to threaten a lot of celebs into supporting him, the general public isn't so easily intimidated. Brown has good reason to worry about his future: hopefully he'll spend a little time in jail, and I doubt radio stations will want to play his music for a long, long time.
Luckily he's doing the smart thing. Seeing a counselor? Nope. Reaching for the bottle. Excellent choice.
The 19-year-old singer – who has pleaded not guilty to felony assault and making criminal threats in relation to his alleged attack on Rihanna – is believed to be struggling to cope with the fallout from his court case.

A source told gossip website X17Online: "Chris is a mess. He lost a lot of weight, about 15 lbs. I do know that Chris is also in a depression and is drinking a lot. He almost got his butt kicked about a week ago."

While Chris is becoming increasingly reclusive, Rihanna, 21, is determined to put the incident behind her and move on with her life.

Although the pair briefly reunited after the incident, they are now said to be spending time apart to contemplate the future of their relationship.

The source explained: "Rihanna is doing great. She is trying to put Chris on the back burner. They still have joint business assets so they are still keeping in touch indirectly. She is focusing on her new album. She has a lot of creative control so she is doing it her way. This is the first time she has been able to do that."
[From Hollywood Rag]
This is exactly how it should be. Chris Brown is miserable and despondent, and Rihanna is carrying on just fine. Though he could serve up to four years eight months in prison, it's unlikely Brown will actually spend any time in jail. His lawyers are working overtime on a plea deal, and Rihanna's attorney said, "She would be pleased if this were over quickly."
What really bugs me is that I'm sure this depression of Chris' will go away as soon as he gets his plea deal. I doubt he's upset because of what he did to Rihanna. It's just about the consequences for him. If nothing else, I truly hope radio stations won't play his songs. But really, that's up to the public – we need to make sure not to buy and not to listen to Brown's music.
Here's Chris Brown in court yesterday. Images thanks to Mavrix.