Pamela Anderson announced on her Instagram on that she's cured of Hepatitis C. Anderson, 48, told the press in 2002 that she developed the chronic disease after sharing a tattoo needle with her ex-husband, Tommy Lee. Apparently there's a new antiviral regimen that's much more effective than previous treatments and can cure about 80 to 95% of cases. Anderson has been on it, and she said back in August that she "could be cured within a month." It may have taken a little longer than she expected, but she's cured now and she made the announcement with a strategically covered nude photo and this news. (I'm not posting the picture as that affects our ads. You can see it on People Magazine.)
I am CURED!!! – I just found out #nomorehepc #thankyou #blessing #family #prayer #live I pray anyone living with Hep C can qualify or afford treatment. It will be more available soon. I know treatment is hard to get still…#dontlosehope #itworkedforme #thereisacure #love #happy #americanliverfoundation #celebration #Idontknowwhattodo #iwanttohelp #cannes #iloveboats #onthesea #free
Damn that's a lot of hashtags, but I'm happy for her that's incredible. Anderson also told People this summer that she's been feeling so much better since she started this treatment.
"I'm very fortunate that I've had Hep C for about 16 years," says Anderson. "Sixteen years ago that was [presented to me] as a death sentence. I think it really worked on my self esteem. Even though I may have looked confident on the outside, I think it really was a dark cloud that lingered over me."

"I don't have any liver damage and I don't have any side effects," she says. "I'm living my life the way I want to but it could have eventually have caused me some problems and so it was a real blessing that I was able to get the medicine. I'm half way there."

"I'm really excited," says the author of the new coffee table book Raw. "I feel good. I feel so blessed."

"I've always been an advocate of trying to remove stigma from hepatitis C from aids," she says. "I think subconsciously [the disease] just works on you."

Today, she feels better than ever. "I actually just look in the mirror everyday and I feel like I'm looking younger and younger and I feel like I'm getting those 20 years back."
I didn't even know it was possible to cure Hep-C. One of my friend's moms has Hep-C after contracting it during a blood transfusion in the 1970s. (If I'm interpreting Wikipedia correctly, Hep-C wasn't officially proven until 1989.) The new treatments are covered by some insurance companies, but not all and it can be insanely expensive to pay out of pocket. The medication can cost over $100,000 for a 12 week course of treatment. My friend's mom was told to wait to get treatment until she was on Medicare when it would possibly be covered.
This makes me question how Anderson afforded this, because she's had well publicized money problems. Kaiser reminded me that Sam Simon left her a ring worth $800k when he passed. (Page Six reported this but Anderson denied it.) It's also possible that Anderson has insurance which covers the treatment. I've heard SAG insurance is very good if she has that. Anyway congratulations to Anderson! Hopefully this story will help increase the pressure on American insurance companies to cover this treatment.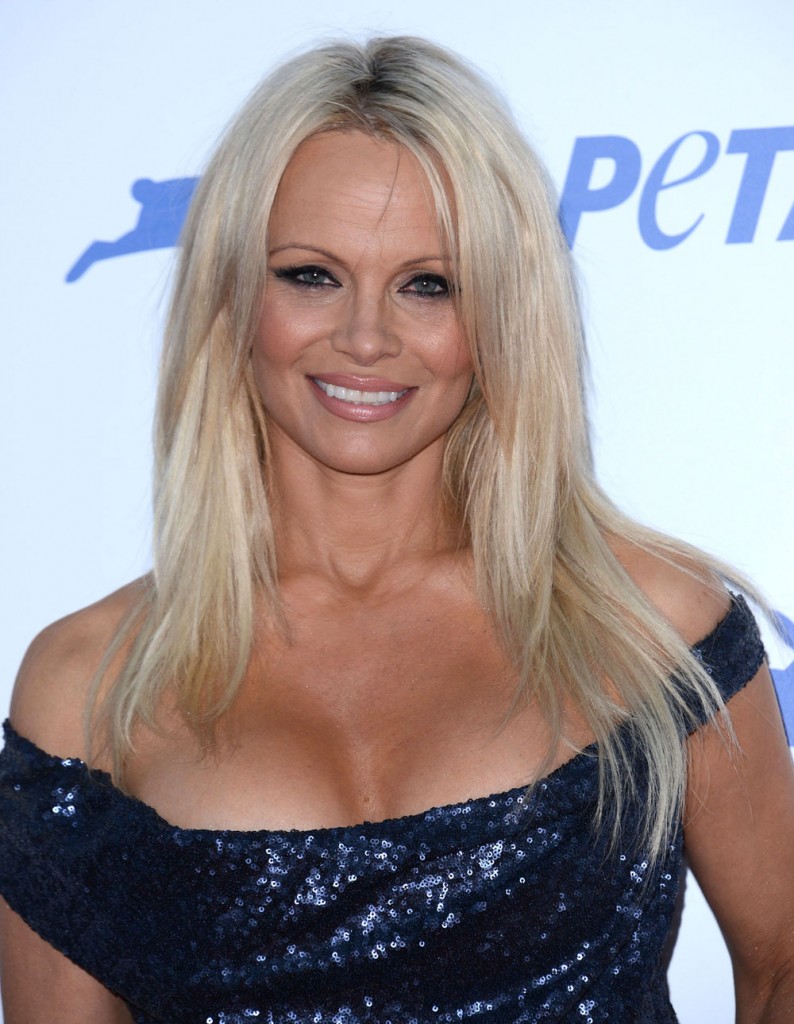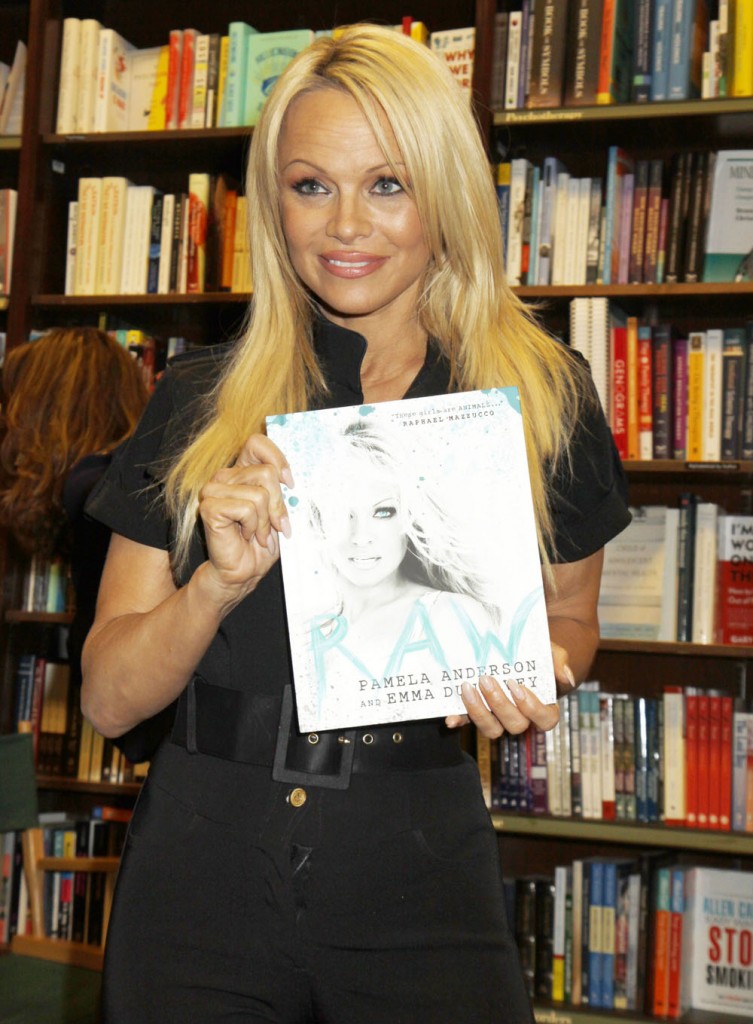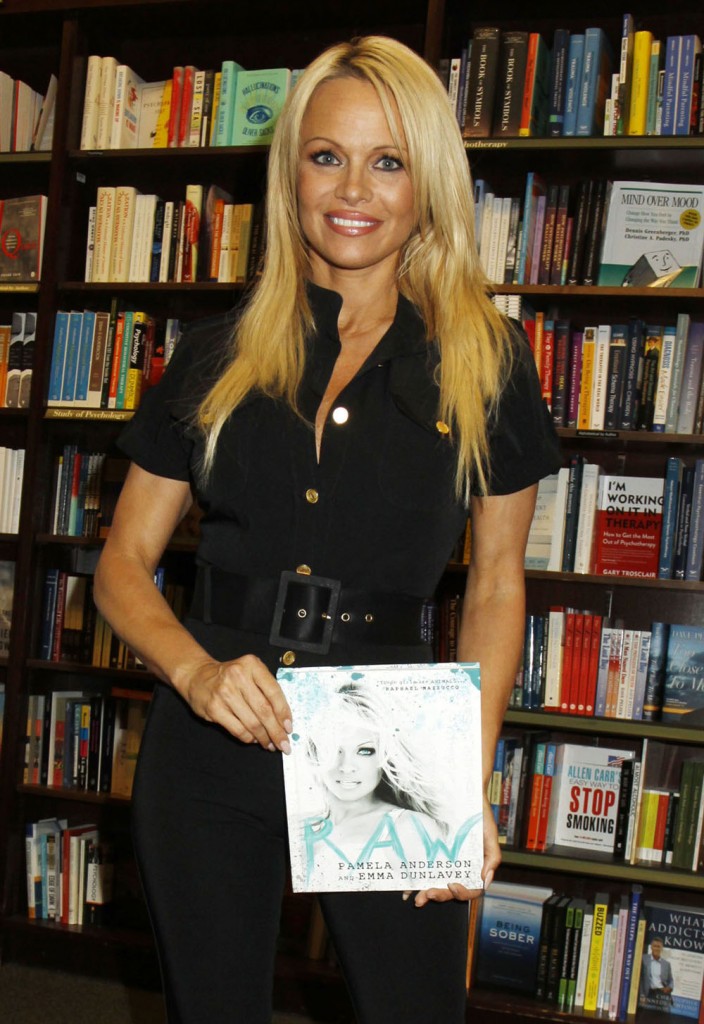 Pamela Anderson is shown in the header on 10-25. Other photos are of her promoting her new book, Raw, on 9-22 and at a PETA event on 9-30. Credit: Fame Flynet and Getty Images