Jennifer Lawrence covers the December issue of Vogue, and the cover interview is likely the most fascinating and funny thing you'll read all month. Even though J-Law is arguably the biggest celebrity/actress in the world right now, she still gives interviews like an ingenue with no media training. Maybe this is all an "act" and she's really the smartest, most meta celebrity ever. Or maybe she's just sarcastic, genuine, real, hilarious and truly in-the-moment. Whatever it is, J-Law is a GREAT read. The bulk of the interview takes place in her home in LA, a home which once belonged to Jessica Simpson (J-Law: "Thank God for Jessica Simpson," a reference to the room devoted to hair and makeup). Not just in her home – she and Jonathan Van Meter lay in her bed for five hours, drinking wine and eating pizza. She takes off her bra in front of him and at one point, she tries to make the perfect dirty martinis that Michael Fassbender taught her how to make. You can (and should) read the full Vogue interview here (you can see the slideshow here). Some highlights:
Kris Jenner came to her birthday party: Jenner presented her with a poop-shaped cake reading "Happy birthday, you piece of sh-t!: J-Law says: "My knees buckled. And then I got hammered and talked to her like I think I'm part of the family."

Her dog, Pippi, and her hacked nude photos: "I was outside crying, and Pippi jumped up on my lap and started licking up all my tears, and I couldn't put her down for hours. And I mean, hours. I was like, 'Well, obviously, you're mine.' " Looking back, does she have more perspective on the ordeal? "It was all pain and no gain. But I don't dwell on it unless someone brings it up. Have you seen me naked?"

Her bedroom: "This is where the maaagic haaaappens. Literally zero magic has happened in here. Cheers to my hymen growing back!"

Working with David O. Russell: "Because I'm not so sensitive, we can really talk, like, man-to-man. Sometimes he accidentally refers to me as he or him. But he really respects and understands women, and by that I mean he doesn't treat a woman any differently than he'll treat a man. He would never tiptoe around a woman."

Being cast as older in DOR's films: "I am obviously too young for all of David's characters. But none of that comes from David wanting a young girl in his movies. That's not even in his atmosphere. Everybody already thinks I'm 40."

On the Kentucky clerk, Kim Davis: J-Law calls her that "lady who makes me embarrassed to be from Kentucky…. Don't even say her name in this house… all those people holding their crucifixes, which may as well be pitchforks, thinking they're fighting the good fight. I grew up in Kentucky. I know how they are."

Politics: "I was raised a Republican but I just can't imagine supporting a party that doesn't support women's basic rights. It's 2015 and gay people can get married and we think that we've come so far, so, yay! But have we? I don't want to stay quiet about that stuff…. My view on the election is pretty cut-and-dried: If Donald Trump is president of the United States, it will be the end of the world. And he's also the best thing to happen to the Democrats ever."

Her new blonde look for 'Passengers': "Oh, this is movie hair. I guess this is what sluts look like in space."

Having a face full of Novocain from a trip to the dentist: "I feel like Brandi from Real Housewives of Beverly Hills. She got work done and was like, I had an allergic reaction to aspirin! Did you see that Kim Kardashian got lip injections? She took a selfie and wrote, 'pregnancy lips!' Honey, that's not a thing."

She's single: "No one ever asks me out. I am lonely every Saturday night. Guys are so mean to me. I know where it's coming from, I know they're trying to establish dominance, but it hurts my feelings. I'm just a girl who wants you to be nice to me. I am straight as an arrow. I feel like I need to meet a guy, with all due respect, who has been living in Baghdad for five years who has no idea who I am… I can't wait to be married. I feel like if I find that one person who I want to spend the rest of my life with, who I want to be the father of my children, that I would absolutely not f–k it up. But I'm also not banking on that."
There's like a ton of amazing soundbytes that I didn't even get to. She's utterly quotable, the master of the soundbyte, and given her position, amazingly filter-less. This interview is to promote Joy, her third David O. Russell film, and there's a lot of DOR stuff in the piece. A lot of people think she's going to get her four Oscar nomination for Joy this year. It wouldn't surprise me at all.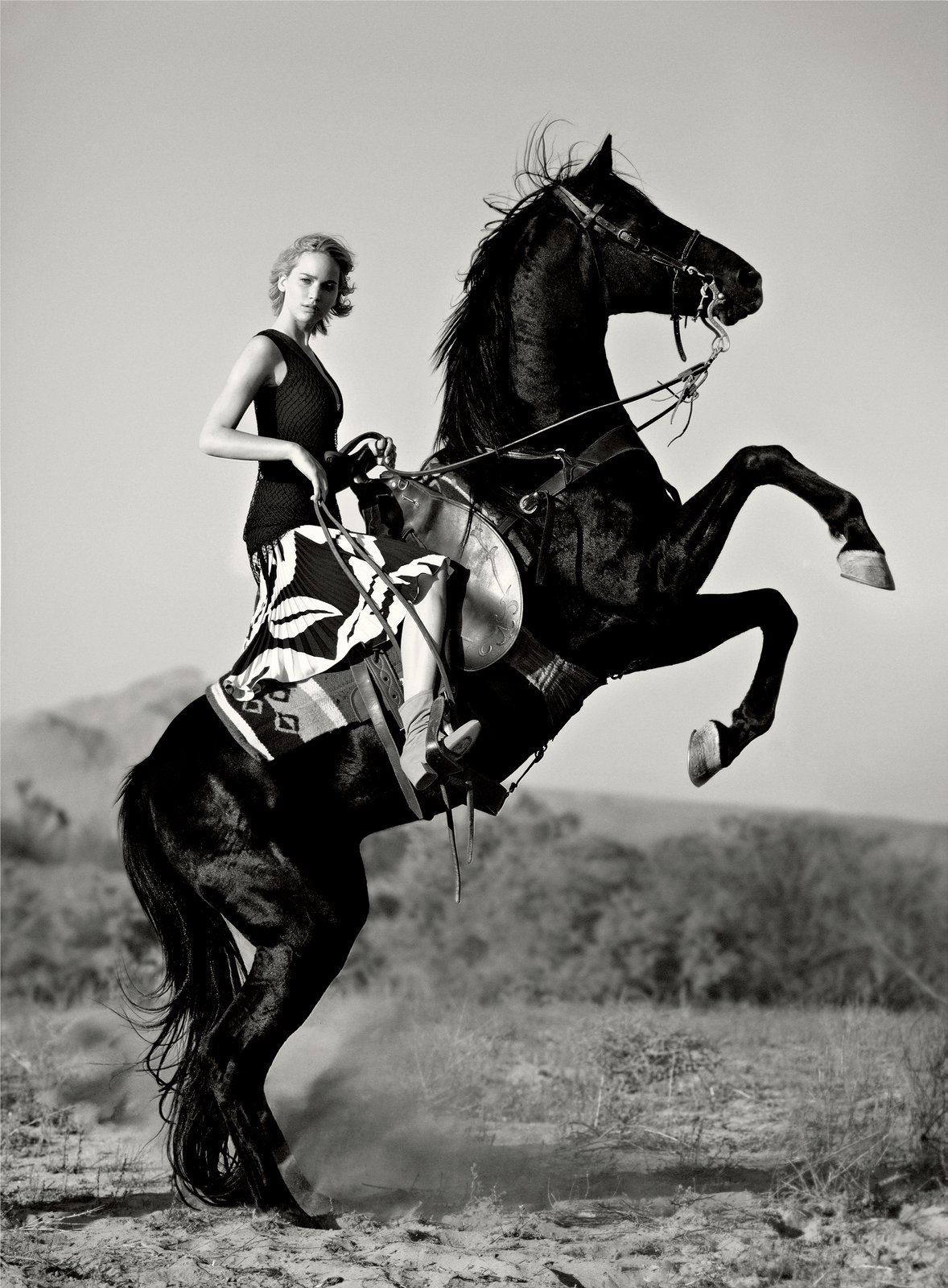 Photos courtesy of Mikael Jansson/VOGUE.