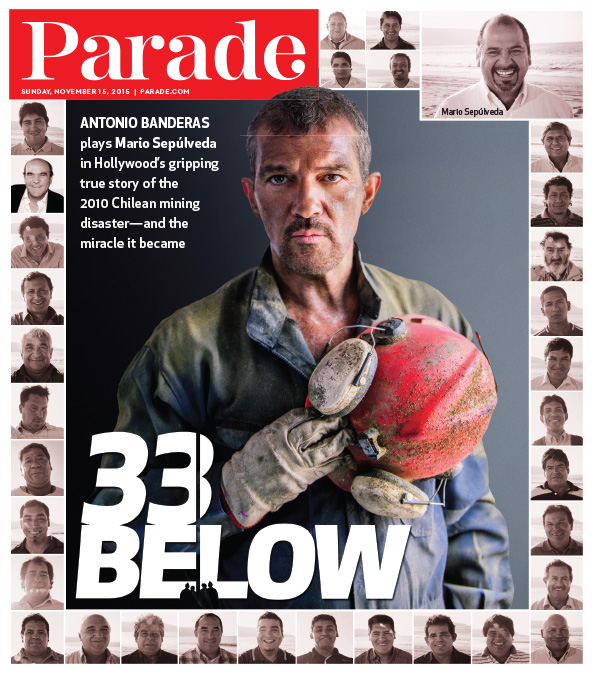 Antonio Banderas covers the upcoming issue of Parade to promote his new movie, The 33, based on the 2010 true story of the 33 miners in Chile trapped underground for a grueling 69 days. As you surely remember, all of the men survived. It's an incredible example of the world, a nation and a community coming together in a dramatic and heartwarming rescue operation. It's also the story of the will and togetherness of the miners. Banderas plays Mario Sepúlveda, who made the video journals which were sent to the surface and helped keep everyone's spirits up. The film also stars Rodrigo Santoro, Juliette Binoche and James Brolin.
In Parade, Banderas explains how difficult the movie was to film as the faced full days of filming in actual mines in Columbia, where the mines are not as deep as in Chile. He is careful not to sound ungrateful or like he is complaining, especially when his situation as an actor is compared to the ordeal of the actual miners.
On filming underground during the month-long shoot:
"People are working [in the mines] their whole lives. And some people die there, so I don't want it to seem like I am complaining. But filming was hard at times. You breathe a lot of methane gas, so you have this metallic feeling in your throat. And practically the entire crew got sick. But the biggest problem was the cold… It was ironic that we were so cold, and we had to be practically naked the entire time, faking that we were incredibly hot. They put this grease on us to fake the sweat, and that made it even colder. After a month in that situation you just wanted to get out. We got into the mines each day just before sunrise and would come out after sunset. We never saw daylight."

On watching the drama unfold in 2010, culminating in the rescue of all 33 miners:
"When I saw the real event on television it produced something in me. Everybody was attached to the television wishing for these guys to survive. It was like a song going on all around the world, a song of life… when we saw these guys coming out of the ground, it was euphoric. That is so important, and it is why I wanted to make this movie."

On spending time with Mario Sepúlveda, the miners' de facto leader during their claustrophibic ordeal, whose character he played:
"He carries a bipolarity that is very strong. He is a man who is making you laugh and will then drop like a stone and be very sad. The most important thing about him was that he learned to survive at a very early age. He had many brothers, and he has a toughness that is exactly what you need in a situation like the mine collapse… Mario was an action man. He was not going to just sit there. He put a military discipline into place, to stretch as much as possible the days that they had in there. Without his participation, probably the oldest of the miners would have died."
[From Parade received via email]
I'm really covering this story because I heard the film's director, Patricia Riggen, on NPR this morning. She was so articulate about the obstacles she faced breaking into directing as a woman, and she was passionate about this project. Riggen met with all of the miners before making the film and she said that 90-95% of the things in the movie actually happened. She also said that the film was hard to get off the ground because "Nobody wanted to make this movie… it's a drama about 33 Latin men and that doesn't get made anymore." Riggen confirmed Bandera's account of the rough conditions under which they filmed, including the fact that they shot for 14 hours a day, six days a week, for 35 days inside a mine.
As for how the real-life miners are doing, Riggen was able to get them together for a feast but she said "They are not doing well. They have PTSD; they didn't get compensated by the mine owners — nothing. So you know, we're all working really hard to be able to give them something back."
The 33 is out now. Here's the trailer. This only has a 35% on Rotten Tomatoes, but I hope it makes some money at the box office.

Here are some photos from the premiere of The 33 at the AFI film fest on 11-9-15 featuring Antonio and his girlfriend, Nicole Kimpel, Juliette Binoche, Lou Diamond Phillips and Rodrigo Santoro.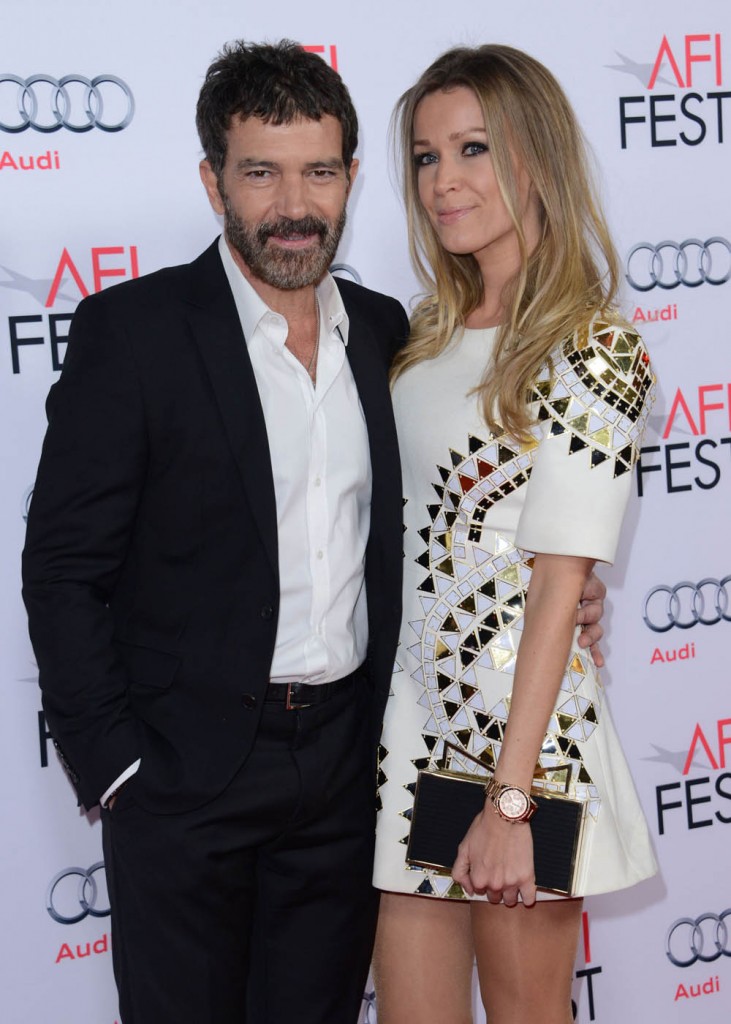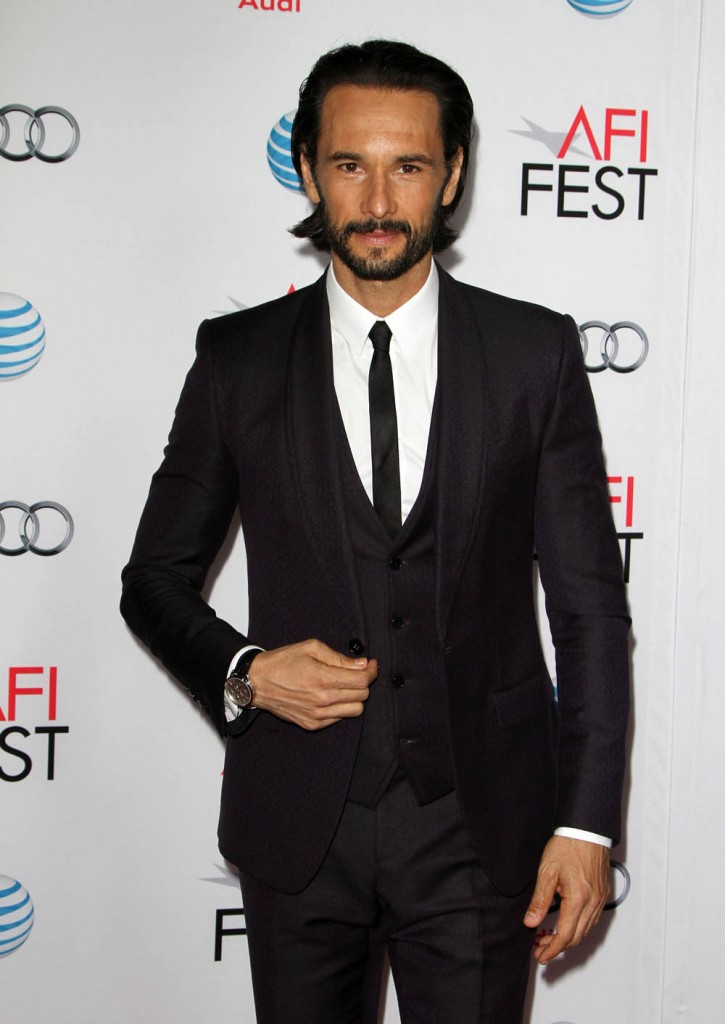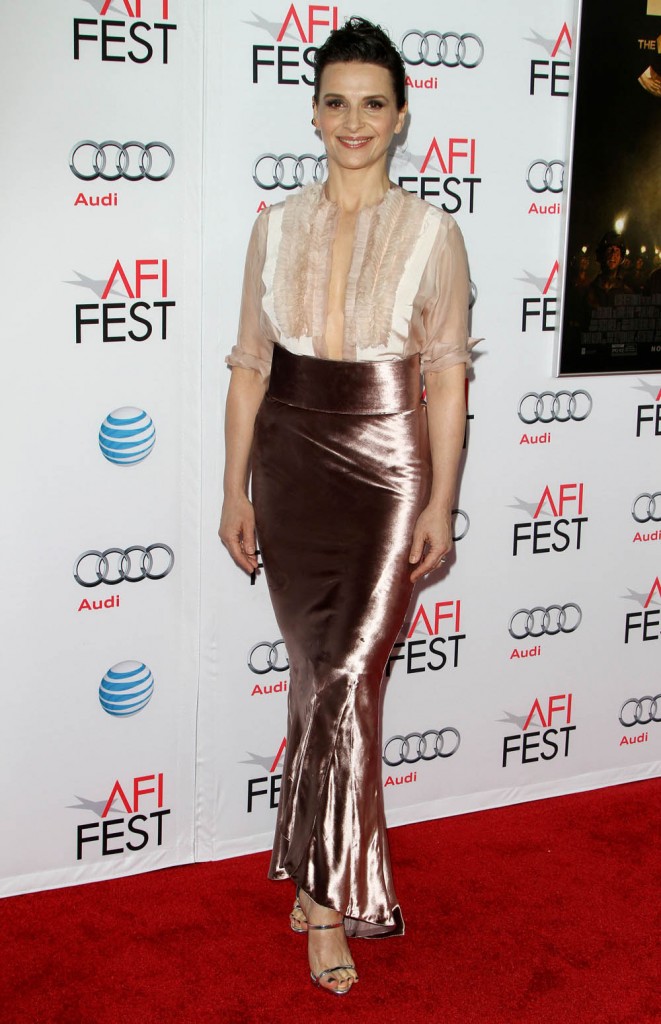 photo credit: FameFlynet