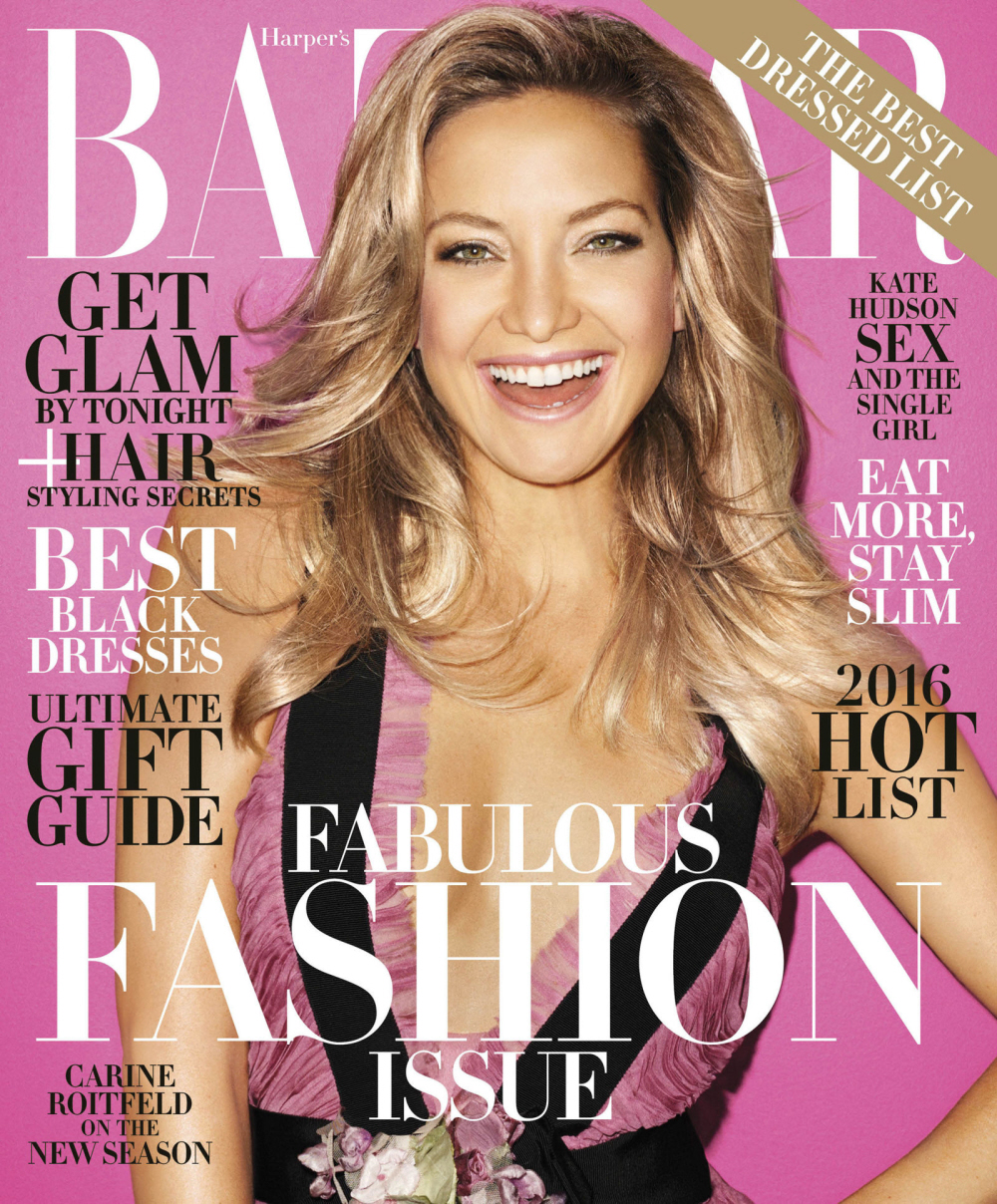 Kate Hudson covers the new issue of Harper's Bazaar, and I'm struggling to care. I'm saying that as someone who feels general warmth-to-ambivalence for Kate too – like, most of the time I don't really care about her, but when I do think about her, I mostly like her. I like that she's not a whiner. I like that she just bangs guys and does whatever she wants without "needing the ring." But I also have to say, she needs to get her career in order. She's needed better projects for years now, and in lieu of actually working as an actress, Hudson is just doing the "celebrity for celebrity's sake" thing. Showing up on magazine covers for no reason, going to the opening of an envelope, and promoting her sad line of workout gear, Fabletics.
Anyway, you can read the Harper's Bazaar interview here. The photos were done by Creepy Terry Richardson, in his classic, over-saturated, surgical-theater lighting way. Some highlights:
She's training for a triathlon. "Why not now? It's about pushing yourself. Making a choice. It sort of becomes a metaphor for everything else."

She's single & enjoying it: "It's nice to get acquainted with myself alone. You know, the goal when you get into a relationship is not to be out of the relationship. It's to try to stay in the relationship. But if it doesn't work, you can't force those things. It's good to take a second to make my life about getting myself centered, clearing the energy, no overlapping. I'm at that age now. I really do feel very lucky. I've had my kids and my relationships. I've set my life down—I'm in my house, and I'm alone with my children—and I'm at peace, and that's a really nice feeling. All I really want in my life is to maintain that."

Letting go of old lovers: "It's hard to let go of something even when you know that it's not right. I've chosen something in my life that I'm very comfortable with that goes against a lot of people's more traditional feelings. If something's not right, I don't believe in maintaining something for the sake of what's considered a traditional family, because I believe that there are different ways to raise children. It's far more effective to raise children in happy homes…I always laugh when people go, 'Hollywood … look at them.' I'm like, 'No, look at the world!' Statistically it's tough out there—relationships have a fifty-fifty chance. The odds aren't great, you know?"

She loves Instagram: "I was looking at my Instagram and someone said to me, 'Who manages your Instagram?' I would never let anyone manage my Instagram! I enjoy it."
She basically got the cover of the December/January issue to talk about how she's single now. Seriously. Actually, though, Bazaar previewed Kate's 2016 and it does sound like she has some legitimate work coming up. Her book (about health and fitness) will come out in February. She's already wrapped on a film about the 2010 BP oil spill. She's part of the ensemble for Garry Marshall's Mother's Day. And she's about to play Richard Pryor's wife Jennifer Lee in Lee Daniels' Pryor bio-pic. So… that's good, I guess. At least she's doing something other dressing up for random red carpets.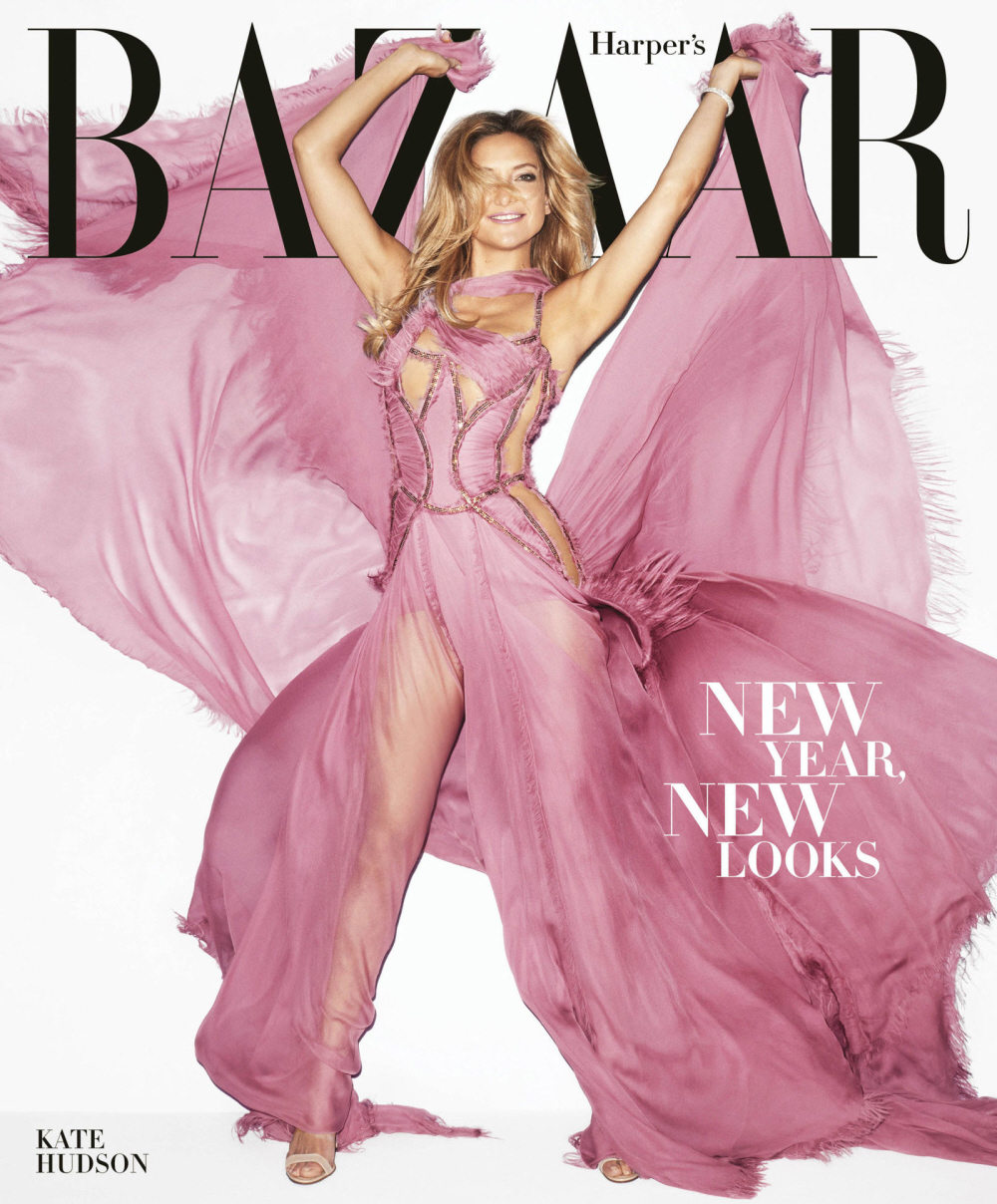 Photos courtesy of Terry Richardson/Harper's Bazaar.