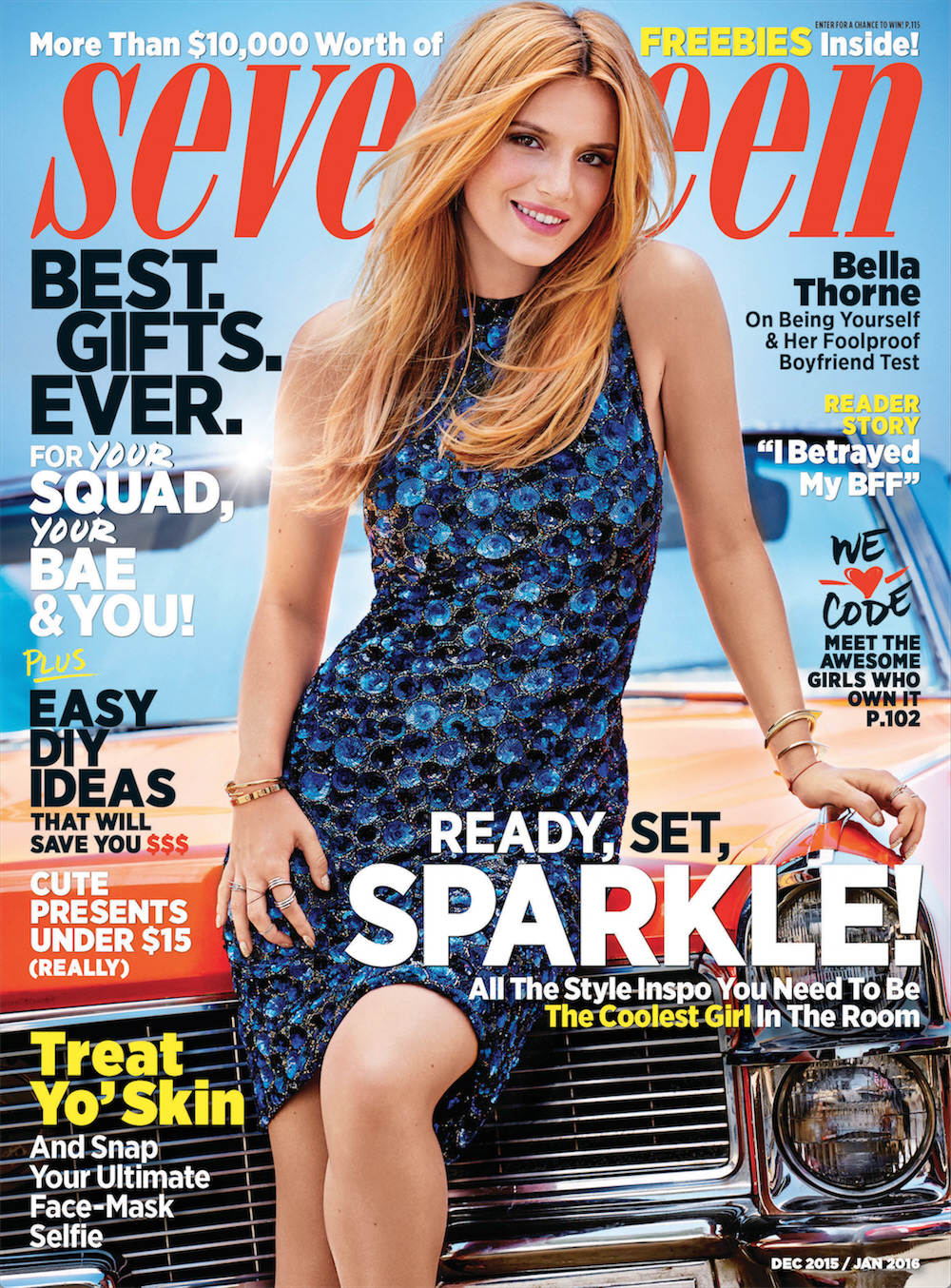 Decked out in a really cute Alice + Olivia dress, actress and singer Bella Thorne is the cover girl for the December/January issue of Seventeen, hitting stands on Tuesday, November 24. In an interview with the magazine, the 18-year-old Shake It Up star talks about the lessons in love she's learned that have strengthened her bond with her current squeeze, 23-year-old actor Gregg Sulkin. Basically, the key to a good relationship is staying the hell away from your partner's phone (good advice, if you ask me.) Bella says: "​An ex of mine and I knew each other's phone passwords, and he was constantly going through my phone. I learned not to do that because anything can be misread. Gregg has my password, but he doesn't go through my phone."
She's doing great on the love front and has proven she can endure the tough times, discussing the rough times in her youth where she, her 3 siblings and her mother were forced to live off of food stamps after the death of her father.
I don't think anybody really knew — it wasn't a very obvious thing. I've never really talked about it. I wasn't hiding it, and it wasn't like, 'Oh, I'm embarrassed because we don't have money.' It was, 'Oh, we don't have money, so we're going to work that much harder.' It was scary, though, because you really want those jobs. It's a different hunger when you want your family to eat.
[From Seventeen]
Bella, who played a very convincing mean girl in The Duff, may have drawn from personal experience to get into the role. She tells Seventeen that, despite having many young famous friends in her posse, even she can't avoid having to deal with a real-life mean girl.
She's in the business, and she's very, very mean. I stay away from her at all costs. I never say hello to her. Her siblings are not mean like she is. It's just her. One of the reasons I don't like her is because she's been a billionaire since she was very little, and she's never had to work for anything in her life.
[From Seventeen]
Even though Bella's lips are sealed, speculation still runs high regarding the identity of this mystery mean girl. When you think of wealthy young celebrities, one might immediately think of Kylie and/or Kendall Jenner, but many a photo has made the rounds of Bella and Kylie out and about, including this one, posted on Bella's Instagram from New York Fashion Week. The same goes for her fellow Disney Channel alum Miley Cyrus and even, jumping networks, former Nickelodeon star Ariana Grande is a good friend (and isn't the product of billionaire parents). It seems the only names floating around that might remain viable possibilities are Bates Motel's Nicola Peltz or Gigi Hadid (not as likely, as the model's younger sister Bella is part of the "Thorne squad" – and the pair made headlines a few months ago with a little aviation mishap.) Thoughts? Speculate away!
Cover courtesy of Seventeen, additional photo by Getty.