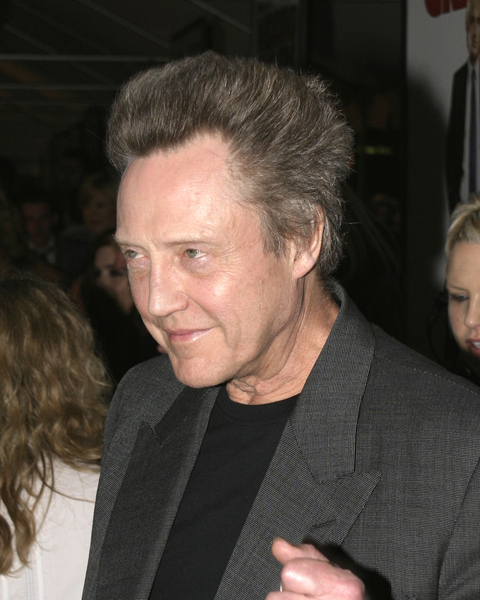 The Details people e-mailed me some quotes from an upcoming interview with Christopher Walken. The 64 year-old actor admitted that he can't use a computer and doesn't want to learn how. He's such a technophobe that he doesn't even have a cell phone. He also said that he regularly pulls on his hair at the roots in order to stave off male pattern baldness.
Christopher Walken opens up to Details:
On his career: "I've made – I think about a hundred movies. And there's a good number of them that I've never seen. Never."
On his distinctive style of speech: "Occasionally somebody will say, 'Could you read that line another way?' And I just tell 'em, 'I'm sorry. I have no idea how to do that.' And the interesting thing is that the other actors, when that happens to me, they all gang up: 'What? Leave him alone!'"
On his daily habit of yanking his hair: "Apparently, if you keep your scalp skin loose, you're more apt to keep your hair. So I just grab it with both hands and yank on it while I'm watching the news."
On his notorious "More Cowbell" routine from Saturday Night Live: "I was eating at a restaurant in Singapore, and an Asian couple was at the next table, and the guy turned to me and he said, 'Chris, you know what this salad needs?' I said, 'What?' He said, 'More cowbell.'"
On not owning a computer: "And I certainly wouldn't know how to work one. I don't have a cell phone, either."
On alien abductions: "I think it'd be a gas if aliens came and said hi. Wouldn't that be great?"
[Thanks to Details.com]
He's been in a lot of crappy movies so it's to be expected that he hasn't seen many of them.
This man is so eccentric that I'm surprised he's not into technology. I guess it's my own personal bias since I'm connected constantly, but I find it really surprising that he doesn't know how to use a computer and chooses not to have a cell phone. I know an 80-something lady that uses e-mail and the Internet and it's not like you're ever too old to learn. It just seems like he's missing out on an awful lot. Like celebrity blogs full of insightful comments about how he should learn to use a computer.
Here's Christopher Walken in the FatboySlim "Weapon of Choice" video:

More Cowbell T-shirt from BustedTees. (And they didn't sponsor that plug, it was just the first one I found.)