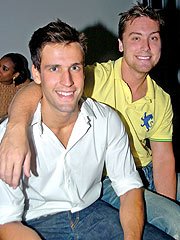 So the astronaut thing didn't work out so well for him, but that doesn't hold Lance Bass back from his dreams! According to Broadway World the spiky-haired-one will be starring in Broadway's "Hairspray" as Corny Collins, played by James Marsden in the upcoming movie. The former boy-bander will join the show beginning August 14th. Bass will be the second former Nsyncer to work on Broadway. Former "Dancing with the Stars" contestant Joey Fatone stared in "Little Shop of Horrors" and "Rent."
This isn't Bass's first creative endeavor apart from Nsync.
"Bass, who is currently at work on his memoir Out of Sync, about his time with the boy band, has appeared on screen and on TV in such projects as 'Lovewrecked,' 'Seek and Hide,' 'On the Line,' '7th Heaven,' 'Touched by an Angel,' and 'Longshot.'
[From Broadway World]
Things seem to really be shaping up well for him. Several sources are reporting that he's officially dating model Pedro Andrade. The two were seen together in the Hamptons over the Fourth of July.
"According to a source, the couple was very 'happy' together and the 'hot', 'spunky' Brazilian model made a perfect match with Bass.

'You could tell they're very happy with each other,' a source says of Bass and Andrade, US Weekly quoted the source, as saying.

'Pedro is beyond good-looking … so hot. Pedro is spunky, full of life. They're a perfect match,' the source added."
[From Washington DC News]
This brings me to ask… does anyone really buy him in this role? There's something about him that bugs me. I think it's the hair. How long do you think it takes him to get it like that? It's that piece-y look that was so popular about 3 years ago. You've gotta worry about the guy he's dating. I've never heard of Pedro Andrade and couldn't find much out about him besides the basic "Brazilian model" line. But Bass's last boyfriend, Reichen Lehmkuhl, was generally thought to be using Bass to further his own celebrity. Let's hope Lance has learned a lesson about relationships… and not trying to be an astronaut. Two important things we should all keep in mind.
Here's a hot picture of Bass' new man, thanks to The Big Bad Blog