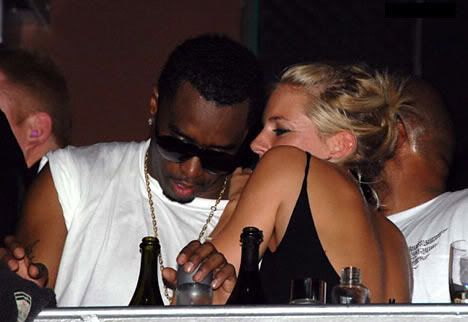 Despite being seen canoodling with each other as recently as July 1st, Sienna Miller says she and P Diddy are not an item.
Zee News reports Miller saying, "'I am in love with someone but not Puff Daddy. He`s just a good friend. Anyway he has a beautiful girlfriend,'"
I call BS on that. Diddy's "beautiful girlfriend" Kim Porter moved out of their home last Thursday, as reported here on Celebitchy. This article came out today, so there are already some untruths coming out of Sienna Miller's mouth. And I call BS on the "beautiful" part of that comment too, but that's another story.
Miller claims that she's in love with someone, but it isn't Diddy, and she isn't saying who it is. I didn't give much credence to this rumor when it first surfaced a few months ago. I can't put my finger on it, but somehow they just don't make sense together. However this is pretty clear to me:
"Diddy was seen flirting with the 'Factory Girl' star in a cozy corner of the Central London club at a post-Concert For Diana party on July 1. The two surrounded themselves with bouncers for privacy and cuddled up in the corner, too immersed in each other to notice anything else going on around them.

But when they noticed fellow clubbers staring at them, the pair moved to a more secluded section of the club. However Diddy has insisted that his warm chat with Miller at the party following his Wembley performance was above suspicion. "Yeah, we all hang out together but there`s no more to it than that," Diddy said."
[From Zee News]
I always cuddle in the corner with good friends, all the while making bouncers surround me so no one can see what we're up to. And it pisses me off when my significant other considers that evidence of cheating. It really is presumptuous. So within four days of this post-concert cuddling, Diddy's girlfriend moved out. Coincidence, no? Not that I could live with that ego, so I could understand either way. Porter and Diddy have been on and off for 10 years. They have three children together, separated by a few Diddy had at random intervals in between. So while it was a long-term relationship, it doesn't sound like it was rock solid. If Sienna Miller can break you up, you probably shouldn't be in the relationship anyway.