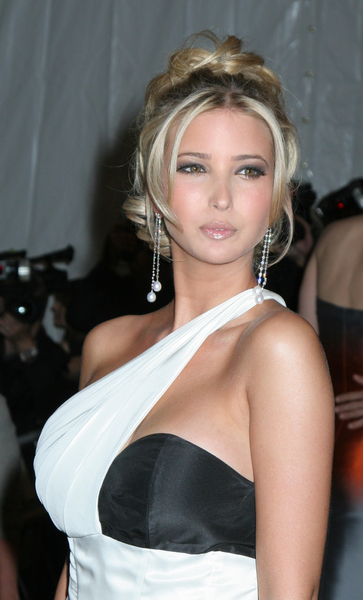 This has got to be my favorite story of the week. I know the week's only started, but I don't think many things could beat this story, at least in terms of obviously fake planted crap. Supposedly, Ivanka Trump is being considered to replace Rosie O'Donnell on "The View." Wouldn't that just make Donald as happy as a little peach pie? The National Enquirer reports that Barbara Walters is seriously considering giving Ivanka the gig. Of course they also referred to her as a "hottie with brains," so we'll see how much truth is behind this. Of course if Barbara did give her the spot, it would certainly make for some interesting dynamics on the show. Would Donald still go on tirades? Would he go on Larry King and talk about how Ivanka is a "Big fat pig" or whatever else he called Rosie O'Donnell? Supposedly, this all comes back to Paris Hilton (who's name we shall not mention of course).
"The National Enquirer reports that Barbara Walters wants to hire the "hottie with brains" to stick it to Paris Hilton and her parents for their shabby treatment of her when they were trying to sell the Paris post-prison interview."
[From the New York Post]
What in the world do Paris Hilton and her family have to do with hiring Ivanka Trump? Do the Trumps and the Hiltons have some Capulet v. Montague/East Coast v. West Coast feud going on that I don't know about? I feel like something was missing here.
I was wondering what would even qualify Ivanka to be on the show, but she's actually more accomplished that I thought. According to Wikipedia, she is the vice president of Real Estate Development and Acquisitions at the Trump Organization. Okay we can chalk that up to nepotism. However she was accepted to Georgetown and transferred to the University of Pennsylvania and graduated magna cum laude from their prestigious Wharton School of Business. Ivanka also replaced Carolyn Kepcher as a primary boardroom judge starting in the sixth season "The Apprentice." Whether due to nepotism or not, she has good credentials. It'll be interesting to see if she ultimately becomes a candidate for the position.
Update by Celebitchy: This originated in Mike Walker's column in The National Enquirer. Last week he printed an item that Paris Hilton was being considered for the open spot on The View! I thought it was such crap that I didn't bother to print it. So when Jay wonders what Paris has to do with it, that's the story. I doubt either one of those stories is true.