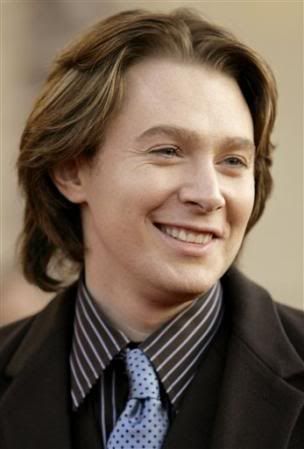 Well the drama that is Clay Aiken's foot appears to have wound down a little bit. Clay addressed what actually happened on Entertainment Tonight.
"While sleeping on a plane over the weekend, my foot evidently found a home on the arm rest of the passenger seated directly in front of me. I didn't realize I was causing the woman any distress until she woke me up with a quick hit to the chest.

"Unfortunately, being that this happened on a plane, the FBI was called in to investigate and eventually we were all sent on our way. I'd like to thank everyone for their concern; I am fine and have taken steps to prevent any foot wandering in the future."
[From Entertainment Tonight]
I'm not really Clay Aiken's biggest fan – there have been so many reports about his rude behavior, and his tendency to lecture people. He (or his publicist) put a neutral spin on this, but unfortunately this isn't Clay's first foot-on-a-plane incident. On June 5th, Celebitchy reported that Aiken took of his shoes and socks on a plane, then put his bare, incredibly smelly, feet up on his assistant's lap. The stench overpowered the whole cabin.
I think Clay has some serious foot issues. In a July 2003 Rolling Stone cover article on him, Aiken admitted that he is "scared of water, detests house cats, vastly prefers instant grits to real and bites his toenails." I think this is a case of three strikes you're out. Two feet on a plane plus one toenail biter equals a guy with foot issues. As Anderson Cooper wrote a short time later in an article for Details, "If the image of young Clay in a red leather jacket salivating on his big toe doesn't make you ill, I have nothing left to say to you." So I'll just leave it there.
During his interview with Entertainment Tonight, Clay randomly ends by asking people to donate to UNICEF. Though it's kind of unusual given the point of the interview, I'm going to include the quote and a link, since it's an amazing thing to do.
"Now that I have your attention," he continues, "if you'd like to learn more about how you can help the world's children, please visit www.unicefusa.org."
[From Entertainment Tonight]