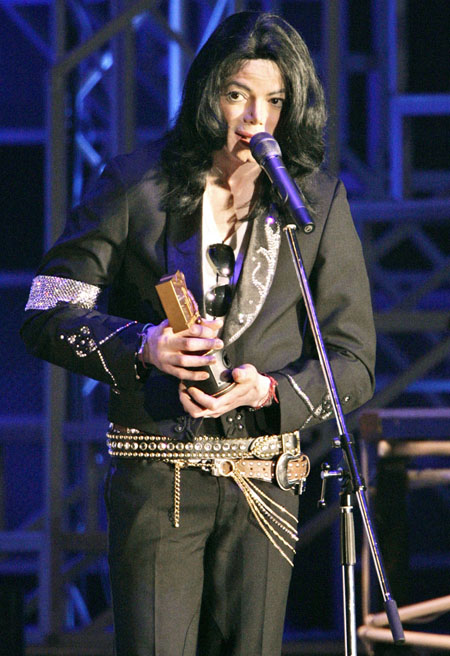 What in the world allows a man to live such a crazy, delusional existence? While hunting for a new home in Maryland this past weekend, Michael Jackson harassed staffers at the Inn at Perry Cabin. Just one of his demands? Chicken fingers at 4 in the morning. Because who doesn't have those ready and available? Jackson also called and blessed the hotel's manager, according to the New York Post.
Jackson was in the area looking for a new summer home. Is he really in a position to do that?
"And it remains unclear whether Jackson could actually afford a new home: In recent years, prosecutors and former financial advisers have alleged in court that the star is teetering on bankruptcy, a charge his lawyers denied; just a year ago, Jackson agreed to settle some of his mounting debts by selling half of his valuable music publishing catalogue, which includes the rights to the Beatles' songs."
[From the Washington Post]
How in the world does this man continue to exist? He supposedly has a ridiculous amount of debt, the kind that would keep a rational person from piling their ten person entourage onto their private plane and heading across the country to scope out some new luxury real estate. So what are Michael Jackson's main reasons for moving?
"Jackson came east with his children about 10 days ago for meetings because 'the majority of his advisers and attorneys are on the East Coast,' Bain said. Meanwhile, Bain told us, 'He's always admired the properties on the East Coast because they have a lot of land. Neverland has 3,000 acres — he likes privacy. You can't find as many properties like that on the West Coast.'"
[From the Washington Post]
I'm sure the East Coast has some gorgeous old beach estates… but now? I thought I'd heard all these rumors that he was evicted from the place he was staying in Las Vegas? Yeah I know he said he just chose not to exercise his option to buy at the end of his lease, but that's what I'd say if I were kicked out. And why was he renting if he can afford to buy? I would, however, love to see the Gloved One in one of those stuffy, upper crust old money type beach towns. What goes better with fresh lobster than one of his surgical masks?