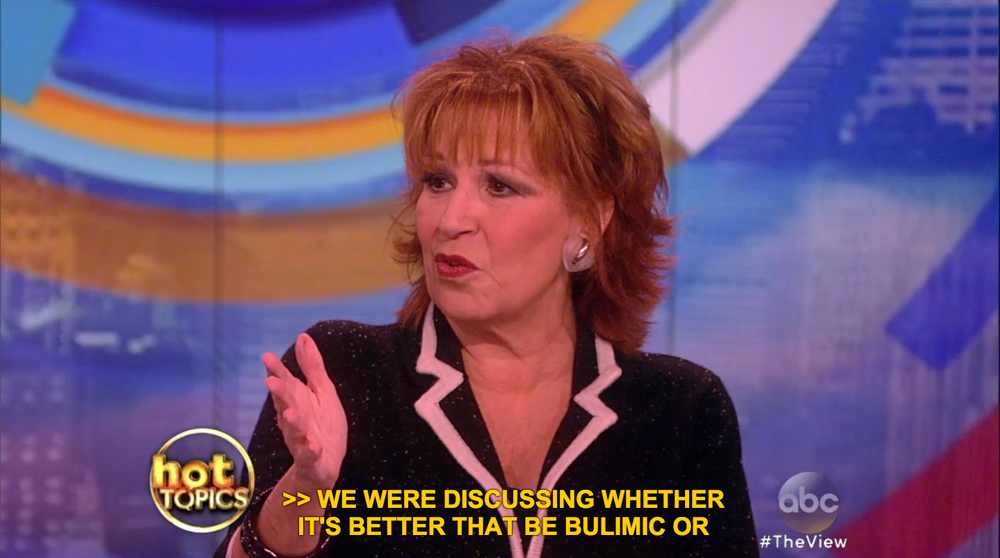 They're always saying dumb sh*t on The View, they really are. That's pretty much the point of that show, to annoy, needle, offend and meddle. I don't know how people find that entertaining, but it can be mildly amusing to occasionally discuss the ridiculous things they say, which pretty much explains their business model. That's how they get press.
During a day of hot topics, the women on the panel were discussing weight, specifically the fact that Donald Trump has lost weight and that co-host Paula Faris is fit. (I'm sorry, thin women, that people pick on you so much. I've really noticed this happening more to thin women, like of course their bodies are up for discussion.) Faris was defending herself a bit. Later Joy Behar and Michelle Collins, the same fools who claimed that nursing was "not a real talent" and were forced to grovel to nurses everywhere, brought up eating disorders as some kind of alternative method of weight loss. At least that's what it sounded like in context, and it was bad. As you can see in the title, Joy Behar said "We were discussing backstage whether it's better to be bulimic or anorexic," and then Collins chimed in about how bulimia lets you eat first so that's preferable. Luckily, Candace Cameron Bure stopped them to say she'd had an eating disorder and it's no joke. (She says dumb sh*t too, this was a rare moment of reason from her.)
E! has the best overview of this story so I'm going to quote them:
Faris said she could relate to the story about Trump's accidental weight loss. "When you guys are really busy, though, do you take the time to eat, or do you end up eating a lot late at night and gaining weight?" she asked. "I know that I kind of forget to eat during the day, but then I'll have a huge meal at the end."

"That is such a lie," Behar said. "I see you eating all the time."

"I said when I'm super, super busy," Faris replied.

"I see her eat all day long, and she's skinny," Behar said. "That's why we hate her."

"Don't hate me!" Faris pleaded.

"Don't hate Paula because she's beautiful," Candace Cameron Bure said.

"You're sweet," Faris replied, to which Behar added, "And skinny!"

"I'm not skinny. I am not skinny," Faris insisted. "I am thin, I would say. But I think there's a big difference." In response, Collins asked the group, "Is there a difference between skinny and thin? Because I've never been in that in-between area."

Cameron Bure and Faris argued that yes, there is a difference.

"Thin is healthy," Faris argued. "Thin is healthy."

"Skinny's not healthy?" Collins asked.

"Not always," Faris replied.

"Ooh, girl," Collins said. "They're gonna come for you for that, I'll tell you right now." Faris apologized, but soon after, the conversation took a turn for the worse. "We were just discussing whether it's better to become bulimic or anorexic backstage," Behar informed the audience. "What do you girls think?"

Collins fired back, "Definitely bulimic. You get to enjoy the meal." Then, singling out a woman off-camera, she said, "She's nodding. We have two bulimics here. They agree."

"Please know that while this is in jest, as someone that has dealt with an eating disorder, I don't want to make light of anyone that has it," Cameron Bure told viewers. "But we were talking about it." Goldberg explained that they "were kidding" about the touchy topic, while Collins argued that the "are always kidding."

"Just know that, everyone," Collins said. "No, but it's a disease."
Cameron Bure clarified, "I think I can joke about it because I've been there."
When they came back from commercial break, Behar offered one of those "we're sorry to the people we offended" apologies:
"You know, we always offend someone on this show. We're always in trouble—the comedians, in particular, are always in trouble. Although you got in trouble recently," she said, pointing to Faris. "We keep getting into trouble on this show. We upset some people. We understand that bulimia is a serious illness. We're just trying to have some fun over here. So, you know…and then I got a text from my accountant saying, 'Don't worry, Joy. Your IRA is in tact, Signed, Bernie Madoff.' So, there you have it." Goldberg added, "As Candace pointed out, she knows what this is like. We know. We understand. And, of course, we never want to offend anybody."
They tried to rein that in and apologize quickly, but how do two grown women, who both work in the media and have had to apologize multiple times for being insensitive, still say such insensitive things? Especially Joy, she's been in television for decades. It's not funny to have an eating disorder, these are mental disorders, they're not some great option for weight loss. I get making a stupid joke with your friends, but not on a national television show.
In Wednesday's episode Candace Cameron Bure argued for young earth creationism and intelligent design so that wasn't even the most idiotic thing they said this week.
If you want to see these comments in context, E! has a brief video and this segment starts right at the beginning of the episode on Hulu.