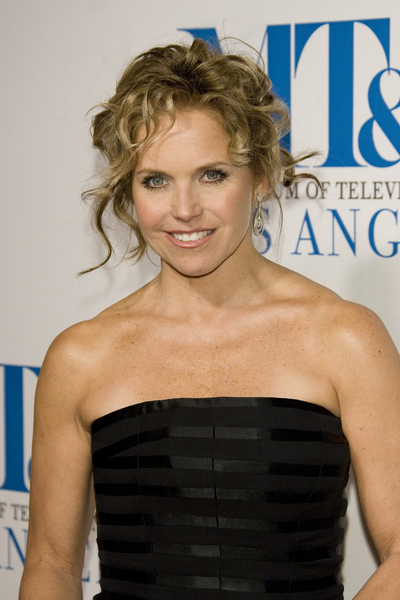 New York magazine has a great interview with Katie Couric this week. In it, she talks about her decision to leave the "Today" show for CBS news. Everyone in the media had her under a microscope; Vanity Fair even did a photo montage of the different outfits she wore, critiquing each one. Couric acknowledged, "'I've gone through a bit of a feeding frenzy and there's blood in the water and I've got some vulnerabilities.'" It seems other people really didn't think she'd make it.
"CBS chief Leslie Moonves promised Couric that together they would shake up the show's formulaic format. But, so far, putting Couric's morning "Today" show touch on the nightly newscast has been a bust. Couric came under intense scrutiny from the moment her deal was announced: Some CBS staffers didn't think she was serious enough for the job. Even former anchor Dan Rather piled on, saying CBS was "dumbing down" and "tarting up" the broadcast."
[From the Daily News]
Ultimately, it's clear that Couric is tough enough to withstand the initial pressure. With any job, there is a learning curve. Now imagine how stressful that would be when you have millions of people watching you… assuming you'll fail? Katie spent 17 years on the Today show. That's got to be hard to adjust to such a dramatically different environment. I don't see how CBS could expect great ratings at first; not only did Couric have to adjust to being more serious, but they were also trying to revamp their news format and make it a bit less stodgy. Thus there was change all around, and that can be hard for people to adapt to right away.
Katie points out that it was clear to here that people were (and maybe still are) rooting for her to fail.
"'I think that bugs people even more that I'm not a woman on the verge of a nervous breakdown,' she told the mag. 'It's probably disappointing to some people. Because in the arc of the story, that's what they want to see.'"
[From the Daily News]
Personally I appreciate her honesty. I don't think there's much value to pretending everything is fine when it's not; and there were so many incredibly vocal critics talking about how poorly the show was doing that she really didn't have anything to lose by acknowledging that it's all a work in process. I hope the show ultimately gets better. I don't think there's wrong with making the news easier to understand if that's what some people need to stay informed.
Katie Couric is shown in the header image at a Museum of Television and Radio event honoring Leslie Moonves and Jerry Bruckheimer on 10/30/06.