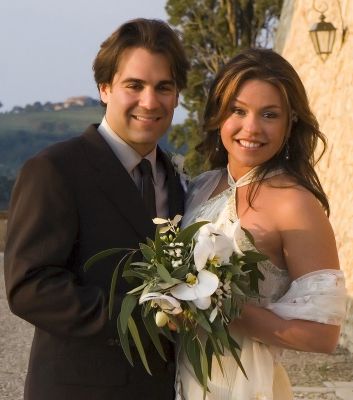 It appears Rachael Ray's marriage is pretty much over. The giant-headed star (and I mean that in the kindest, literal sense; not as an insult implying that she has a big ego) and her husband have been tabloid fodder since last November, when the National Enquirer reported that her husband, lawyer/"rock star" John Cusimano paid a lady named Jeaninne Walz a good deal of money ($500 a session) to spit on him, rub her feet in his face, and other stuff too nasty to write. According to Page Six this has been going on since 2000, and has continued throughout the course of his marriage to Ray, according to Celebrity Mound.
Cusimano is the frontman for the very appropriately named band The Cringe. He and Ray have been married for two years, and don't have any children. Though all reps are denying the breakup, it seems to just be that heap of garbage most press reps and lawyers are paid to say.
"Rumors are also circulating that Rachael 'has been flirting' with Colby Donaldson, the ex-"Survivor" cast member who joined the "Rachael Ray" show in February, on and off the set. But Ray's rep, Charlie Dougiello, told us, "Rachael and John are happier than ever and have been in the Hamptons since Tuesday enjoying the holiday week with friends. Rachael's mom, Elsa, is upstate at the family cabin. There is no truth to reports they are about to get divorced."
[From Page Six]
It stinks that someone can just come along and destroy your marriage by saying something like this. But you have to think that if it really is leading to a divorce, there's at least a chance that there's some truth to the rumor. I swear to God, just the mention of feet in any sexual context would make me end a marriage/friendship/work/pretty-much-anything.