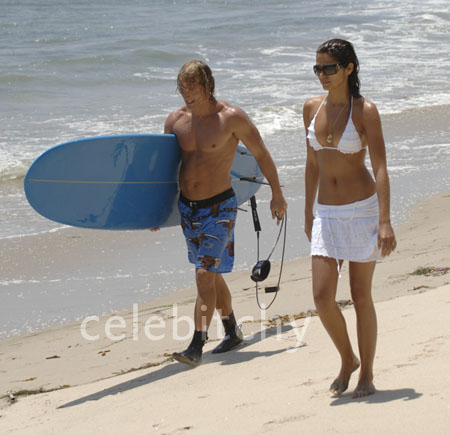 Matthew McConaughey's girlfriend, Brazilian model Camilla Alves, is said to be fed up with his free-living bachelor ways. He may live in a small Airstream trailer, but that doesn't mean that his place is clean. Camilla is supposedly annoyed that his movable home, now parked near the beach in Malibu, is such a mess and that there's no space for her to put her stuff. She's said to not being staying with him until he cleans it out for her.
After three months of dating, the Brazilian model has had enough of his dirty living space and is refusing to stay there if he doesn't do something about it. "Camilla's not a high maintenance girl," says a friend close tot he couple, "But Matt's trailer is such a mess, she can't even find room to put her stuff!…"

Until recently, Camilla loved Matthew's laid-back lifestyle, but since he hasn't shown any motivation to either go through his junk or move, the brunette beauty has gotten overwhelmed with the small space (an 8′ x 28′ trailer) and has demanded he clean the place out.

"Matthew has lots of pictures from past relationships, along with tons of football memorabilia," says the insider. "Camilla doesn't think he's made any effort to make her feel at home."
[From Star Magazine print edition, July 16, 2007]
The article goes on to say that Camilla wants Matt to buy a house eventually, which sounds like a typical case of a woman thinking she can change a guy. She's young though, in her early 20s, (although I can't figure out her exact age as she just came on the radar when she started dating McConaughey) and maybe she doesn't realize that men don't change despite your best intentions for them.
Header image is of McConaughey and Alves on the beach in mid June. Thanks to Splash News.