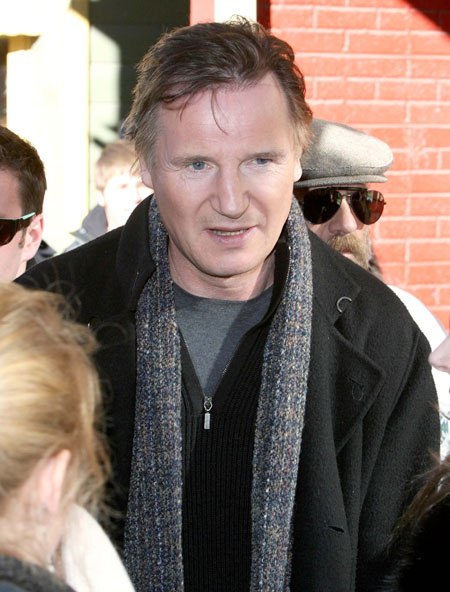 Just three weeks after Natasha Richardson's death, Liam Neeson has signed on to a new film. The film is a remake of Clash of the Titans, and Liam will be playing Zeus. The Zeus role was originally played by Laurence Olivier, so Liam is in very good company. Liam will be joined by his good friend and Schindler's List co-star Ralph Fiennes, who will play Hades, god of the Underworld. Clash of the Titans will be filmed in England, over the summer. A lot of the Richardson/Redgrave family lives in England, so Liam and his sons will be surrounded by people who love them.
Liam Neeson has signed for his first new movie role since the death of his wife, Natasha Richardson, in a tragic ski accident.

The actor, 56, will play Zeus, the king of the gods, in Clash of the Titans, a reimagining of the Greek myth of Perseus, Variety reports. Ralph Fiennes is set to play Hades, the god of the underworld. (Laurence Olivier played Zeus in the 1981 movie Clash of the Titans, a cult hit.)

Neeson, who plans to start shooting Titans this summer, recently completed his final scenes on Chloe, the movie he was making at the time of Richardson's March 18 death, and has been spending time with his sons Micheal, 13, and Daniel, 12. The family took in a soccer game in London on April 4. "Liam is taking care of his kids and making sure they're okay," a family friend tells PEOPLE.
From People Magazine
Neeson's made a few public appearances in the past week. He attended a game with his sons and Vanessa Redgrave, and he made a public appearance in London to help celebrate his friend David Frost's 70th birthday.
In the wake of Natasha's death and during the funeral, Liam seemed to be sleepwalking. The man looked like a zombie, and I suspect the full force of his and his sons' loss hasn't hit him completely. I also suspect Liam thinks the best course of action, and the best way to heal, is to get back to work as soon as possible. That's something I'll never understand, and I suspect it's because I'm so American. In his situation I would need to curl up in a ball, weeping, for about a year. But everybody's different, and I'm sure that if Liam needs help, he'll ask for it. In any case, he is and will continue to be surrounded by friends and family, and working with Ralph Fiennes is always something to look forward to.
Liam Neeson is shown out at Sundance on 1/19/09. Credit: WENN.com