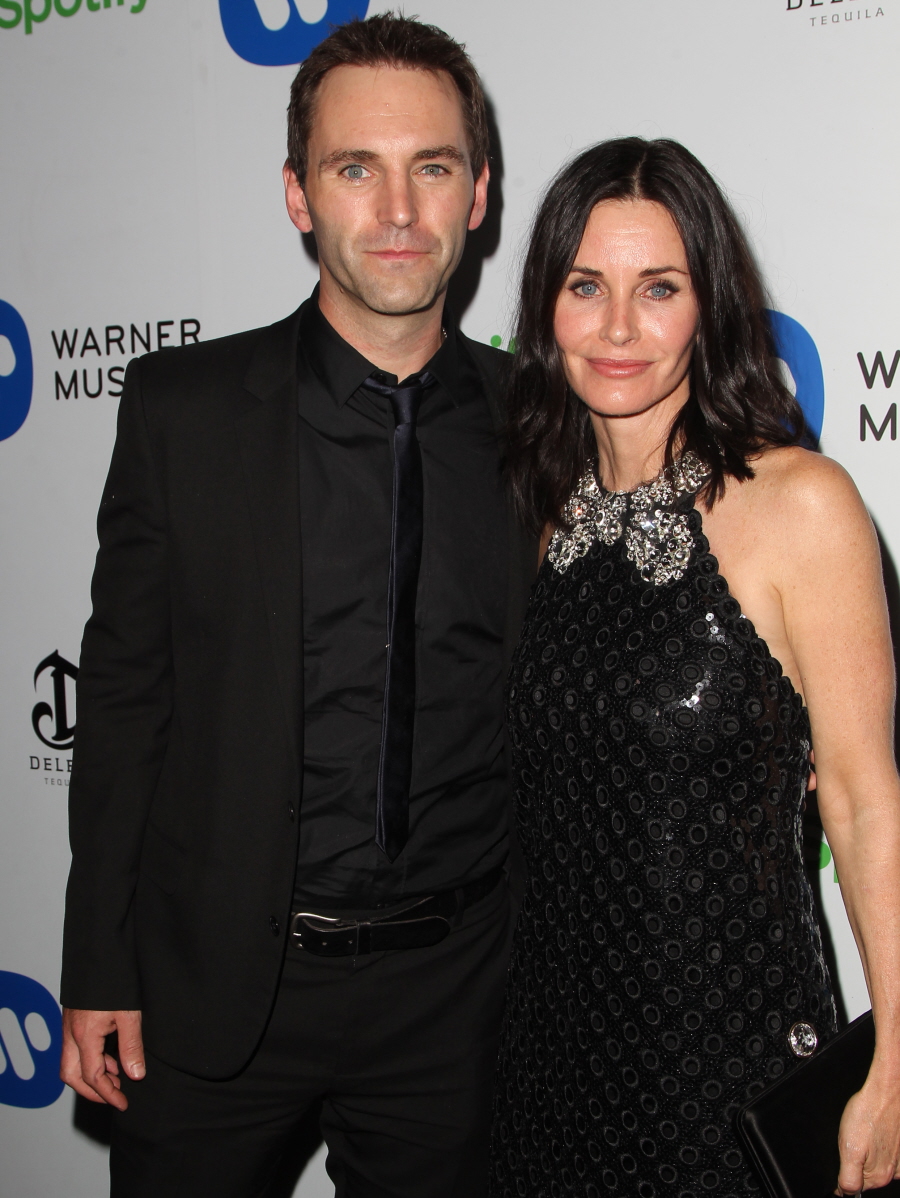 I'm surprised to realize this, but Johnny McDaid and Courteney Cox were together for a somewhat significant amount of time, since at least late 2013. Meaning they were together for two years or longer. They announced their engagement in June 2014, and they've allegedly been planning the wedding ever since. Johnny is an Irishman, but he decamped to LA to be with CC, and he's been living in her home this whole time. But according to sources, Johnny packed his bags a few weeks ago and now the engagement is totally done.
Courteney Cox and her fiance rocker Johnny McDaid have broken up, and called off their wedding — but we've found out they fought like hell to make it work. Sources close to the former couple tell us the Snow Patrol guitarist packed up and moved out of Courteney's homes in Malibu and L.A. shortly before Thanksgiving. We're told he flew back home to England.

They got engaged in June 2014 after 6 months of dating, but we're told they've been struggling over lifestyle choices: She enjoys going out with friends, but he's more low-key and private. Photogs last spotted them together back in August. Our sources say they tried going to counseling to work out their issues, but finally they mutually decided to end things.
Radar had much the same story, and it seems like Radar might have even broken the story of the split. Radar's sources make it sound like this was mostly Johnny's call, that up until a few weeks ago, Cox was still planning the wedding and now she's devastated: "Johnny was really the love of her life. She doesn't know where this came from." Sources claim that McDaid didn't really like Cox's LA lifestyle, nor did he like her "cougar" reputation. Page Six also has a lengthy piece about why they split, with sources claiming that McDaid didn't like that Cox was so close to so many male costars, and some claiming that Cox hated that Johnny smoked/vaped.
Just FYI: everyone agrees on the fact that McDaid was the one to pull the plug on the engagement. So was this just your average cold-feet situation? Or was it something else? I noticed time and time again that Courteney really started doing some crazy stuff to her face when she got with McDaid. I mean, she's been tweaking, filler-ing and Botoxing for years now, but she did look extra-jacked when she was with Johnny. CB doesn't think this split was about her appearance, and I guess I sort of agree. The split might have happened because of what's behind Cox's constant tweaking though, which is that she's a woman deathly afraid of aging.
Photos courtesy of Fame/Flynet, Getty & WENN.